This patient had undergone a previous hair transplant using "strip harvesting." The result was two terrible strip scars. Using body hair transplantation with FUE technology, Dr. U moved 1200 beard hairs follicles to cover the strip scar. This repair of strip surgery scar with beard hair was done in accordance with earlier espoused principles by Dr U. One of the many advantages of body hair transplantation is that it makes the pool of donor hair virtually limitless. And a great benefit of FUE technology is that there is no visible scarring.
Now, this patient's incredible results completely camouflage his strip scar.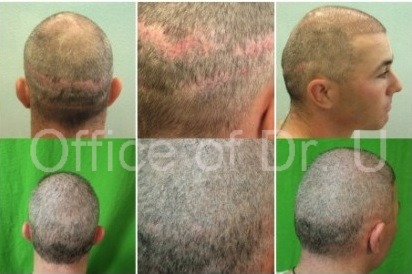 Photos of patient before and after repair of strip surgery scar with beard hair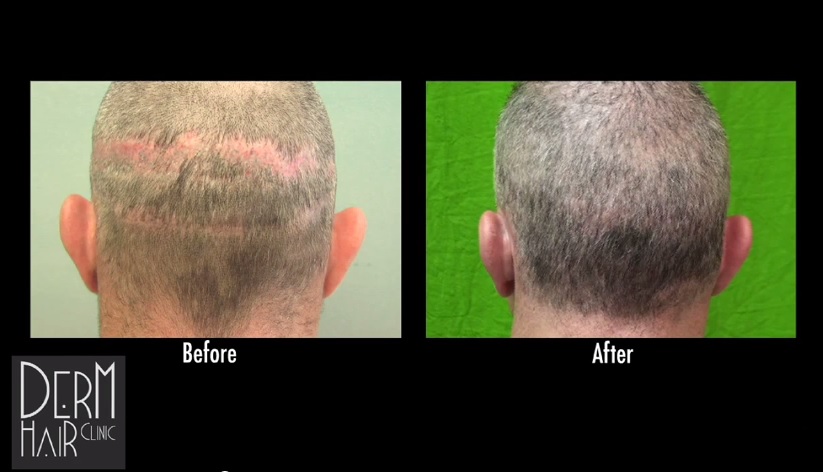 The outdated hair transplant method of "strip harvesting" leaves those who have endured it with no appreciable difference in hair restoration, along with an unsightly scar to remind them of the failed effort. The scarring from strip surgery or FUSS also greatly reduces their personal style choices, because it is all but impossible to sport a tight crew cut when you need your hair to hide the scars.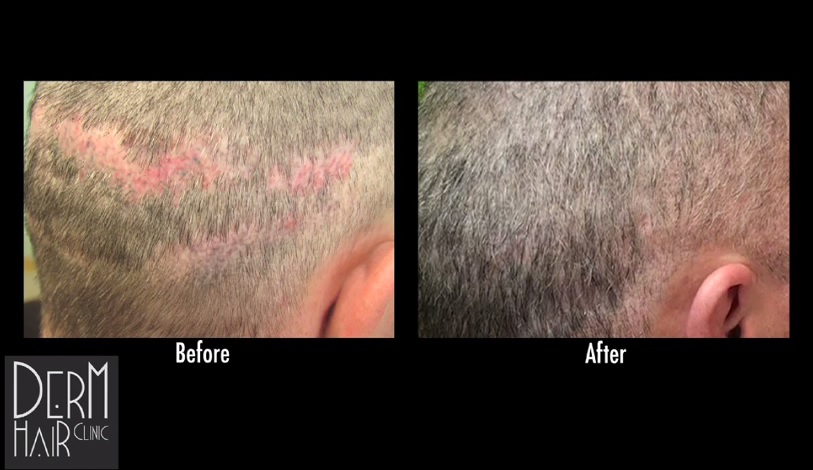 This patient did what we at DermHair Clinic have seen many do – resort to tattoos in a desperate attempt to hide the scars left by "strip harvesting." Dr. Umar helped him by using the patient's body hair (body hair to head transplant) to camouflage the strip scar, transplanting 1,200 individual hair follicles to the problem area.
Was he happy? Take a look at the "before" and "after" in the video to decide!
Video of patient before and after repair of strip surgery scar with beard hair
Have more questions about your hair loss options? Contact Dr. U for a free online consultation today.
Read more about hair transplant repair procedures in general.