At the Dr. U Hair Clinic, patients with many types of hair loss challenges request help. One of Dr. U's more recent endeavors involved the case of a woman with prominent laser tattoo removal scars.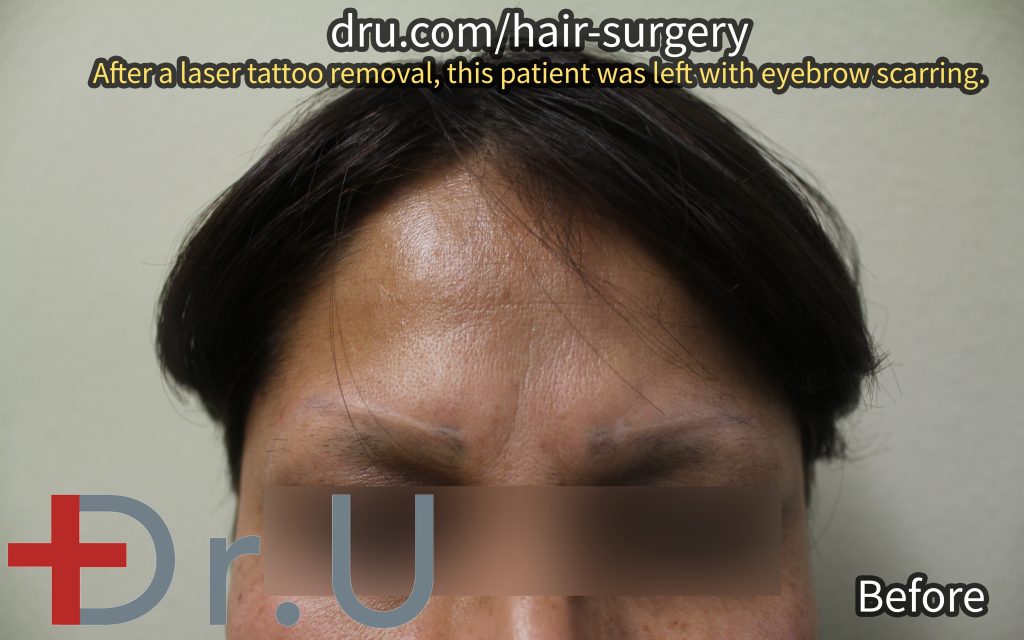 Earlier in life, she had been the recipient of permanent eyebrow tattoos. She had them removed through a laser tattoo removal procedure six years prior to her first consultation with Dr. U. Although it successfully removed her brow tattoos, it had also disrupted hair growth in her eyebrow area.
After a careful assessment, Dr. U decided that an FUE body hair transplant repair would be the perfect way to achieve the eyebrow transplant results she desired. The grafts would be sourced with donor hair from the patient's nape area in conjunction with a pubic hair transplant.
FUE Body Hair Transplant for Eyebrow Implants
FUE hair transplant surgery is a safe and relatively non-invasive procedure used to restore coverage in one or more areas of the body, such as the scalp, using follicle grafts from a more densely-populated region elsewhere. FUE body hair transplant is essentially the same in principle. Instead of grafts from the head, donor hair comes from other parts of the body. In this case, the hair was extracted via a nape and pubic hair transplant.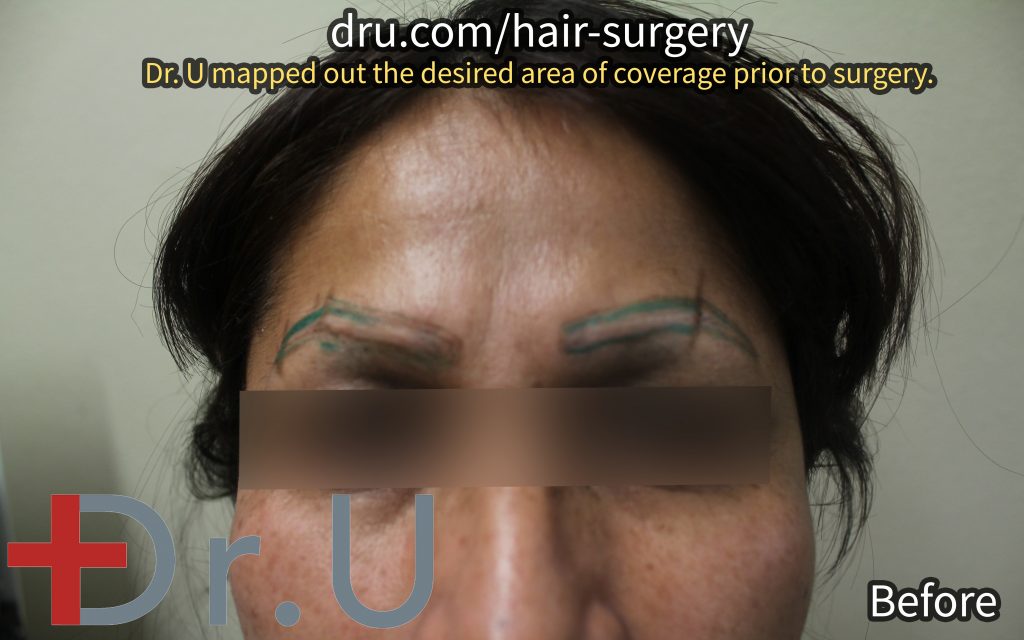 Dr. U's patient underwent a total of four eyebrow transplant repair procedures with our office. The third FUE body hair transplant incorporated a pubic hair transplant.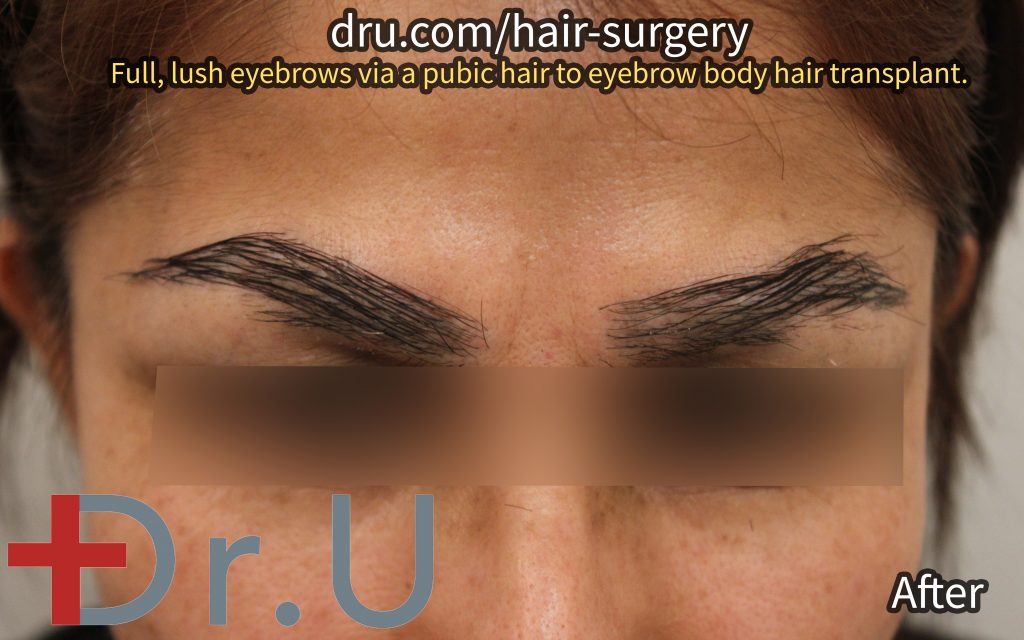 The pubic hair transplant greatly enhanced the appearance of the patient's initial round of eyebrow implants. They provided thicker, fuller coverage with a soft and more natural-looking texture.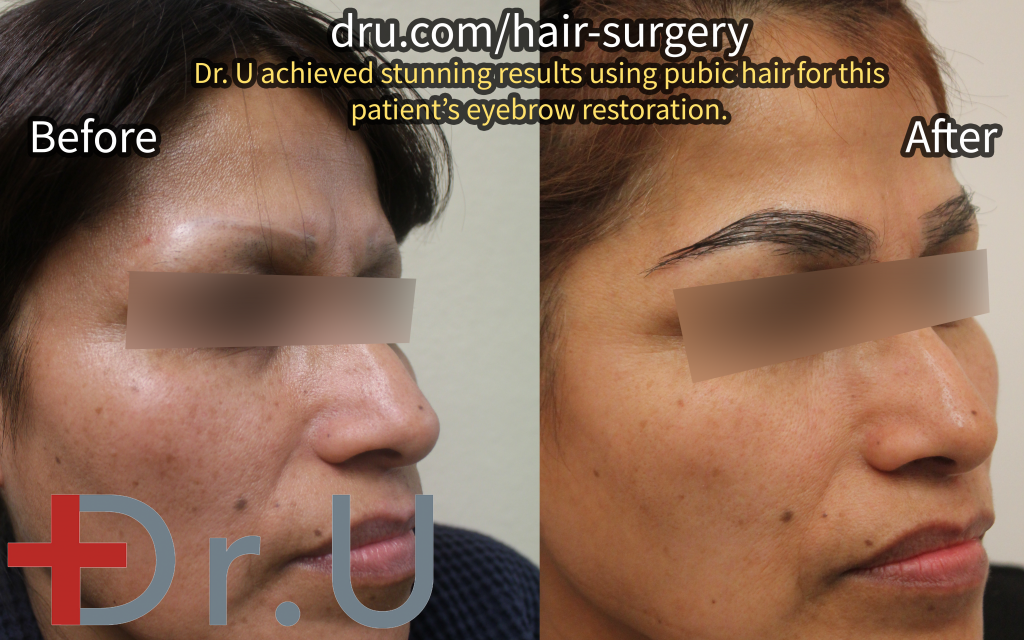 How Dr.UGraft
™ Makes FUE Body Hair Transplant Possible for All Patients
This dramatic eyebrow transplant repair via FUE body hair transplant would not have been possible without the Dr.UGraft™ system. Only Dr.UGraft™ has the ability to harvest hair of any texture from anywhere on the body, making a pubic hair transplant an option for anybody interested in eyebrow implants.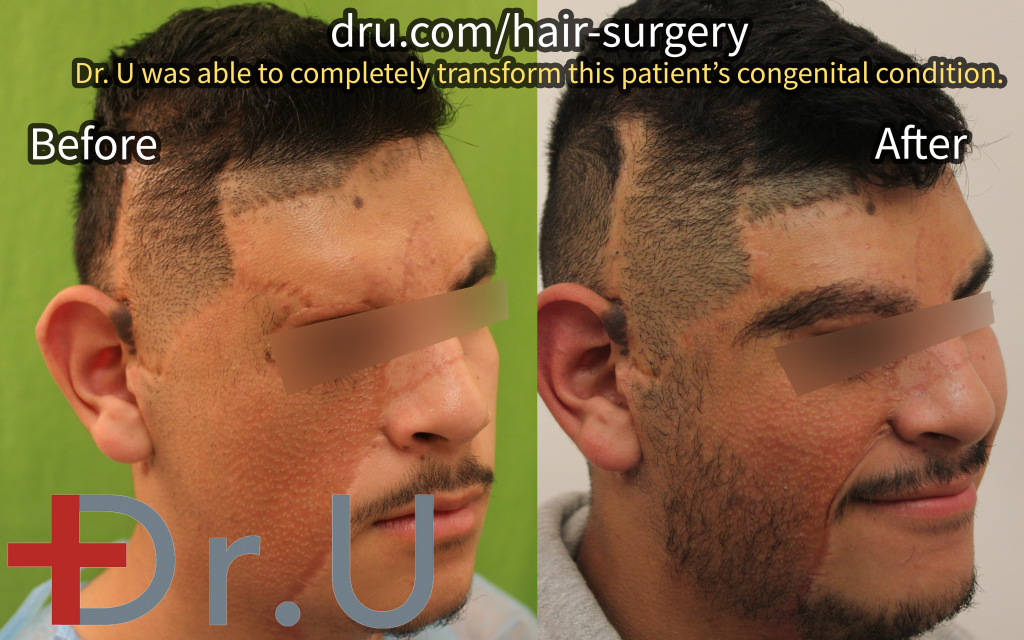 Dr.UGraft™ was able to give this male patient (featured above) his life back after a birthmark removal left him with little hair on the right side of his face. His FUE body hair transplant used donor grafts from the legs. This is one of Dr. U's most successful eyebrow repair results. The overall effect that a BHT hair transplant surgery can have on a patient can be truly life-changing in terms of confidence and self-esteem.
Frequently Asked Questions About Pubic Hair Transplant, Eyebrow Implants, and FUE Body Hair Transplant
Is a pubic hair transplant really the best choice of donor hair when it comes to eyebrow implants?
For some patients? Absolutely. Other choices include nape and leg hair since they are fine and thin. Patients may also request any other donor hair of their choice. Of course, you will have to consult with whoever happens to be administering your FUE body hair transplant for their recommendation. Dr. U adheres to a meticulous process of investigation with each patient he sees. This ensures that the most suitable source of donor hair is the one chosen for your eyebrow transplant.
What is the difference between a regular eyebrow transplant and eyebrow implants done via FUE body hair transplant?
A head hair to eyebrow transplant will require more frequent trimming since this type of hair will continue to grow past the length of real eyebrows. The outcome is usually a bit harsher, thicker and more unnatural-looking. FUE body hair transplant allows your practitioner to utilize the softer and more demure follicles of the body to achieve subtler eyebrow implants that require much less day-to-day maintenance.
If an FUE body hair transplant makes for a better eyebrow transplant, why doesn't everybody do it?
Not all FUE hair transplant tools can effectively extract body hair. Dr.UGraft™ is designed to overcome the specific challenges associated with body hair follicles so that they can be safely extracted as viable, long-term grafts.  This technology is considered top-of-the-line when it comes to versatility and in terms of what types of hair it can be applied to. No other all-in-one system is capable of FUE body hair transplant in any donor area on all types of textured hair. This is especially relevant for patients with depleted donor resources, specifically men and women looking to restore a severely bald scalp. Fortunately,  our patented system is being made available to hair transplant clinics across the world.
Further Reading
One of Dr. U's flagship examples of successful eyebrow implants via FUE body hair transplant
A study by Dr. U on the use of nape hair for eyebrow transplant