African American Advanced UGraft FUE Hair Transplant Using 1200 Grafts: Individuals of all ethnicity can experience the devastating impact of hair loss. Dr. Umar has restored the hairlines of every ethnic group and understands the individual needs required. All hair restoration needs are not the same, which someone with his expertise understands implicitly. Dr. Umar's track record proves that hair restoration can be tailored for very specific and unique needs.
This patient first underwent the outdated "strip harvesting" method of hair transplant at another clinic, leaving him with 1,000 grafts relocated to no avail because the transplanted hair did not grow. He was also left with a linear scar he tried to disguise with a tattoo.
Next he attempted another procedure through a Basic Follicular Unit Extraction surgery which was performed at another clinic. However, growth from this operation was also disappointing.
The patient's experience helps to illustrate that one technique does not necessarily result in better yield over the other alternative. What matters for growth is the skill and the expertise that is applied to the particular case. The UGraft system has a component that Dr U specifically invented to extract grafts from the heads of patients with tightly curled afro-textured hair
Video: African American Advanced UGraft FUE Hair Transplant Using 1200 Grafts
The practitioner must know how to select healthy follicles that are not subject to miniaturization from exposure to DHT. Additionally, the follicles cannot experience mechanical injury. They must be handled and stored appropriately at the time of the surgery. And the formation of new blood vessels around each follicle is essential for the long term survival of the grafts.
Follicular Unit Extraction & Patients of African Descent
Due to the greater chance of developing problematic forms of scarring, strip surgery is not the best choice for hair transplant patients of African heritage. .
African American individuals have uniquely shaped follicles which are curved, not straight. This presents a major challenge when using typical FUE punches which often have a standard cylindrical structure. Therefore, there is a substantial risk of incurring damage to these types of follicles. More specialized punch designs are ideal for conducting hair transplant surgery on individuals with Afro-textured hair.
Learn more about applying Follicular Unit Extraction to patients of African descent here.
Patient's FUE Surgery and Results
Dr. Umar is the inventor of UGraft for performing advanced forms of Follicular Unit Extraction. His line of instruments are designed to accommodate a wide range of follicle shapes and hair growth angles, well beyond the capabilities of standard FUE punches.
With the specialized engineering of UGraft, it then becomes possible to safely harvest follicle grafts in even the most difficult types of patient cases such as patients of African origin.
For this gentleman, Dr. Umar was able to transplant 1200 grafts into the following locations to achieve the patient's objectives, according to the following subsets:
(1) 800 individual grafts to restore the patient's hairline
(2) 250 grafts for his crown
(3) 150 grafts to camouflage the strip scar.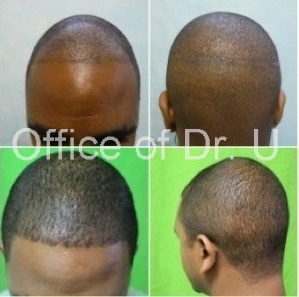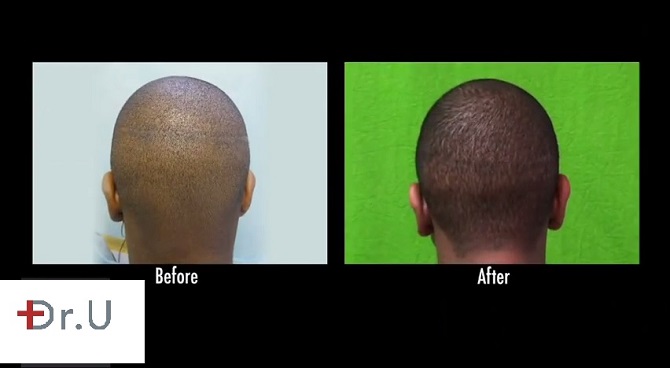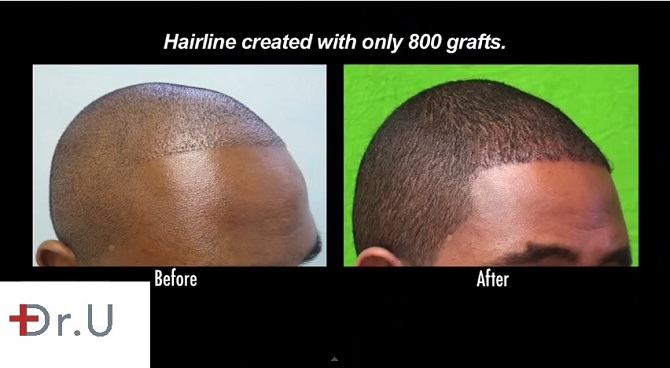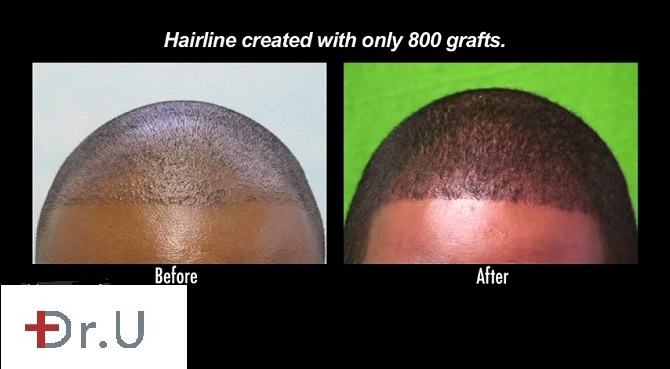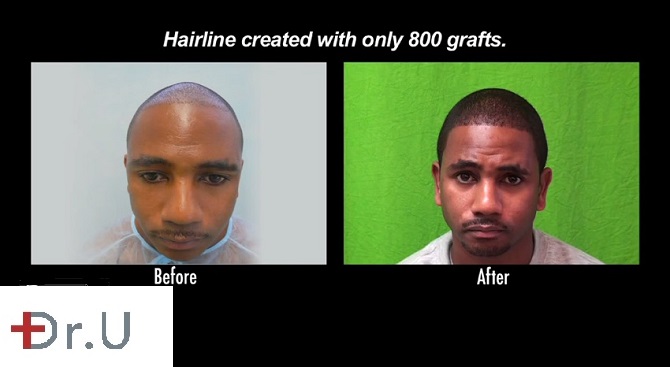 Patient's Video – Outcome at Ten Months
This video, shot 10 months after surgery, shows you the very happy result from a very happy patient!
Have more questions about your hair loss options? Contact Dr. Umar for a free online consultation today.