Eyebrow transplant used to be limited to helping burn victims, but time and advances in UGraft technology has seen it evolve into a cosmetic option popular with both men and women looking to reshape and rejuvenate their eyebrows.
Unique Features of Eyebrow Hair
Your eyebrow hairs grow from the follicle at a sharp angle, so unlike the hairs on your head, your eyebrow hair is growing flat against the surface of your skin.
The growth cycle of your eyebrow hair is also far shorter than that of the hairs of your scalp – about four months, as compared to three to seven years.
Unlike your scalp hair, your eyebrow hairs grow as individual strands; there are no follicular groups of hairs in a bunch that can be moved from one area to another.
The hair of the eyebrows are thin and shorter compared with hair from traditional head donors located in the middle of the back and sides of the head which are much more coarse and grow faster. If used for transplantation, the eyebrow created would look coarse and require trimming on a daily basis. It can look and act very unnatural as a result. The UGraft eyebrow transplant developed by Dr Umar has overcome this challenge to produce very natural looking and acting eyebrows as explained below. Read on….
Eyebrow Transplant Using uGraft in Los Angeles
Typically, 50 to 325 hairs are individually moved into the brow during an eyebrow transplant procedure, another reason a skilled surgeon is needed to perform this delicate task. The hairs must be perfectly placed into tiny incisions that are at just the right angle and direction to mimic natural growth.
Using UGraft advanced FUE, Dr. Umar is able to take finer caliber donor hair which is extracted one follicle at a time from your leg, forearms or your neck nape area which mimic natural eyebrows better than traditional head hair which are coarse. Traditional transplant uses donor hair from the middle of the back of the head which is coarse and fast growing. By using slow growing hair that are thinner, Dr Umar's uGraft method brings eyebrow transplant ever closer to natural never like before. With Dr Umar's approach, the patient would have less need to trim the eyebrow as frequently as would have been necessary if traditional donors were used.
Keep in mind, because your new eyebrow hair comes from a different part of your body, it is permanent and will continue to grow, so keep your scissors handy for regular trimming! Using nape or body hair by UGraft however would mean less frequent trimming as published in these two journals:
Dermatologic Surgery Journal on UGraft Eyebrow Restoration
Journal of the American Academy of Dermatology on UGraft Eyebrow Restoration
Dr. Umar provides this procedure exclusively at his Los Angeles office
LOS ANGELES EYEBROW TRANSPLANT PATIENT PHOTOS:
UGRAFT RESULTS REPLACE TATTOOED BROWS IN A LOS ANGELES FEMALE PATIENT
After years of waxing and plucking to keep her eyebrows attractive and shapely, this patient started to notice her eyebrow hair getting too thin. And it would not grow back. It eventually became so sparse that she began getting cosmetic tattooing on her eyebrows, but it did not appear natural and was an inconvenience since the ink fades and must be renewed about every three months.
It was a combination of the cosmetic maintenance she'd employed with hormonal changes and aging—these things cause most women to suffer eyebrow hair loss. Finally, the patient came to Dr. Umar seeking a permanent fix. The solution was eyebrow transplant. Using FUE hair restoration, Dr. Umar was able to graft 600 individual hairs from the nape of her neck and implant them along the brow bone.
These results are from only 6 months after her procedure. The yield will continue to improve even at 10 months. With the growing need for cosmetic correction of eyebrow hair loss, this patient's eyebrow transplant case was an example for many. KNBC Health News covered her story earlier this year.
BROWS INSPIRED BY BROOKE SHIELDS
This Los Angeles patient admired the flat and prominent shape of Brooke Shield's eyebrows. Dr. Umar was able to adapt this look for her face using 350 uGrafts of nape hair.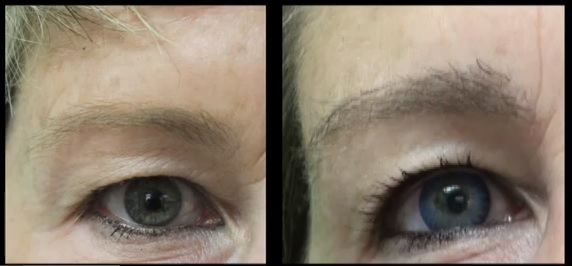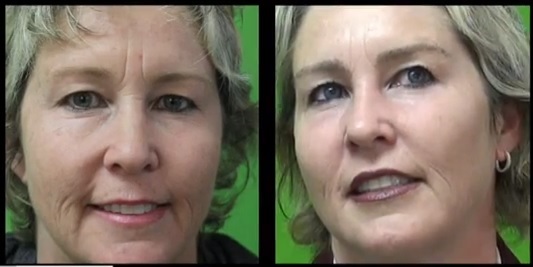 PATIENT UNDERGOES EYEBROW TRANSPLANT TO IMPROVE DEFINITION AND FULLNESS OF BROWS – MALE CASE
UGraft eyebrow transplantation caters to men too! This Los Angeles patient chose to undergo an eyebrow transplant procedure to fix his sparse brows. He wanted more pronounced brows without the results being too noticeable. Dr. Umar was able to achieve this vision with 300 uGrafts of leg hair.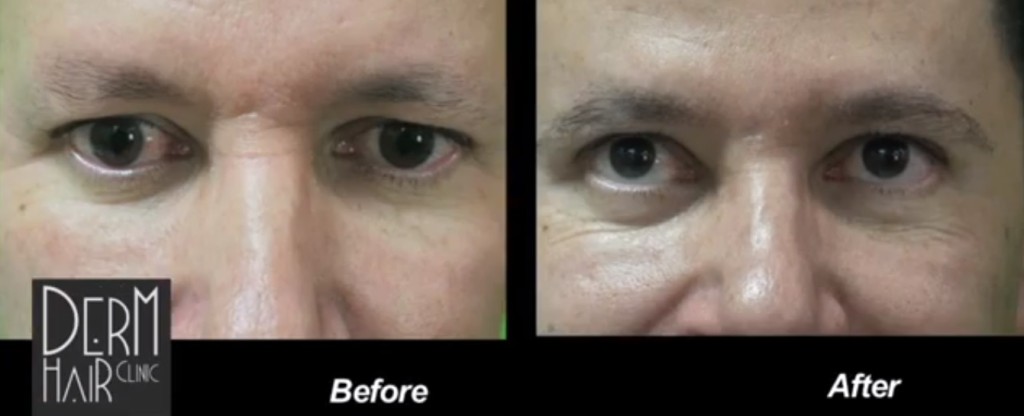 UGraft Eyebrow Transplant Procedure With 650 uGrafts in a Los Angeles Male Patient:
Hair from the nape of this patient's neck was used to fill out his eyebrows, which have been thin since childhood. Dr. Umar transplanted 650 individual hair follicles during the eyebrow transplant procedure.
Videos of UGraft Eyebrow Transplant in Los Angeles
DR. UMAR'S UGraft EYEBROW TRANSPLANT FEATURED ON GOOD MORNING AMERICA
---
KNBC HEALTH NEWS DISCUSSES DR. UMAR'S UGRAFT EYEBROW TRANSPLANT PROCEDURE
---
PATIENT RECEIVES REAL HAIR IN HER BROWS WITH 450 UGRAFTS – 15 MONTH FOLLOW UP
---
PATIENT GETS STRONGER, FULLER BROW SHAPE WITH 350 UGRAFTS OF NAPE HAIR
---
MALE PATIENT WITH 300 UGRAFTS OF LEG HAIR
---
To learn more about Dr. Umar's uGraft procedure, click here to learn more.
Interested in having permanent, fuller and natural looking eyebrows? Tired of penciling in your eyebrows? Not interested in fake eyebrow tattoos? Do a free online consult with Dr Umar by completing this form; Or call 1-800-499-DRUCLINC or 1-310-318-1500 for an appointment.
Related Articles