African American FUE Hair Transplant : In a culture rich with varying hairstyles, tools, conditioners, relaxers, and other processes, loss of hair may cause individuals of African descent to seek the help of hair restoration. People of African descent are susceptible, as all others, to the genetic hair thinning condition androgenic alopecia, or pattern baldness. While this is the leading cause of African American hair loss, there are other causes of alopecia that are most prevalent in this ethnic group.


---
SPECIFIC HAIR LOSS CAUSES IN AFRICAN AMERICANS
Ironically, the care and pride applied towards African American hair might be the very cause of irrevocable damage—permanent hair loss. The additional causes of alopecia faced within this culture include:
Central cicatricial centrifugal alopecia
They are the direct result of ongoing hair treatment. And both conditions can be treated by Follicular Unit Extraction. Traction alopecia is a gradual thinning or recession around the scalp's edges, including the rear and frontal hairlines, and near the backs of the ears. It results from frequent, abrasive hair pulling from braids, weaves, extensions, ponytails, barrettes, etc, and thus, is very often seen in black women.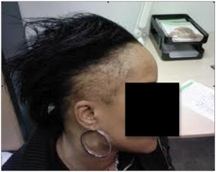 Central cicatricial centrifugal alopecia (CCCA) results from a combination of traction hair loss and the use of chemicals—relaxers, straighteners, dyes—that weaken the keratin structure of the hair. This reduces the tensile strength of each follicle, thus making them even easier to break off.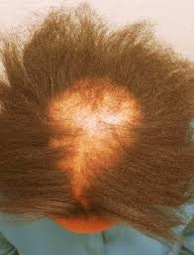 African American FUE Hair Transplant : CHALLENGES IN
There are a couple of trying issues particular to people of African descent that must be taken into consideration in the event of hair transplant surgery.
African Americans tend to have curly or kinked hair follicles. This curvature of the follicle raises transection rates and makes the hair difficult to harvest for any surgical hair restoration method. Dr Umar has invented the only tool that specifically extracts tightly curled hair of all Afro-textured hair without the need for any tests or pre-tests. The performing surgeon must always take exceptional care when performing Follicular Unit Extraction on African Americans.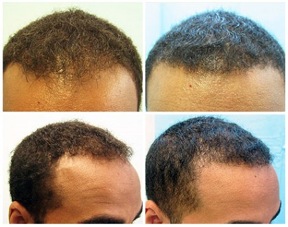 People of African heritage have a higher tendency to keloid than some other ethnicities. FUE being a minimally invasive, scalpel-free surgery minimizes the risk of keloiding during wound healing. Thus, for African Americans, FUE hair transplant prevails as the best restorative option in the case of hair loss.

FUE procedures can also be used to help reverse hair loss in black women with traction alopecia. To learn more about this, click here to read more.