What is Follicular Unit Extraction
Follicular Unit Extraction – FUE Hair Transplant is a knife-free hair harvesting method of hair transplantation surgery in which individual natural hair groupings called follicular units – FUs are removed surgically, directly from the back and sides of the head one at a time (figure 1a). FUE hair restoration is different from Follicular Unit Strip Surgery, where the hair follicle is taken from a strip of flesh that has been cut out with a knife from the back and sides of the head
UGraft is an advanced form of FUE hair transplantation. Generally, FUE avoids the creation of linear scars. Linear scars are the consequence of using the more traditional method of transplantation called Follicular unit strip surgery (Figure 1b)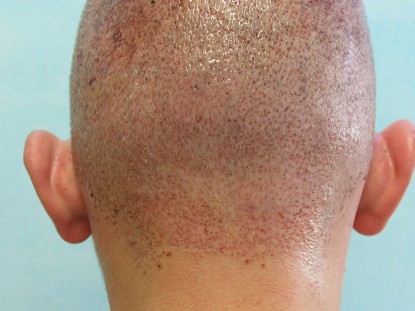 ---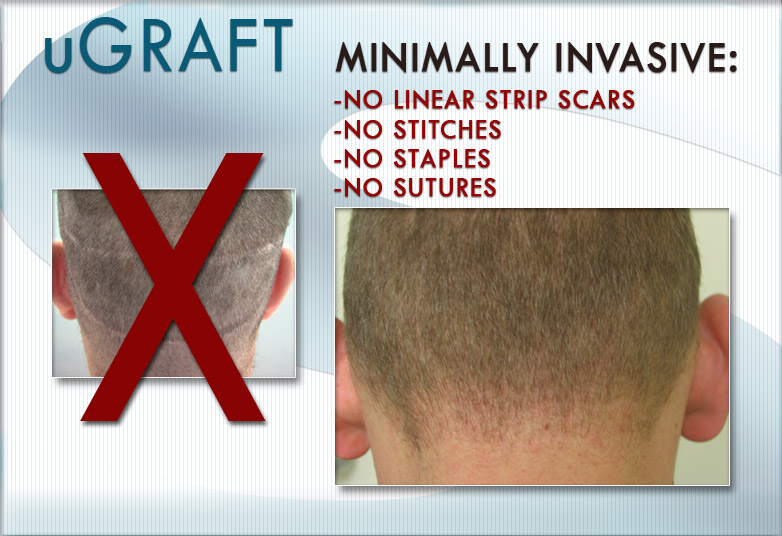 ---
Consult Dr Umar for your FUE Hair Restoration in our Los Angeles office at no cost by completing this free online consultation form
---
FOLLICULAR UNIT EXTRACTION – FUE HAIR TRANSPLANT: GENERAL CLASSIFICATION:
There are two forms of follicular unit extraction:
Basic Follicular Unit Extraction : In the simpler form only the back and sides of the head are used as donor hair. Also, only relatively straight hair is used reliably for transplantation. Most follicular unit extraction practiced falls into this category as it is relatively simpler requiring less advanced skill set and less nuanced tools. The neograft and Artas robotic FUE falls into this category. Basic FUE methods are not good for body hair extractions and are inconsistent and perform poorly in patients with tighter hair curls.
Advanced Follicular Unit Extraction : The donor pool in this form not only include the traditional back and sides of the head, but also more difficult areas like the nape, peri-auricular areas, facial hair, and all body hair. In advanced FUE such as practiced by Dr U with the patented UGraft system, even the most tightly curled hair such as found in most Afro-textured hair can be done reliably with minimal transection. The video below surmises the unique attributes of the UGraft advanced FUE system and how it differs from simpler forms of FUE
---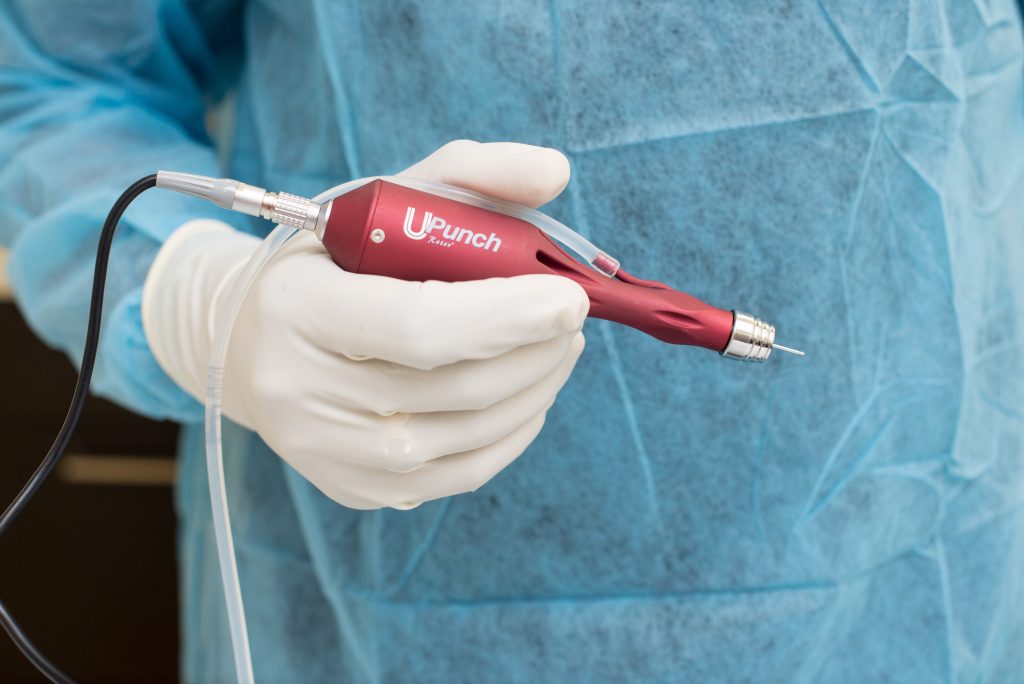 ---
---
Los Angeles FUE Hair Restoration Surgery Using the UGraft : UGRAFT FUE HAIR RESTORATION VS BASIC FUE HAIR TRANSPLANT
Both UGraft FUE and basic FUE method of transplantation are no-stitch procedures that involve implanting the extracted follicular units into the balding recipient area. Compared with strip surgery, both UGraft and basic FUE hair restoration require the practitioner to possess a higher skill set in order to perform the procedure successfully. What are the differences between UGraft FUE and Basic FUE hair transplantation? The differences exist in multiple fronts including:
Growth rate or yield
Versatility in type of hairs that can be extracted
Wound healing
1. GROWTH RATE or YIELD: UGraft FUE Hair Restoration VS Basic FUE Hair Restoration
The growth rate for UGraft FUE hair restoration is typically better than that of basic FUE for multiple reasons including:
The grafts produced by the UGraft are relatively bulkier when punches of the same size are used. This has to do with the shape of the UGraft punch (UPunch) whose cutting axis faces outwards thus setting a wound trajectory that gathers more tissue around the follicle.
Yield is enhanced further by the irrigation feature which keeps the grafts wetter between the periods of scoring and removal.
Additional measures like the FUE swipe maneuver also serves to improve yield. In this FUE Swipe Maneuver described by Dr U in this BHT publication, a piece of gauze made wet using chilled physiologic solution is used to swipe the area scored by the UPunch Rotor to immediately sustain the grafts that are already free of their tissue attachments. Typically these grafts would have been laying free in the extraction hole devoid of nutrition and oxygen as well as being subjected to the drying influence of air exposure for the time it takes for the surgeon to get to them. The FUE swipe maneuver shortens the time considerably.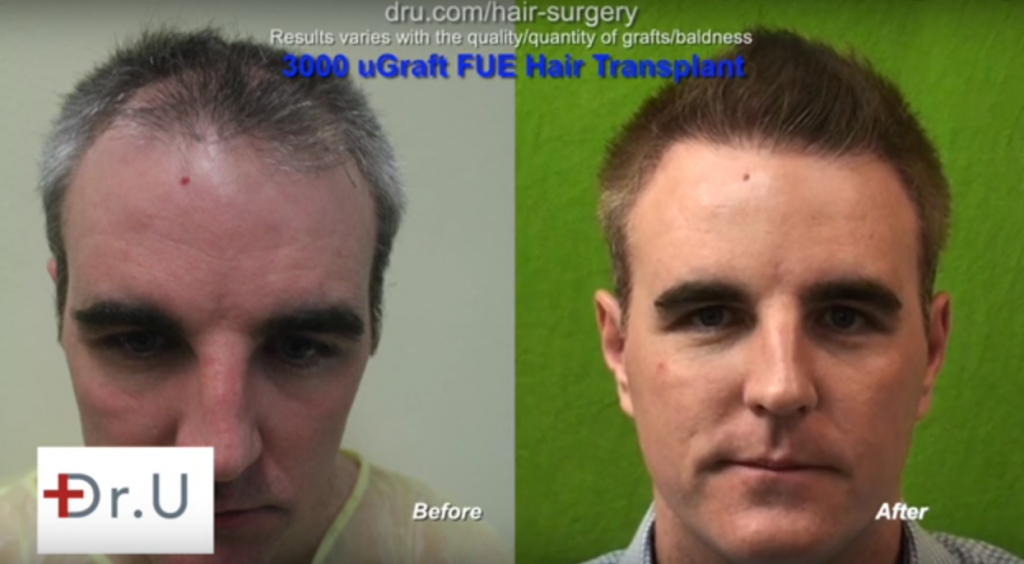 ---
2. Types of Hair That can Be Extracted:UGraft FUE Hair Transplant VS Basic FUE Hair Transplant
Nape and Peri-auricular hair utilization: UGraft Follicular unit extraction allows a wider area of the head for harvesting. The result is finer hairs (such as nape and those found around the ears) that can be selected for hairline, eyebrow, eyelash and temple point constructions. In these areas, carefully selected finer hairs by UGraft provide a more natural outcome than basic follicular unit extraction and the strip surgery method. It is impractical to try to obtain hair from the nape or around the ears using strip surgery or FUSS
The two photos (figure 2a and 2b) below show a conservative hairline created using nape hair by UGraft. The softness and naturalness of the result cannot be achieved using regular head hair donor from conventional FUE: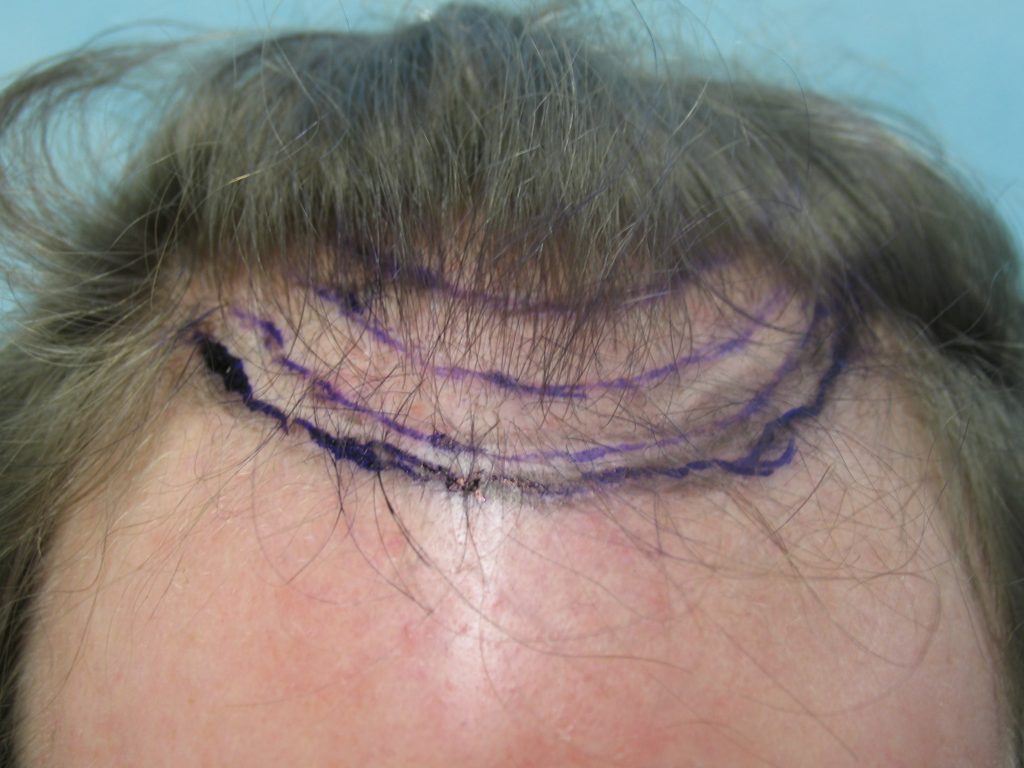 ---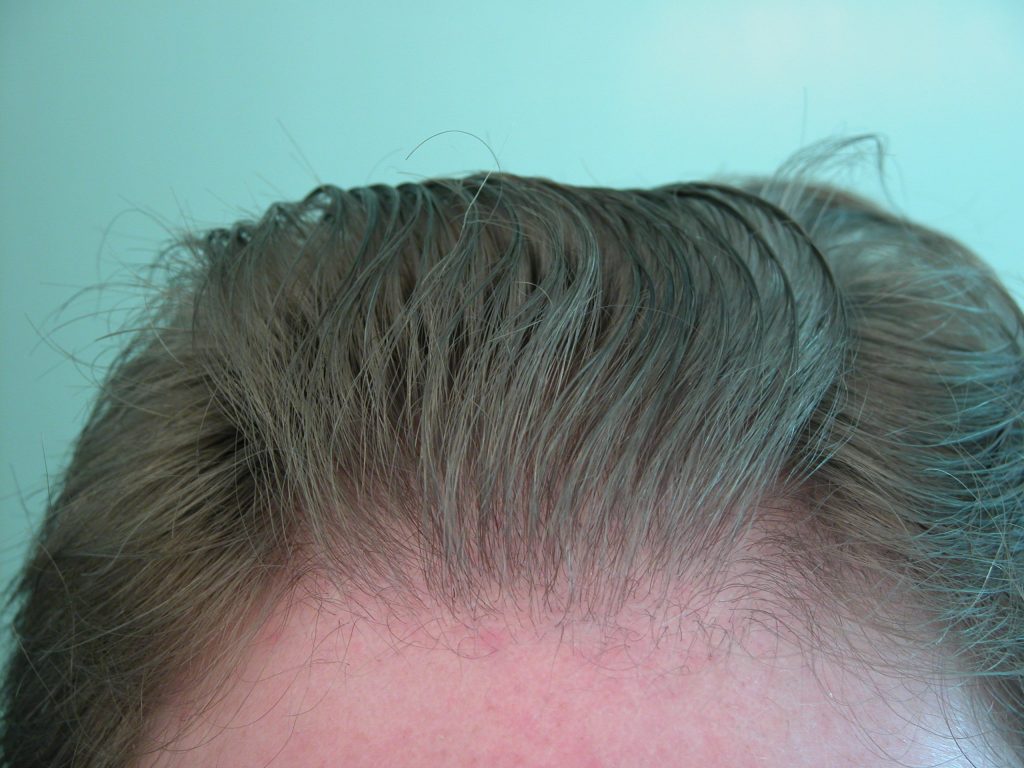 ---
The following two photos (figure 3a and 3b) depict results of using nape hair by UGraft in the creating of an aggressive hairline in a younger patient. The hairline is soft and natural looking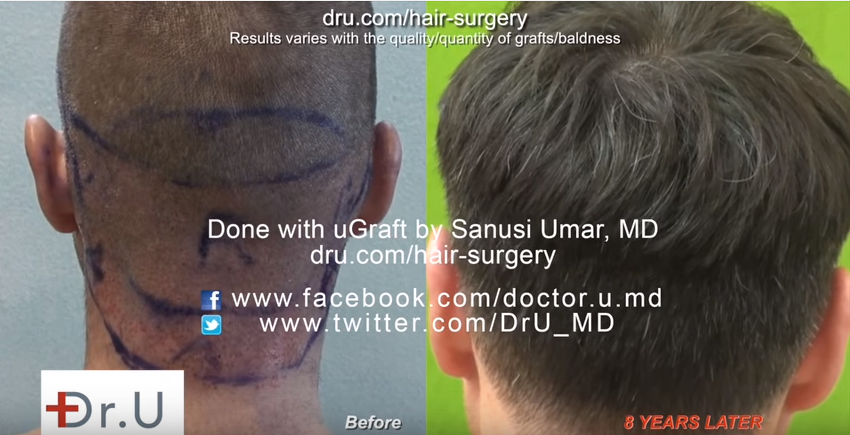 ---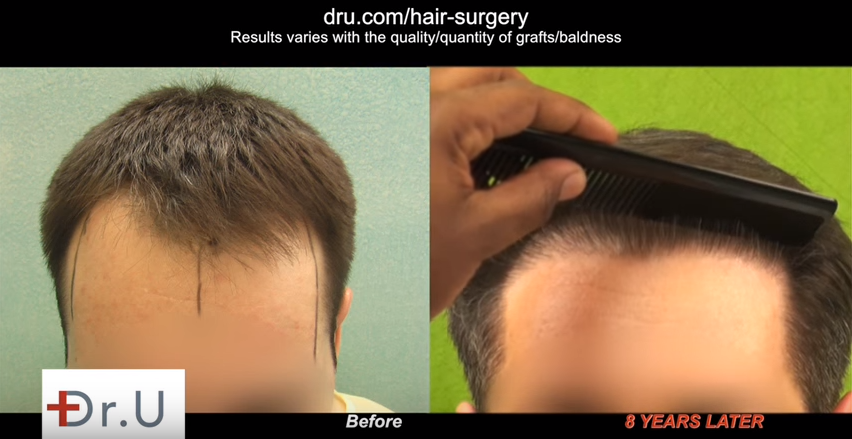 ---
The video below depicts a patient who was not happy with a hairline constructed from a previous surgery at another facility. He wanted a soft natural looking hairline that would look fine when he combs back his hair. Dr Umar, using nape hair through UGraft FUE hair restoration technique created a hairline that enables him to comb back his hair:
---
The patient below desired a natural looking eyebrow to cover and replace the fake eyebrow tattoo she had. UGraft advanced follicular unit extraction using nape hair made it possible: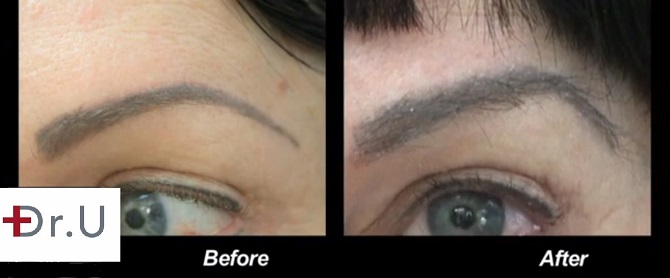 ---
The patient below had nape hair used by UGraft FUE to create a more natural looking eyelash:
---
Use of beard and body hair donors: The UGraft advanced FUE using the UPunch Rotor feature enables body hair transplantation by the extraction and successful utilization of all beard and body hair without exception. This enables production of very natural results in the creation of hairlines, temple points, eyebrows and eyelashes as highlighted by several Dr U Publications. Most importantly however is its expansion of the hair transplant donor pool which enables the credible restoration of even the most severe forms of baldness as well as the repair of patients who have lost their head donor supply as a result of old antiquated hair surgeries.
The photo below shows the result of a norwood 7 patient before and after body hair to head transplantation performed using UGraft FUE hair transplant methods by Dr Umar: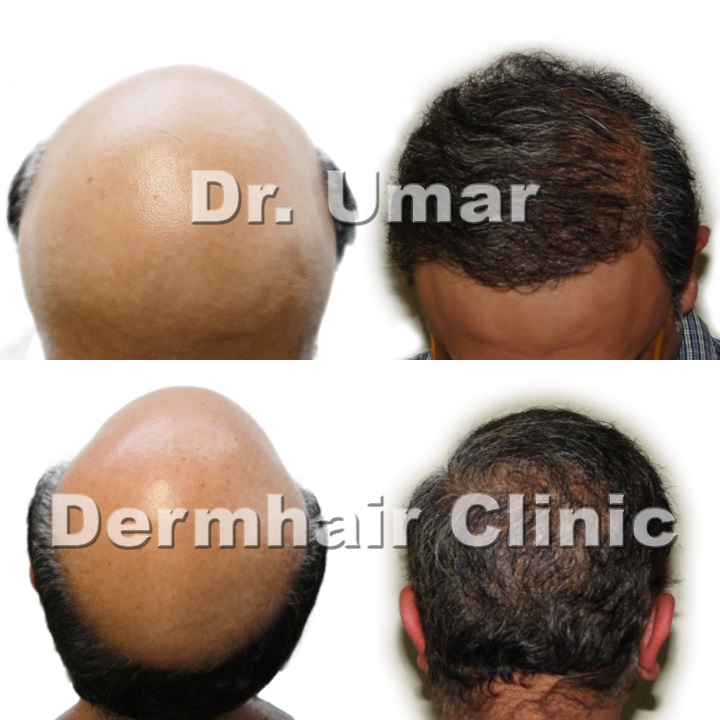 ---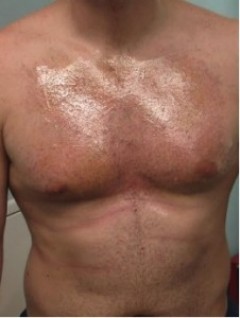 ---
Example of use of leg hair by UGraft FUE hair transplant to create most natural looking eyebrows:


---
Example of use of leg hair by UGraft FUE hair transplant to create most natural looking and behaving eyelashes: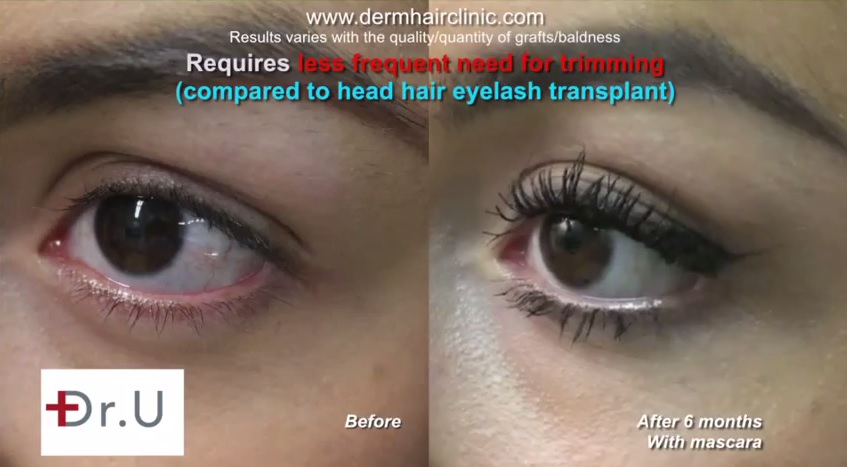 Tightly Curled Afro-textured scalp hair FUE : UGraft Follicular unit extraction avoids a linear scar in ALL hair types, unlike basic follicular unit extraction which works consistently only on patients with straighter hair and softer/thinner skin. In patients with hair curls and / or thick skin, basic Follicular unit extraction would result in production of damaged grafts which may not grow. UGraft follicular unit extraction on the other hand would has unique patented technological features that enable it to effectively and consistently produce viable grafts in all patients regardless of hair or skin type. With UGraft FUE even the tightest hair curls found in Afro-textured haired persons can be done efficiently and consistently. UGraft follicular Unit Extraction works for all curly hair including all of African Americans, patients due to a new patent pending new invention by Dr U.
The following photo and video illustrates an example of an Afro-textured haired individual that failed all conventional FUE, but was successfully restored using UGraft's UPunch Curl: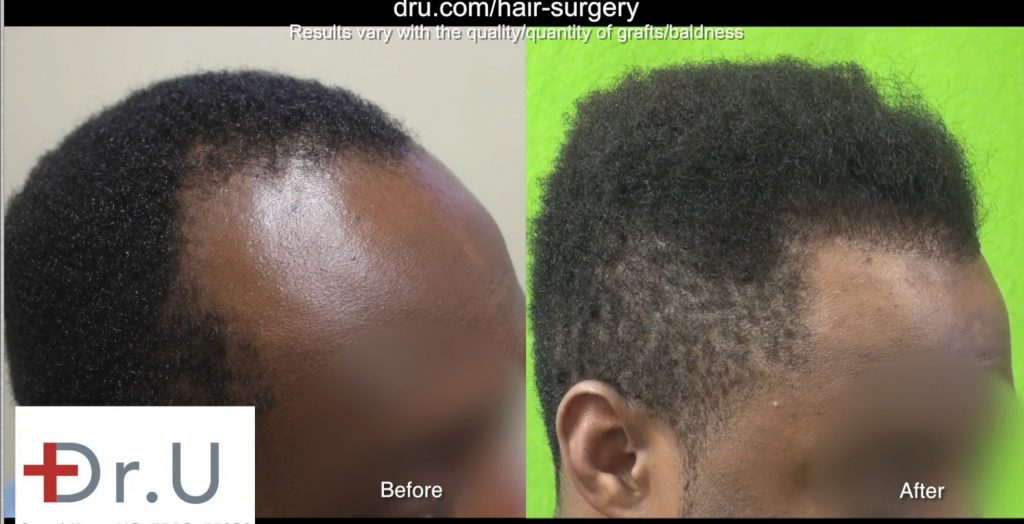 ---
2. Wound Healing:UGraft FUE Hair Transplant VS Basic FUE Hair Transplan
The rotary punch of UGraft called UPunch Rotor tends to create wounds that are relatively more inverted or straight edged compared to typical FUE punches whose wounds are substantially more everted. the more inverted a wound is the better healing and cosmetic end result.
Punch shape influences wound shape – created more inverted wounds relatively:
---
UGraft wounds are relatively more inverted or straight edged compared to typical FUE punches: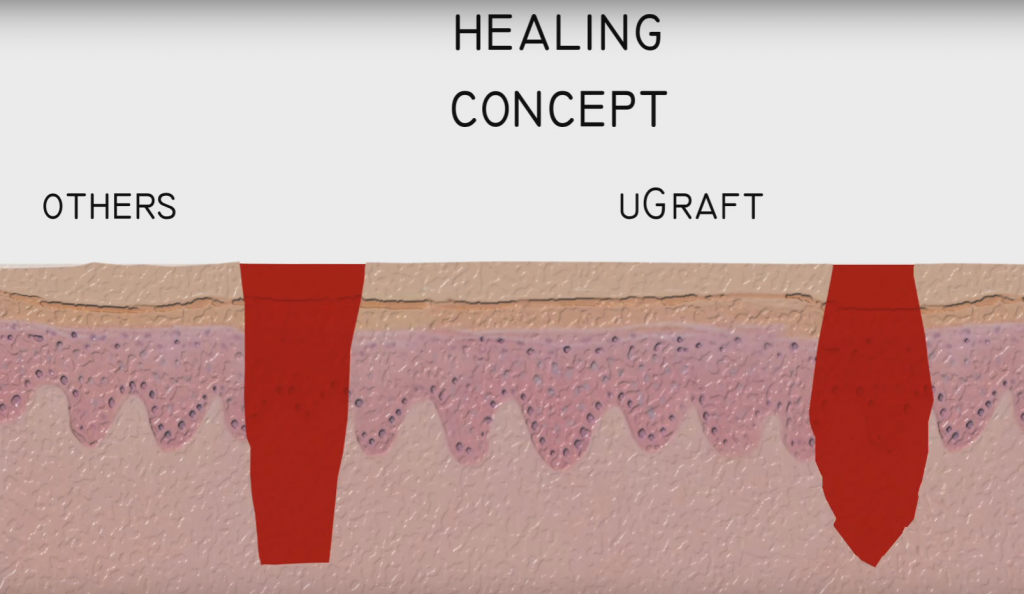 ---
Wound shape influences healing results: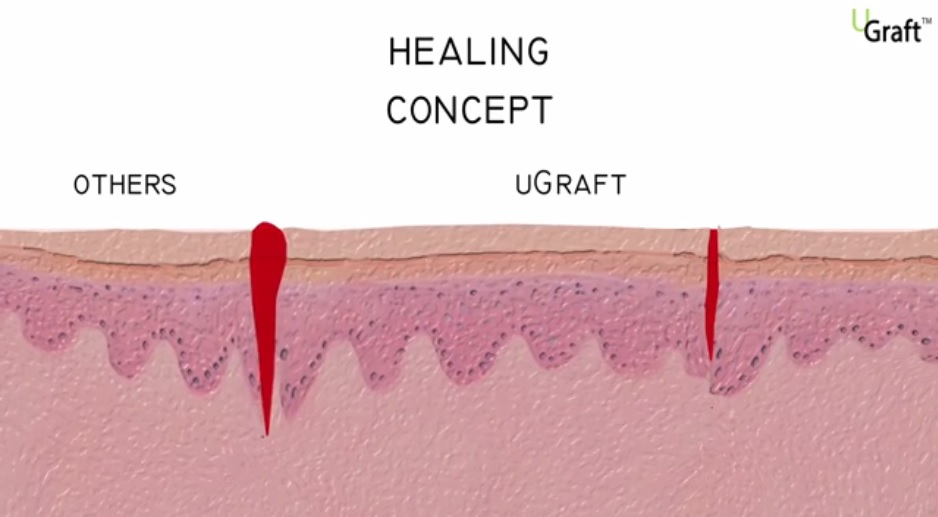 ---
Los Angeles FUE Hair Transplant Surgery Using the UGraft : PREPARING FOR UGRFAT FOLLICULAR UNIT EXTRACTION

Once you have completed your one on one consultation with Dr Umar and decided to proceed, you will be given the necessary instructions to prepare yourself for your day of surgery. Some of these instructions would be tailored to your particular needs. On the morning of your surgery, you should have had a good breakfast and arrive with a shampooed scalp. Upon arrival at the clinic, "before" photographs will be taken of you. Dr Umar would sit with you and once again go over your goals and surgical plans with you. The procedure would not commence until this is completed to your satisfaction. Next, the donor area, being the back of the head in most cases, will be prepared for surgery.
Before commencement of surgery, Dr Umar spends time with the patient revisiting the plan and outlining the proposed hairline. Surgery begins after patient approves: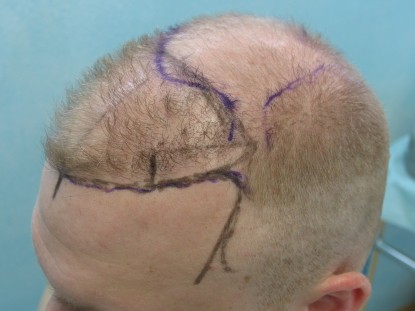 ---
Same patient : After proper planning, patient's UGraft FUE Hair transplant repair of the hairline results in a more refined soft and symmetrical result: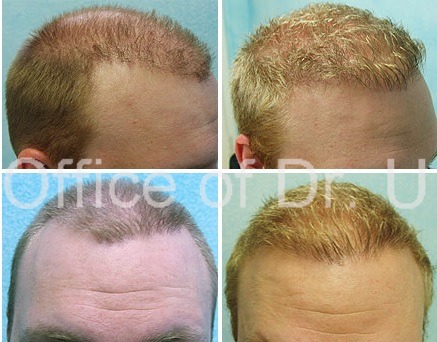 Los Angeles FUE Hair Transplant Surgery Using the UGraft : WHAT HAPPENS DURING UGraft FUE Hair Transplant PROCEDURE?
First, the patient is made to lie face down on a specialized and very comfortable operating table equipped with a doughnut head gear in a manner akin to a massage positioning. Local anesthesia will be administered to the donor area, as well as intramuscular hypnotics for the patient to ingest orally, for the purpose of relaxation.
In this video, Dr Umar, describes the FUE hair transplant process:
---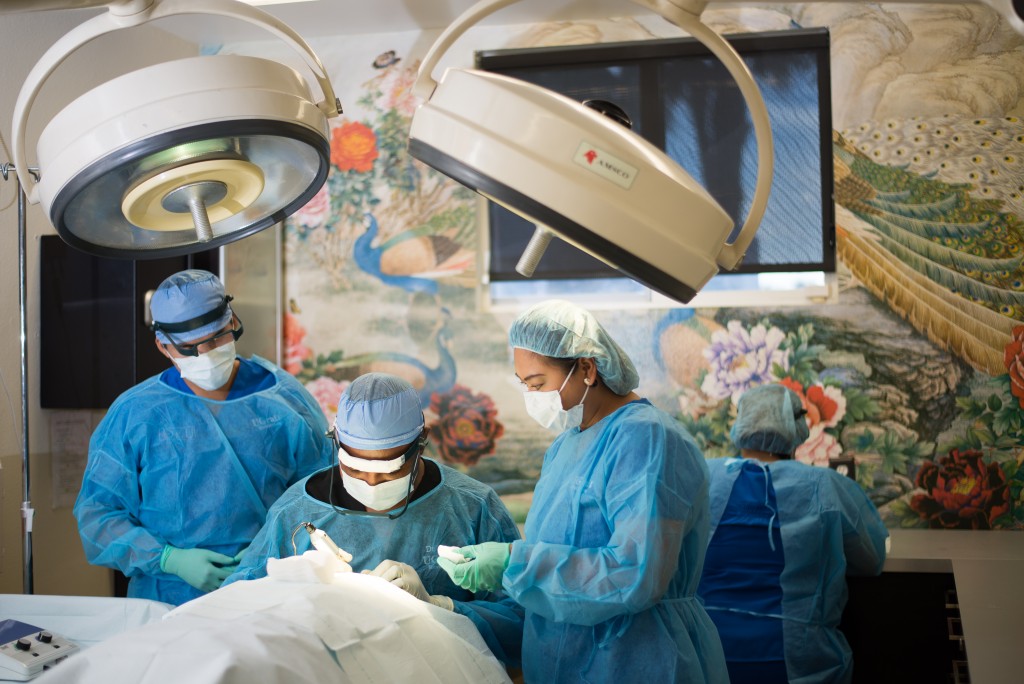 ---
Your surgeon will then begin to extract carefully selected follicular units from the donor area. The surgeon will use the UGraft and hand held UPunch hand-piece to score around chosen grafts one at a time under magnification for the extraction process. (Vacuum-based mass production machines may compromise your results, and robots lack the necessary human touch that contributes to an optimal procedure. These mass production line cookie cutter FUE machines are at their primitive stages of development with much room for improvement. They are no substitute for an experienced FUE surgeon with a verifiable portfolio of patient results.)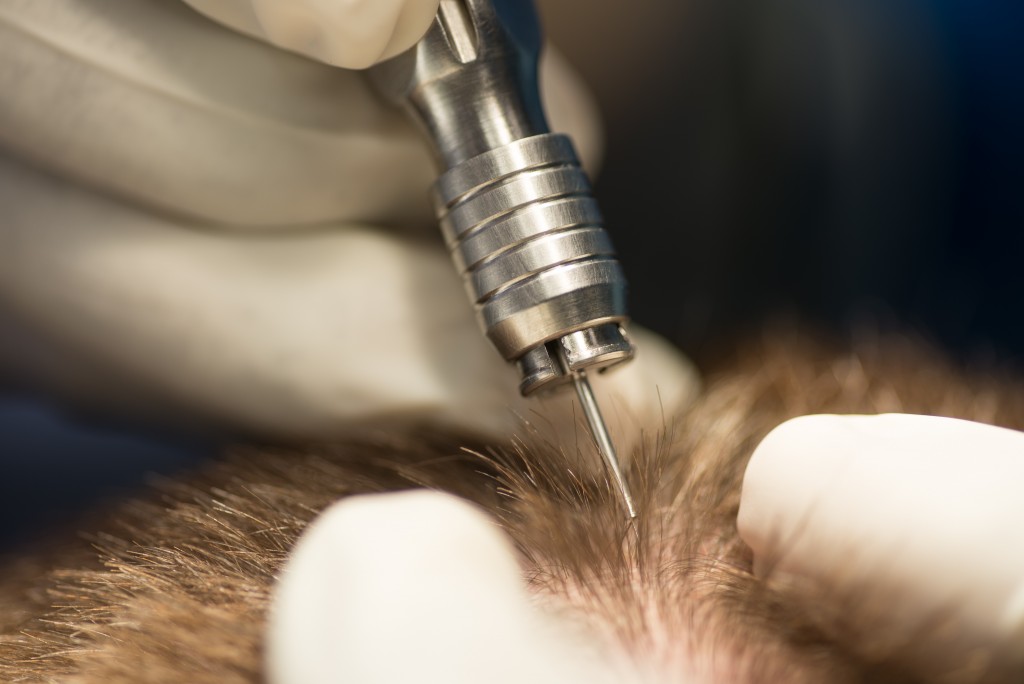 Each follicle extracted may consist of anywhere from one to four, or even five hairs. The extracted grafts are then preserved in a holding solution. Your FUE surgeon or an experienced associate (one who is licensed to perform surgery by the state) should perform this entire process himself, to ensure the integrity of each extracted graft. It is unethical and in the United States illegal for persons not licensed to perform surgery to perform this aspect of the procedure.
Body and facial hair are harvested in a similar but more nuanced manner by experienced practitioners armed with the proper tools (like the UGraft) and skilled in advanced forms of FUE hair transplant by UGraft.
After all extractions have been done, the patient can turn over to sit face up. Many would use this time to listen to music, or watch a movie or television. Local anesthesia will be administered to the bald recipient area at this time. Using customized blades, microscopic slits are made in this area for implantation of the extracted follicles. The resulting design or "look" is determined by the slit preparation. Hairline creation, which would have been discussed in detail during your consultation and again on the day of your surgery, happens here. The hairline and temples are among the most creative work in the UGraft FUE hair restoration process. The utmost care is given to produce a natural looking hairline. In order to achieve this, the follicles containing a single hair are implanted at the front of the hairline to build a gradual wall of hair, which is filled in by units containing two to three hairs to provide the area with density.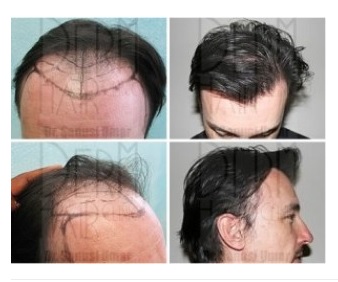 During an UGraft FUE hair restoration surgery at Dr U Hair Clinic, the patient is provided beverages intermittently and served their menu lunch selection on our pent house patio overlooking the Pacific Ocean. The patient can also take bathroom breaks whenever needed. After the procedure is done, "after" photos are taken. (The same HIPAAA compliant strict confidentiality principles apply here as with the "before" pictures.) No stitches or dressings are used and a medical assistant will counsel the patient regarding care instructions at this time.
Los Angeles FUE Hair Transplant Surgery Using the UGraft: AFTER THE PROCEDURE
After your UGraft FUE hair restoration surgery, you would be provided written post operative care sheet. This would be gone over in detail by the medical assistant— The written directives includes everything from showering to exercising—you will be given a prescription for mild painkillers, antibiotics, and topical medication. You would also be advised to ask any questions you may have and welcomed to call or visit the clinic and Dr U at will should you require further clarification.
Signs of wounding in the donor area should resolve substantially within 5 to 7 days, as well. Typically, the donor area will continue to heal to the point where scarring is highly unnoticeable.
Scabs in the recipient area will usually fall off within seven to 14 days. You can wear a hat within 24 hours of the surgery and can fly home by plane the very next day after your surgery typically.
The implanted hair shafts will go through a phase of shedding until the eighth week. Typically, your UGraft FUE hair transplant will begin to manifest new hair growth by 3.5 to four months, usually maxing out at 12 months. However, for up to 18 months, the new hair will continue to thicken and mature, blending in more with the surrounding hair.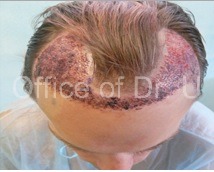 ---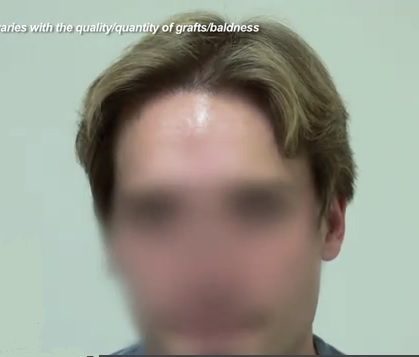 UGraft FUE Hair Transplant vs Strip Surgery:
Follicular unit strip surgery (FUSS) also known as "strip harvesting," is considered the traditional method. FUSS extracts a strip of flesh from the rear and/or sides of the head, which will be microscopically divided to provide donor follicles for transplantation.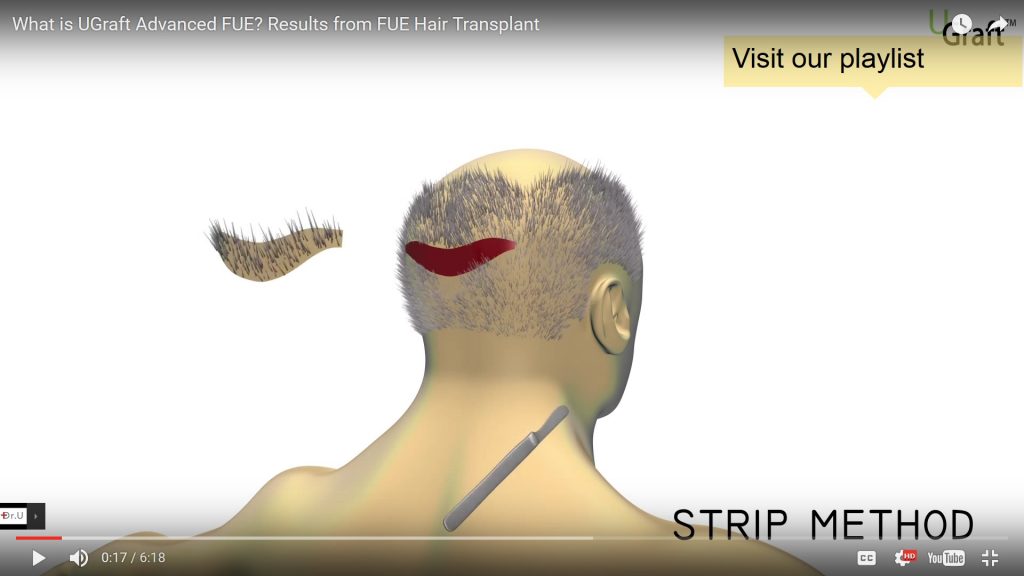 ---
A disadvantage of FUSS is that it would inevitably result in a linear scar that the patient would have for the rest of his/her life and must wear a longer hairstyle in order to conceal the scar.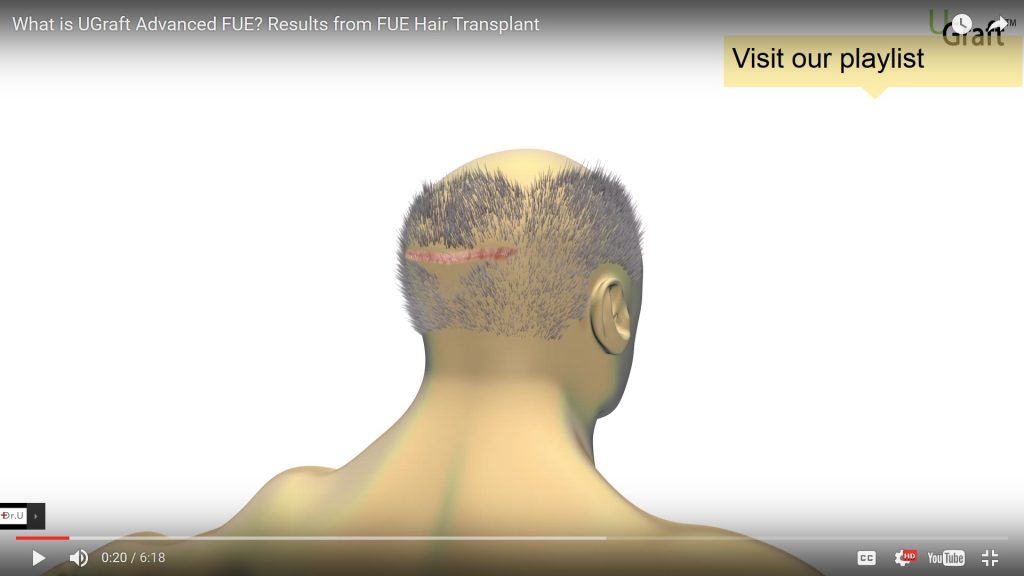 ---
UGraft FUE does not extract follicular units in a strip of flesh like FUSS as shown in the photos below (figure 5a and 5b). It is a more detail oriented procedure that calls for more skill and specialized tool.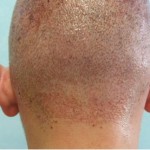 ---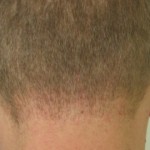 ---
This means UGraft Follicular Unit Extraction is more skill oriented and requires the use of specialized tools and more operation time. It is for these reasons relatively more expensive compared to the older FUSS procedure. This is more than made up for by the tremendous advantages that go with UGraft FUE over FUSS which are mentioned previously and highlighted below:
A less invasive procedure
The possibility to use finer hairs, such as those found at the nape of the neck, to better refine the hairline and temples as well as eyebrows, and eyelashes
No linear scarring; only tiny round, cosmetically negligible marks in the donor area. This also means patients will be free to wear short hair styles, not bound to long hair styles for concealing a strip scar.
Less likelihood of permanent nerve damage.
An infinitely larger pool of donor hair, as UGraft FUE enables body hair transplantation (BHT)
WHO IS A GOOD CANDIDATES FOR UGraft FOLLICULAR UNIT EXTRACTION?
Potential candidates for UGraft FUE hair transplant using head hair only are those who do not suffer a total depletion of scalp and body donor hair. An FUE clinic that does not practice UGraft BHT would be unable to service a patient without sufficient head hair remaining in tact. On the other hand, a clinic that practices UGraft body hair transplantation, such as Dr Umar of Dr U Hair Clinic of Los Angeles, would be equipped to service patients whose scalp hair loss is so severe that their head donor hair is not sufficient for transplantation. In that event hair from the beard and all body areas are utilized using the UGraft tool which is designed to do so successfully in all patients. The benefit of this process comes into force especially in the following situations:
Patients who suffer from severe baldness
Patients who have excessive scarring from previous surgery
Patients that have endured some sort of accident or burn that has left them bald
POOR CANDIDATES FOR FUE PROCEDURES
There are individuals who may not qualify for Advanced UGraft FUE Hair Transplant surgery.
People who lack the supply of good quality scalp and body donor hair.
There is are cavetas to be observed when dealing with very young patients (Aged below 24) before hair transplantation should be contemplated. This is due to the fact that a person under the age of 24 who suffers from androgenic alopecia has likely not finished balding. Also, this age group may be psychologically and financially unprepared to grasp the long term implications of hair transplant. That said, after careful counseling, even young patients can undergo an UGraft FUE hair restoration. Counseling must fully take into account: future hair loss, total available donor pool, and the patient's ability to countenance future follow-up transplantation (which could create an unnatural look if not done).
People with an abnormal tendency to scar, as in scar hypertrophy, or keloids.
People with bleeding or clotting abnormalities.
People with allergies to local anesthesia.
Other contraindications of surgery in general
COMPLICATIONS OF AN FUE SURGERY
In general, follicular unit extraction is a safe and minimally invasive method of hair transplantation. Patients can minimize their risk by following all pre- and post-procedural instructions and by selecting an experienced surgeon. However complications may yet arise even in the best of circumstances. Factors that increase the chance of complications of FUE hair restoration could include:
Physiology of the patient
An inexperienced practitioner
A practitioner who values quantity over quality
A practitioner who abdicates his skills to unlicensed personnel or flawed machines ( eg vacuum based technologies or robots that lack the human touch)
Unknown and unforeseen complication factors may arise on rare occasion
UGraft Follicular Unit Extraction in Los Angeles : Evolution of a Technique
Basic follicular unit extraction – FUE was invented by the Japanese dermatologist Masumi Inaba in the 1980's and first described in his textbook, which was published in 1996. [Updated: There have been many claims to this honor by later practitioners. These claims have gone unchallenged because Dr. Inaba is deceased. Thankfully his textbook, which was published at least 8 years after his discovery, survives him ] . Basic FUE hair restoration is a refinement of the large punch graft technique that was performed by New York dermatologist Dr. Norman Orentreich in the early 1950's. Unlike Orentreich's large 4mm punch grafts that leave large round white scars on the back of the head – fig 1 [UPdated: example shown in the photo below],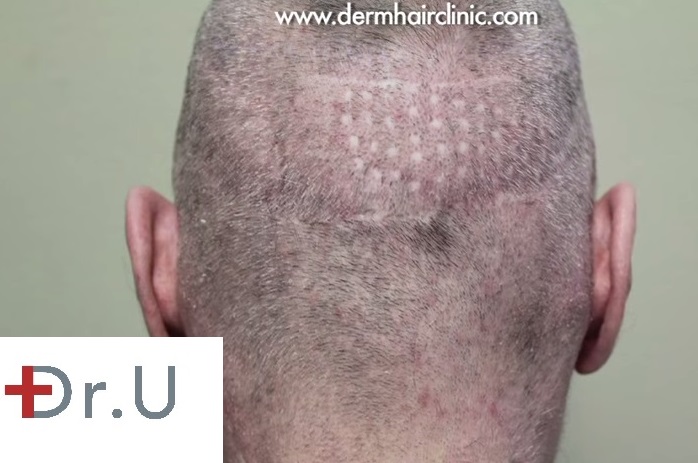 ---
Discovery of the Follicular Unit By Dermatopathologist Headington Paved The Way for FUE and FUSS
Inaba, innovated by using tinier punches—size 1 to 1.3mm—to extract hairs in smaller divisions. At that time the concept of follicular units was just forming A follicular unit (FU) is the small hair grouping that is naturally found on the scalp, first described by the histological studies of pathologist John Headington in 1985. A follicular unit can consist of 1-4 hair shafts and, as a result, allows a more precise placement of hairs during transplantation than the earlier punch grafts performed by Orentreich. The technique described by Inaba underwent a natural evolution as a result of the recognition of the anatomy of follicular unit groupings first described by the dermatologist Headington. The result is that hair transplant doctors began targeting these FUs precisely resulting in punch refinements that vary in size from 0.5mm to 1.3mm depending on the diameter of the areas of the FU in the individual. There is individual variation in FU diameters, hence the variation in sizes of basic FUE punches. . This refinement of punch extractions that targets follicular unit groups specifically is what constitutes basic Follicular unit extraction today. The extraction wounds of follicular unit extraction are smaller and heal with less tell tale signs (fig 5a and fig 5b from above)
VARIATIONS OF FOLLICULAR UNIT EXTRACTION PROCEDURES TERMINOLOGIES.
The reader would have come across many acronyms related to FUE. It is important for one to know what they are and the basis for them so as to avoid confusion. first group of practitioners that performed FUE-type procedures independently developed their protocol and techniques. As a result variations came to fore as well as different terminologies for the procedures. As discussed above Dr Sanusi Umar developed the UGraft advanced FUE system with the attributes discussed above. Most other FUE methodologies have the aforementioned limitations of basic FUE hair restoration. Other pioneers of the procedure include Drs. Ray and Angela Woods developed Single Follicle Unit Extraction and "The Woods technique"; Dr. John Cole developed "Cole Isolation Technique "– CIT; Dr. Arvind Poswal developed Follicular Unit Separation Extraction – FUSE; Dr. James Harris developed Harris's "SAFE method"; Dr. William Rassman and Robert Bernstein developed FOX and Dr Robert Jones. The Neograft incorporated vacuum suction which many FUE practitioners avoid because of the graft damaging potential of the air drying effect of the vacuums. The corporate world got involved and produced the Artas robot which is another basic follicular unit extraction method fraught with many draw backs that passionate FUE practitioners would not countenance. It is Dr U's opinion that the Artas robot is ideal for novice practitioner who have no desire to excel in the procedure.
---
Dr. Harris's SAFE method involves a first shallow score using a sharp punch followed by a deeper score using a wider, blunter punch. This twist to the technique was intended to reduce transection rates in the hands of novice follicular unit extraction practitioners. However, it adds a third step that adds to the operation time. The SAFE method of using blunt punches is known to cause burying of grafts during extraction. This happens when a misaligned dull punch in the second score buries the graft instead of cutting around it.
Dr. Sanusi Umar invented special punches that combine the advantages of two-step follicular unit extraction with that of the SAFE method without adding an extra third step to the procedure while avoiding the added risk of buried grafts. Drs. Umar and Poswal were the pioneers that first perfected the use of motorized devices in FUE. Drs. Umar, Cole and the Woods' exclusively perform FUE currently. Drs. Umar and Woods have never performed FUSS / Strip surgery. Dr. Cole made a switch from FUSS surgery to exclusively FUE type surgery.
WHY STATUS QUO FAVORED STRIP SURGERY DESPITE THE DEMONSTRABLE SUPERIORITY OF FOLLICULAR UNIT EXTRACTION and MOTIVATION FOR SPEED & VACUUM FUE DEVICES
For several years following the advent of follicular unit extraction, some FUSS practitioners were hesitant to incorporate the procedure into their practice for several reasons some of which include the following:
Follicular unit extraction was more skill dependent and with a steep learning curve, including training of staff.
Follicular unit extraction was more labor intensive compared to FUSS. FUE entails a longer operation time and the possibility of doing several patients in a single day would be lessened.[Update: With the advent of the Artas robot, which means less involvement of the physician, many FUSS practitioners have jumped on the badwagon of providing FUE. Obviously this is an easy way out. The easier way is not always in the best interest of the patient. Dr U has expressed his opinion of the Artas robotic FUE and its limitations in this article.
In the United States and most developed countries, each hair transplant by follicular unit extraction is considered to be surgery. Hence the role of technician (unlicensed to perform surgery) in FUE harvest is eliminated. In the United States and most developed countries, FUE harvesting should legally be performed by the doctor himself or another personnel who is licensed by the governing medical boards to perform surgery. Since extraction is the most tedious part of the procedure and the surgeons are not legally allowed to relegate this duty to their technicians, conversion to follicular unit extraction would place a higher demand on the surgeon's time and effort. This would represent a sharp departure from FUSS, which has technicians doing the most labor intensive part of extracting the grafts from the excised strip of flesh.
The ascendancy of Follicular unit extraction over FUSS was pushed by consumer demands and satisfaction with outcomes. Internet access in part allowed patients to become increasingly aware and communicate about advantages of follicular unit extraction over strip surgery. Many FUSS proponents resisted FUE by perpetrating a campaign of misinformation and myths that were aimed to diminish the role of FUE in modern day HT. Some of the myths are hereby presented:
Myths and Misinformation about FUE hair transplant
MYTH #1: FUE hair restoration always results in a poorer yield compared to strip surgery. This true for basic FUE if done on the wrong candidate eg patients with tightly curled hair. UGraft advanced FUE does not have these limitations and may yield even better than strip surgery as depicted by the experience of the patient in the video below
---
MYTH #2: FUE hair restoration is not good for large scale restoration. Again this is a limitation of basic FUE. UGraft FUE on the other hand expands the donor pool beyond the capability of basic FUE and strip surgery as illustrated in the photos and videos below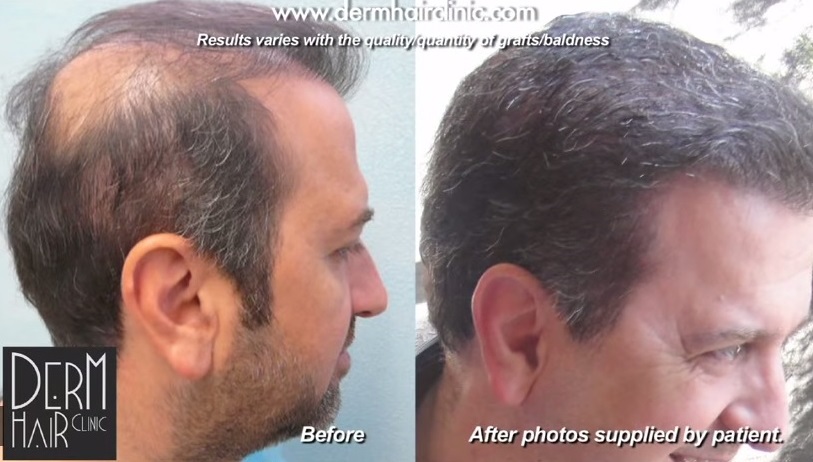 ---
MYTH #3: FUE hair restoration results in similar scale of scarring to FUSS. This is obviously not true. on the contrary, UGraft FUE is used to repair scarring caused by strip surgery as depicted in the video and photo example below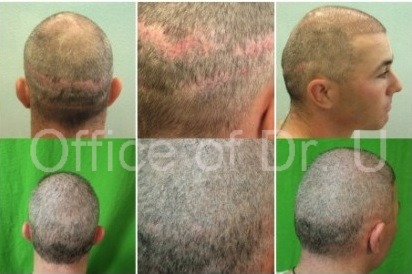 ---
If you have further questions about follicular unit extraction in general or something about your situation specifically or our FUE Hair Restoration Los Angeles clinic, feel free to ask Dr Umar directly
You are welcome to do an online for your Los Angeles FUE Hair Transplant consult directly with Dr Umar at no cost by completing this form
View Gallery of UGraft FUE Results
Related articles
About UGraft hair transplant repair
About UGraft eyebrow transplant
About UGraft eyelash transplant