Bad FUE Hair Transplant planning can lead to unnatural looking hair, as demonstrated by one of Dr. U's recent patients. He had previously visited another clinic in order to correct his severe baldness. Unfortunately for the patient, the clinic he visited practices something that has become a worrisome habit of many novice FUE hair transplant clinics, which is over harvesting of the head donor in a bid to treat severely bald patients using head donor sources alone. They lack the proper skill of technique for credibly restoring severely bald patients
From another clinic before seeing Dr Umar, this patient underwent the FUSS procedure (Follicular Unit Strip Surgery) then he later received a basic FUE procedure (Follicular Unit Extraction) using a total of about 10,000 grafts just from the head. 10,000 grafts harvesting from the head of a patient is simply wrong and should be avoided.
Bad FUE Hair Transplant Planning
The previous clinic did not properly plan the patient's hair transplant, which is why he was left with scars and a depleted donor source, as well as aesthetically poor results. His before pictures show that the majority of the 10,000 grafts did not grow, likely because they are impermanent hair. They only used his head hair as a donor source, which is not recommended for patients who are significantly bald or destined to be so.
If the clinic that the patient visited prior to seeing Dr. U had used better Advanced FUE hair transplant technique like the UGraft, they would have done the following:
Performed an FUE Shave Test to determine the extent of safe donor area to harvest in the head
Used a tool like the UGraft that optimally utilizes head, body and beard grafts to expands the donor pool in performing body hair transplants.
Considered other reasons illustrated in this video,
The Dr. U Advanced UGraft FUE Hair Transplant Difference
Dr. U uses his "FUE Shave Test" which he developed to screen potential patients in order to determine the best course of treatment for each individual patient. By doing so, Dr. U is able to avoid over harvesting of a head donor source, which is especially important for those suffering from severe baldness.
Dr. U's screening process and UGraft FUE procedure of taking sources from various parts of the body has allowed him to perform countless successful surgeries over the past ten years with consistent outcomes and continues to refine his technique and technology. As illustrated in this video, Dr U used the UGraft technique to repair this patient without the use of a single head hair, rather he accomplished the mission using chest and beard grafts alone
For more information on what Dr. U believes is proper donor management in order to avoid bad FUE hair transplant planning, view the video here:
Bad FUE Hair Transplant Planning – Patient Photos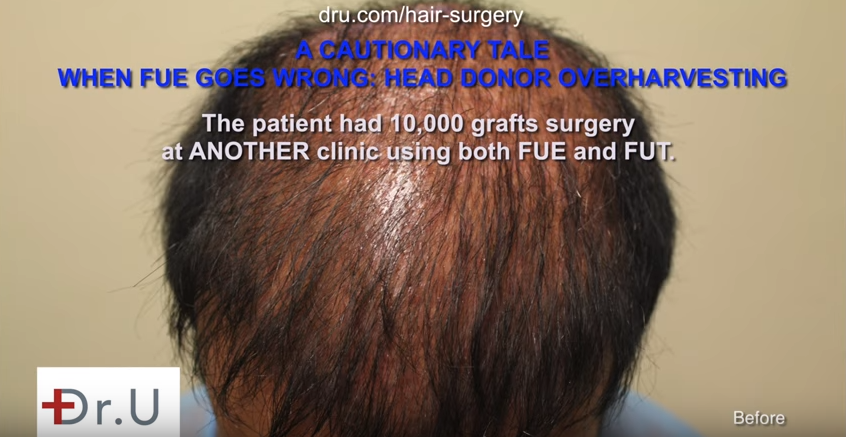 The photo above shows the patient before he saw Dr. U and perfectly illustrate the damage that bad FUE hair transplant planning can cause.
The following photos track the patient's incredible progress after seeing Dr. U. In this body hair transplant derived donor rework, Dr. U took approximately 6,000 grafts from the beard, chest, and nape areas. After only 5 months, the patient has an entirely new look and restored confidence.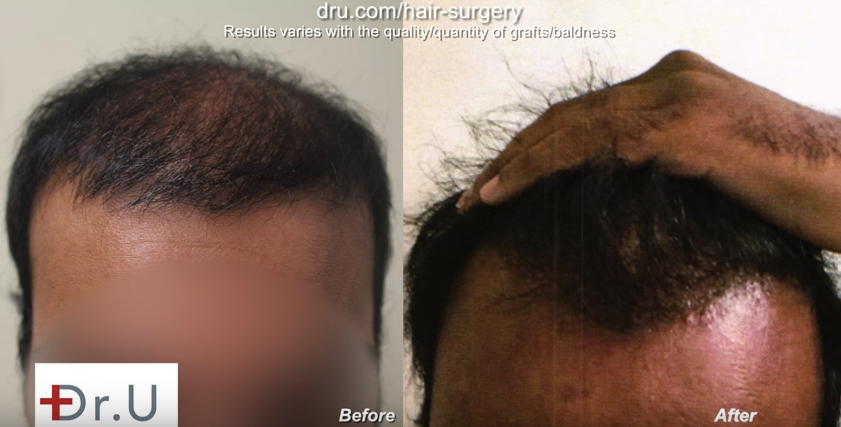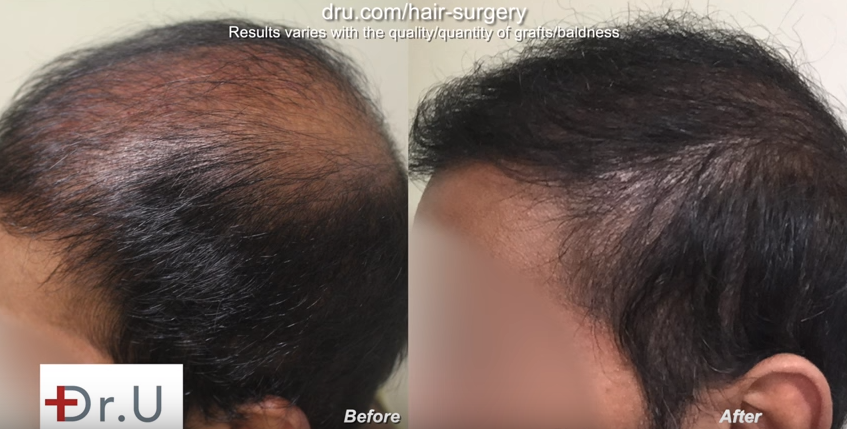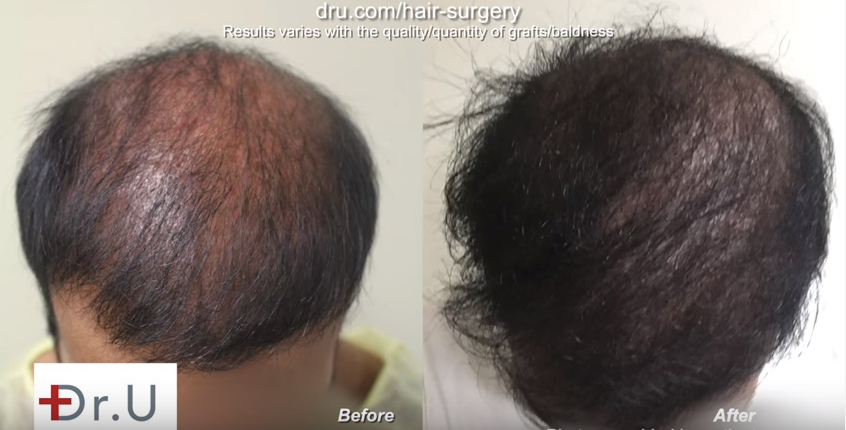 Patient Video
The video above tracks the patient from after being a victim of bad FUE hair transplant planning all the way up to 5 months after initially seeing Dr. U.
Consult dr U at no cost by completing this form
Related reading