What is UGraft Advanced Follicular Unit Extraction? UGraft system is a patented technology invented by Los Angeles board certified dermatologist Dr U as an evolved form of the hair transplant procedure called FUE hair transplantation. The simpler or basic form of FUE is limited to:
Utilizing hair from only the back and sides of the head.
Only handles relatively straight head hair reliably.
The UGraft advanced system however, not only handles head donor hair, but also nape, beard, and body hair as well. It also can handle even the most tightly curled hair as found in individuals with Afro-textured hair consistently with minimal attrition rates.
The following video summarizes the attributes of the UGraft system:
Is UGraft Advanced Follicular Unit Extraction Dr.UPunch Services Right For You?

UGraft is likely the answer to your needs if any or a combination of the following applies to you:
You want to avoid the linear scars from older strip hair surgery methods
Insufficient head donor hair
Need repair of past hair transplant mistakes
You want softer, undetectable hairlines and temples
Have a strip hair surgery scar that you want repaired
need an eyebrow transplant surgery that looks soft and natural
need an eyelash transplantation that looks natural
UGraft Advanced Follicular Unit Extraction : Methodology
UGraft is a system of tools and techniques that Dr. Umar developed for harvesting facial, body and nape hair follicles. The grafts from these other areas are more delicate in nature compared to head hairs.  Therefore, they require a more specialized approach to prevent graft damage during extraction and to optimize the healing process for the donor regions. The UGraft possesses the following advantages over other basic FUE methods:
Production of better quality grafts that would yield better
Superior wound healing
Ease of use
How The UGraft Advanced Follicular Unit Extraction Methods Produces Better Quality Grafts:
UGraft is superior at producing better quality grafts because of several features:
The outwardly directed cutting axis, means the cutting edge of the punch is directed away from the graft. Hence, the part of the punch in contact with the graft is relatively blunt. This means less chance of transection or damage to the graft
The outwardly directed punch edge cuts into the scalp in an expanding manner. Meaning the wound diameter widens with depth. It means that the grafts extracted would be invested with more tissue for protection compared with same sized punch from basic FUE. It means UGraft follicles are bulkier. Bulkier grafts have been scientifically proven to survive better that slim grafts
A fluid system that adds chilled physiologic fluid in the incision wound during extraction. This means the grafts are kept wet and alive in the time it takes for the surgeon to pull them out.
The gentle pulling action during scoring ensures that the entire length of the graft has been bluntly dissected away from its attachments. This minimizes the amount of work needed for secondary dissection, thus less graft handling
When a graft is impacted in the punch lumen as often happens in FUE, the fluid mechanism by foot activation doubles as a graft flush system. The graft is expelled thus avoiding the graft damaging process of using a forcep to tease it out.
The UGraft does not employ air vacuums that can potentially damage the grafts by desiccation.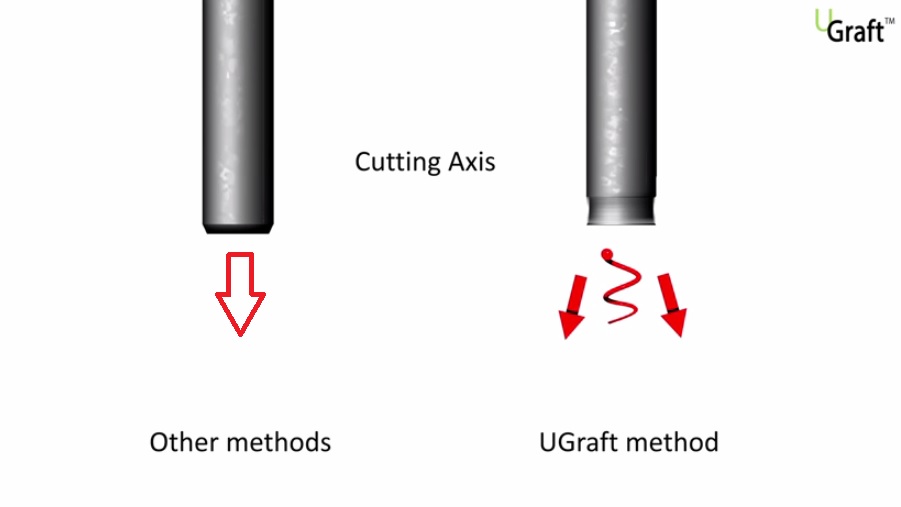 ---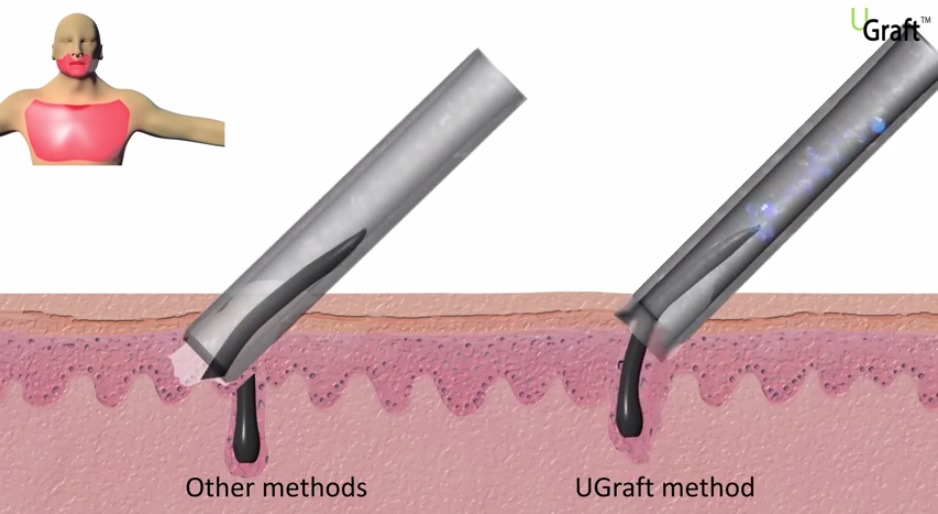 ---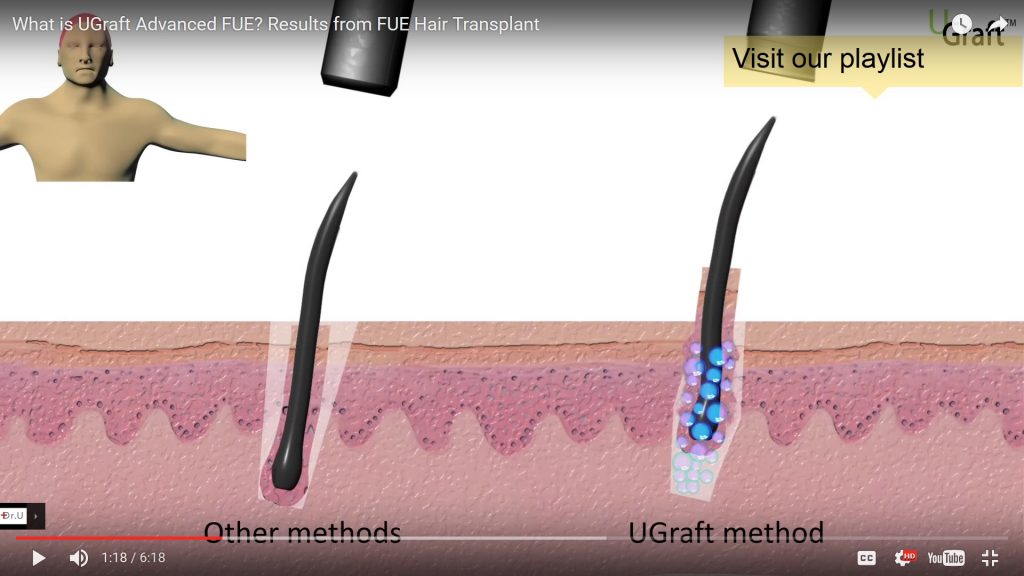 UGraft deposits drops of chilled physiologic solution around the follicle during scoring. This provides a protective nutritional wet shield around the grafts in the time it takes for them to be pulled out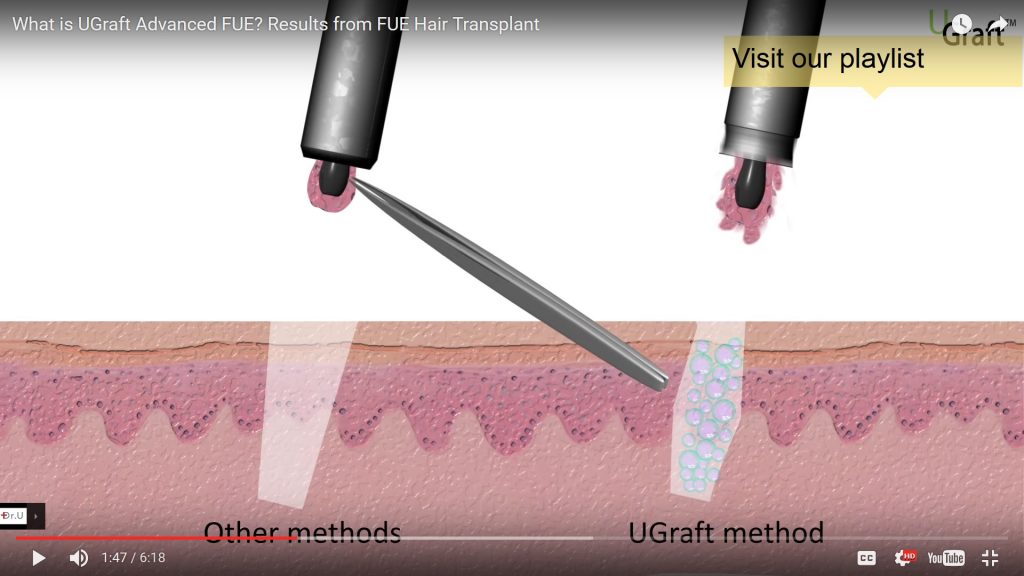 ---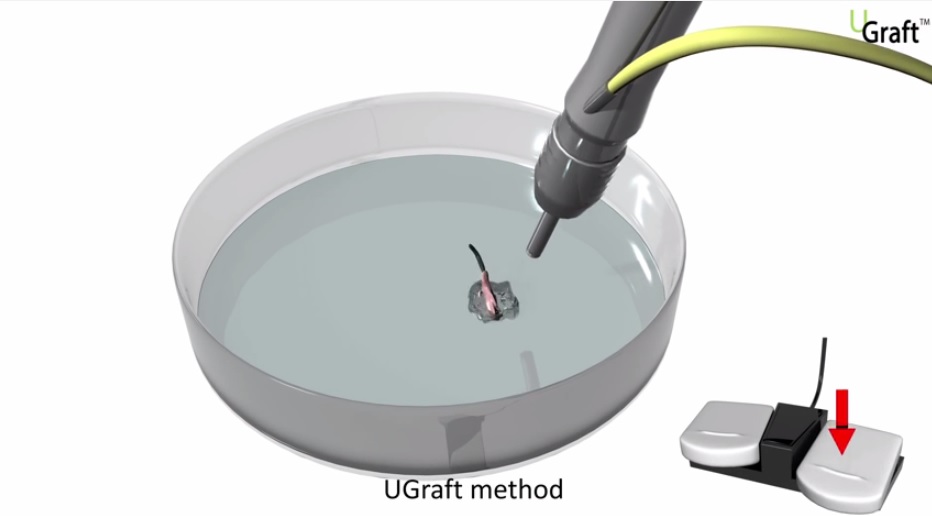 How The UGraft Advanced Follicular Unit Extraction Offers Superior Wound Healing
Generally, in FUE, two factors are responsible for the quality of wound healing after the procedure. Understanding these factors would shed light on how the UGraft is superior in wound healing to other FUE tools:
Size of the wound which is determined by the size of the punch
Shape of the wound which is determined by the shape and cutting dynamics of the punch
The UGraft was crafted with the goal of enabling the consistent nd efficient extraction of thousands of grafts from exposed body areas like the beard, chest legs, forearms and rest of the body that cannot be covered by hair. For this to happen the wounds must heal in a manner that is superior to ordinary FUE tools. This challenge is overcome by the shape of the wound created by the UPunch Rotor in comparison too other basic FUE punches.The away pointing cutting edge creates wounds that expand with depth hence they are more inverted – straight edged compared to typical FUE punches which create everted wound edges. Inverted to straight edged wounds heal better cosmetically compared to wounds with everted edges. The series of photos shown below as well as the UGraft video illustrates this phenomenon clearly.
---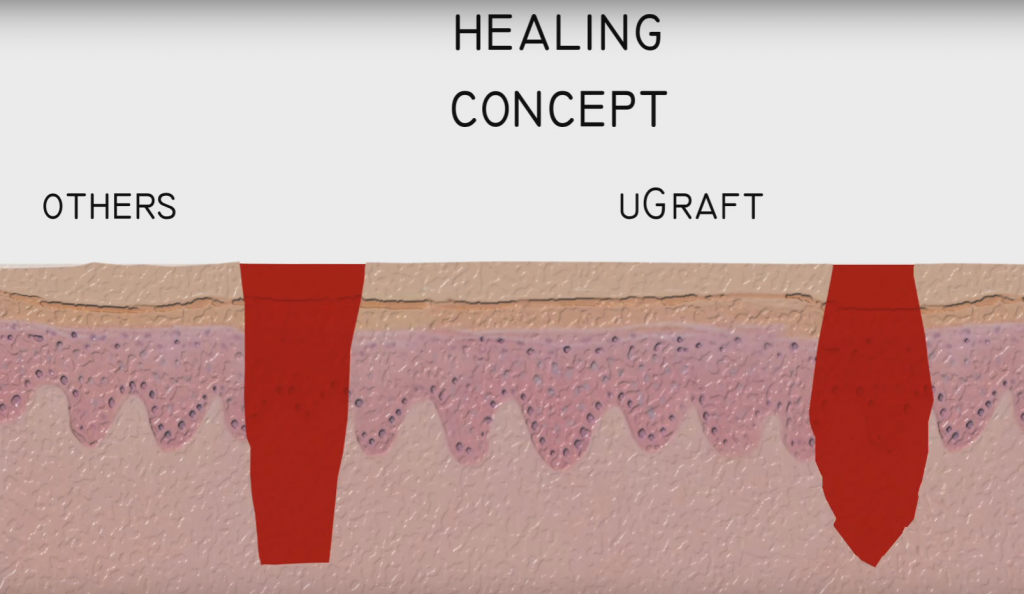 ---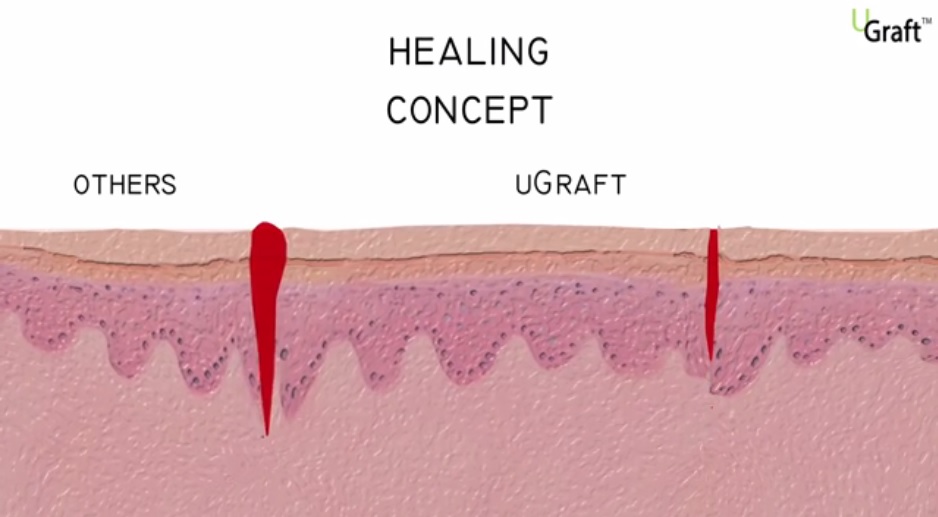 As a surgical system, uGraft also includes protocols developed by Dr Umar a dermatologist which are performed before and after the procedure to further optimize the quality of the results.
Why The UGraft Advanced Follicular Unit Extraction Is Easier to Use
Less need to guess hair angles. One of the main challenges of basic FUE extractions is positioning  the surgical tool so that it does not harm the graft. Hair follicles often grow at an angle. And the trajectory of their growth may be curved. The perimeter of the punch needs to be placed so that the shape of the excision surrounds the follicle. Otherwise, it can be buried or damaged by the edge. UGraft with patented UPunch Rotor minimizes this challenge in two ways:  (i): The away pointing cutting edge increases the margin for error and                 (ii) : The pulling action negates the need to get the deep angel of the follicle as it is pulled into the lumen as it is separated from its attachments. The punch needs not be pushed deep into the scalp, rather the follicles is pulled up into the UPunch Rotor lumen.
Grafts impacted within the lumen of the UPunch are expelled by simple foot pedal activation of the fluid flush system which pushes the grafts into a receiving petri dish. The time that would been required to stop the procedure and tease out the graft with a forcep is minimized. The graft is also saved from the trauma of forcep manipulation.
UGraft Advanced Follicular Unit Extraction: Various Patient Procedure Experiences
UGraft hair extraction involves restoring balding areas of the head by moving grafts from the donor areas on the head or body one unit at a time. It is a minimally invasive process done in complete comfort under local anesthesia and a mild sedative. Usually you are awake and watching a movie during the procedure, and you are also given breaks. Lunch is served on our clinic's patio overlooking the Pacific Ocean.
Minimal pain is involved during and after UGraft extraction process. Most clients do not even need ordinary over the counter pain killers. Depending on the size of the surgery, procedures can be scheduled over the course of several back to back work days.
Fast healing. Because of the microsurgical UGraft hair extraction technique used by Dr. Umar, only the tiniest incisions are made for extraction and transplant. His unique approach speeds the healing process; patients can usually return to most normal activities the very next day. The time to complete resolution of signs of surgery has ranged from 3 weeks to 4 months with UGraft hair extraction.
Los Angeles Clinic UGraft Advanced Follicular Unit Extraction Patient Results.
The following are real life patient examples of hair restoration done using UGraft methods
Some of these results have been published in highly regarded scientific peer reviewed Journals like JAMA Dermatology, Annals of Plastic Surgery, Plastic and Reconstructive Surgery, Journal of the American Academy of Dermatoloy, Dermatologic Surgery, Facial plastic Surgery Clinis of North America…
Los Angeles Clinic UGraft Advanced Follicular Unit Extraction : Head Hair Only Results
When head donor hair is in ample supply, these grafts receive top consideration for the patient's procedure.
UGraft can be used to harvest scalp hair follicles and even finer nape hair to create highly natural and true to life hairlines.
This patient was unhappy with his hairline recession. Through the use of UGraft, Dr. U was able to extract appropriate numbers of varying hair thicknesses to replicate natural hair growth patterns.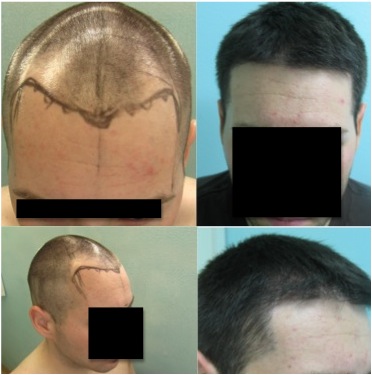 ---
---
This next gentleman also wanted to reverse his hairline recession.  Since he still had ample quantities of head hair, Dr. U was able to rely exclusively on scalp sources to restore a youthful frame around the patient's face through the selection of different hair graft thicknesses and the skilled insertion of these follicles.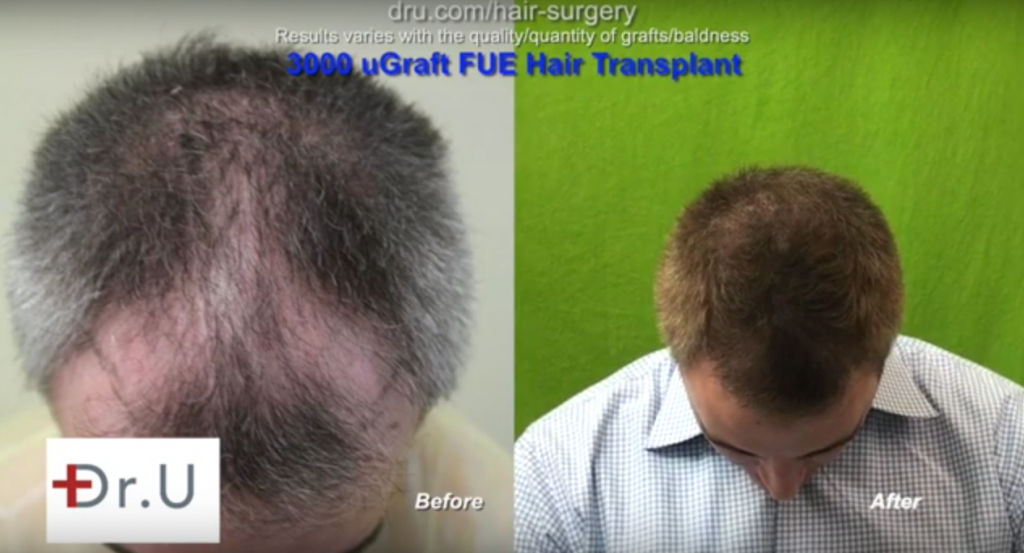 ---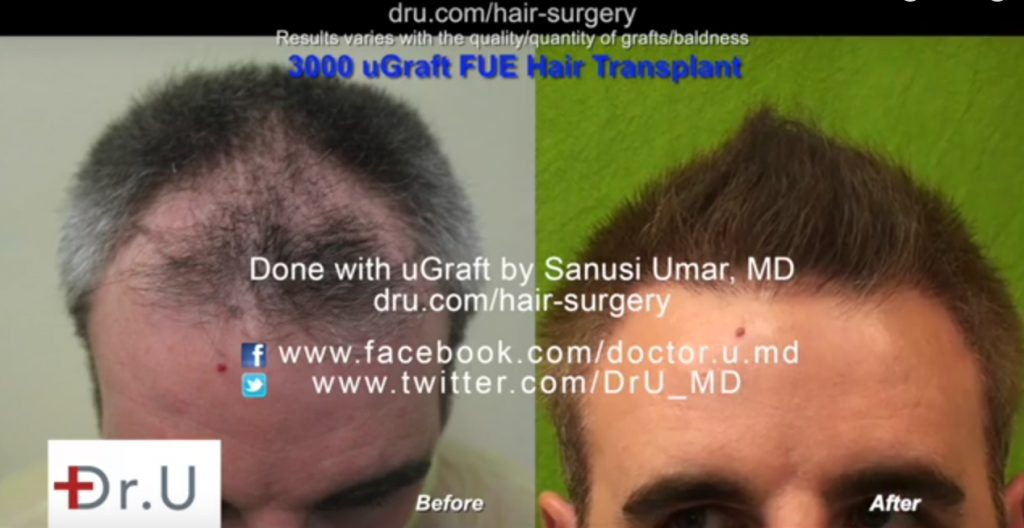 ---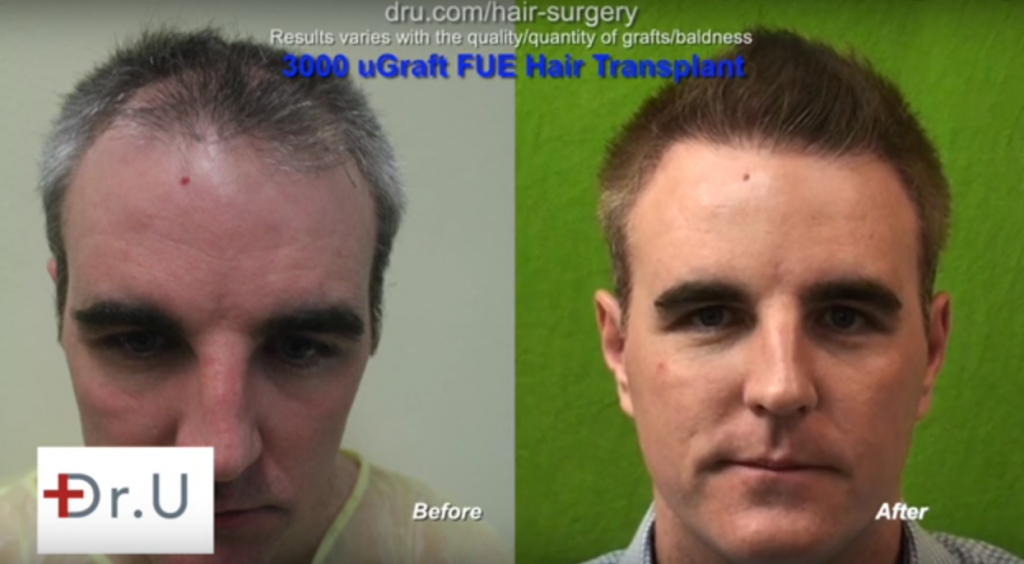 ---
Los Angeles Clinic UGraft Advanced Follicular Unit Extraction : Examples of Combination Head and Body Hair Results
This next patient with severe baldness was not able to qualify for hair transplant surgery through conventional methodologies. Yet, despite his odds, he persisted in finding a clinic who could help him. Dr. U's UGraft procedure made the impossible possible in the severely bald patient by restoring his hair most credibly. Using UGraft BHT, his severe baldness was fixed providing the right coverage and the hairline that he wanted.  Both head and body hair grafts were extracted to create an overall donor pool of 12,000 grafts to achieve the results below.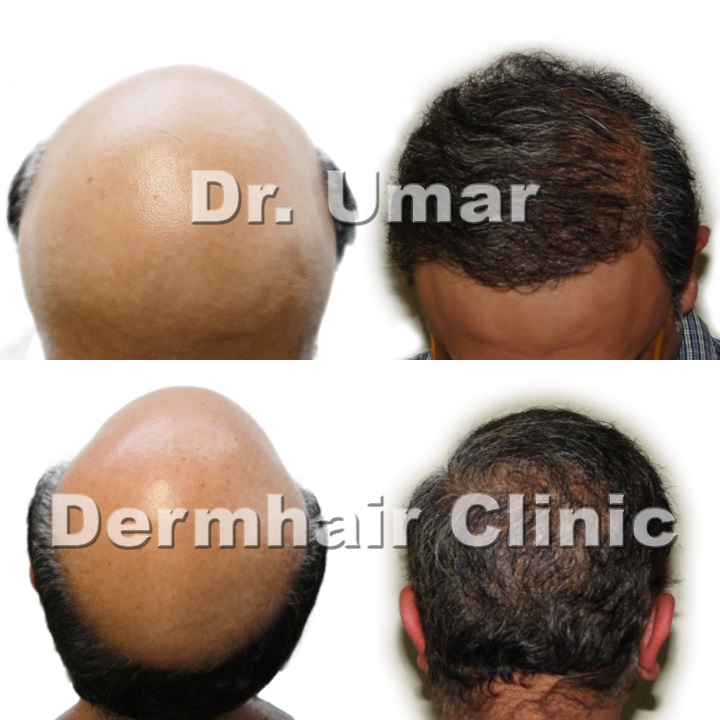 ---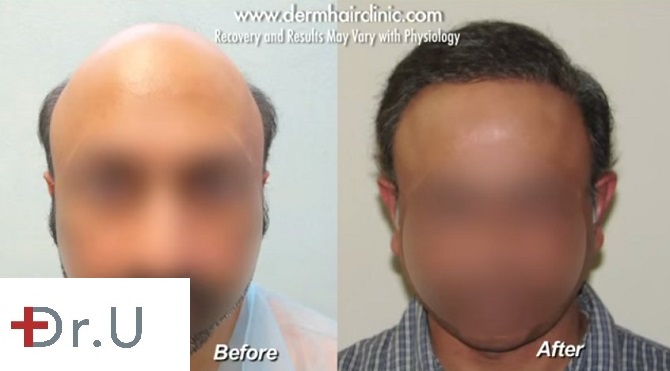 ---
Read the latest publication by Dr U, the first large scale study of body hair transplantation which proves for the first time that using UGraft and standardized protocols described by Dr U, BHT produces consistent results and patient satisfaction. Published by the Aesthetic Surgery journal
This next patient had undergone strip surgeries at other offices. However, his growth yield was very poor and he was left with a linear scar. Dr. U was able to harvest a combination of scalp, nape and beard hair grafts to create coverage for the areas of poor density, baldness as well as the strip scarring. Also Dr. U's expertise in facial aesthetics and natural patterns of hair growth allowed him to create an amazing, flattering outcome with no obvious signs of surgery.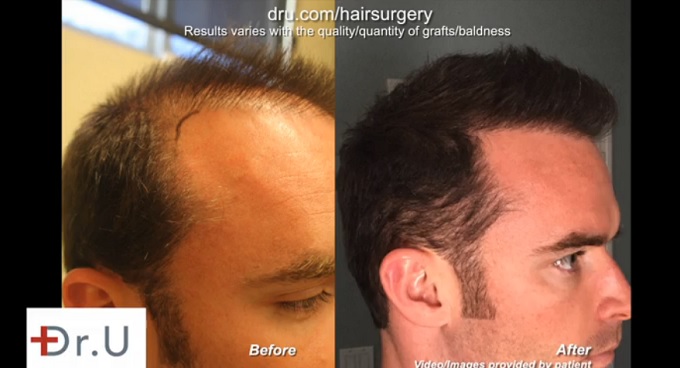 ---
Los Angeles Clinic UGraft Advanced Follicular Unit Extraction : Examples of UGraft Hair Transplant Repair Patients
Dr U's revolutionary procedure has enabled life altering hair transplant repair work in patients that have lost hope years after experiencing botched hair replacement procedures. This next patient had undergone several past attempts at hair restoration using methods now considered outdated. However, these operations left his scalp severely scarred and disfigured, making him the worst hair transplant repair case in history at the time of his surgery with Dr. U.
After losing hope and resorting to hairpieces, and having been told there was nothing that coud be done, he went to Dr Umar. Using UGraft and UPunch Rotor technologies, Dr U, utilized thousands of hair from the patients chest, stomach area, beard, shoulders, forearms to make the impossible possible. The patients life altering experience can be seen in the following photos and the emotions that clearly comes across in his video testimony: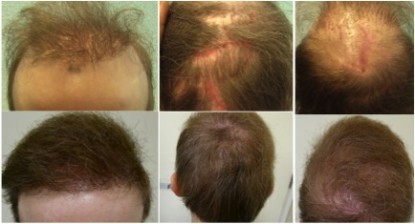 ---
This next patient suffered from the mistakes of a poorly conducted strip surgery. Not only was his growth poor, but other errors were quite egregious. This included obvious looking scars as well as thoughtlessly placed grafts. Since his surgery had ravaged his head donor supply, the patient was not eligible for a conventional hair transplant repair. Therefore, he wore a hairpiece for fourteen years until he met Dr. U.
In order restore a more normal looking coverage, Dr. U used his UGraft instrumentation to procure necessary graft quantities from body regions such as the beard and abdomen. Head hair was also included. The patient benefited enormously from the 14,000 graft supply that was made possible through UGraft. Here are before and after photos as well as the patient's video.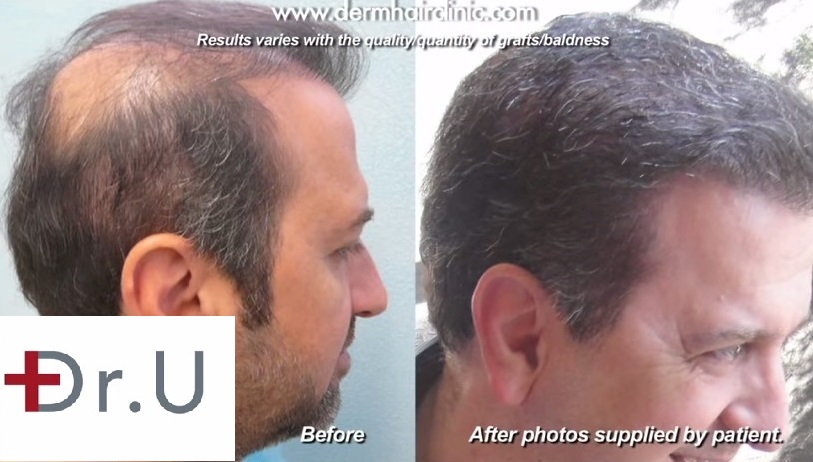 ---
Los Angeles Clinic UGraft Advanced Follicular Unit Extraction : Examples of UGraft Hair Transplant Repair Patients Using ONLY Body Hair
This next patient had also suffered from badly executed, outdated hair restoration methods, including punch graft surgery. His scalp was left with various forms of scarring and very minimal coverage. The only way to remedy this situation and create an improved appearance was by acquiring donor grafts exclusively using body hair. Dr. U was able to achieve this feat through the use of UGraft to extract enough body hair follicles to render the greatly improved outcome shown below in photos and video: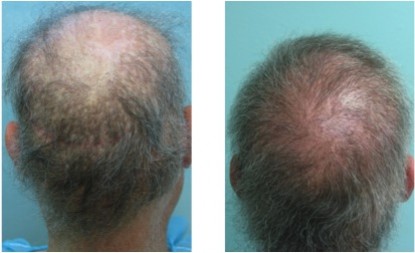 ---
This case and a few more typifying how UGraft is used to defy the odds in patients with decimated head donor supply. Read about it in the Annals of Plastic Surgery here
This next Los Angeles patient had undergone several hair transplants, including strip surgery back in the 1990s. However, with the older methods available at the time, thick hairs from the back of the head were inserted into hairline, creating a "stalky" appearance. This caused the patient to feel very self conscious. He grew his front layers long in order to keep his hairline concealed.
With his main desire to achieve the most natural looking hairline possible, he chose Dr. U as his surgeon. UGraft advanced follicular unit extraction method was used to remove fine leg hairs. These were inserted into a border of 0.5-1.0 cm along the hairline. The longevity of these leg hair to head Ugrafts were observed at the 2 year, 4 year and 9 year mark. And the patient continued to display a very healthy and natural looking hairline.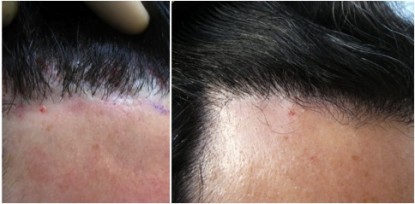 ---

---
Read about his case publication in JAMA Dermatology Journal here
Los Angeles Clinic UGraft Advanced Follicular Unit Extraction : Strip Scar Repair Results
A very common form of UGraft hair transplant repair involves the concealment of linear scars created by past strip surgeries. Hair will not grow through scar tissue. And this will create a line of emptiness that is particularly visible through short hair cuts. Dr. U has treated many patients with this issue by inserting grafts into the scar tissue. If the patient has enough hair on the scalp, these follicles can be used. However, if there are depleted quantities, it may be necessary to extract donor grafts from body regions such as the beard area. Read about Dr U's unique approach to strip scar camouflage as published in the British Journal of plastic surgery Journal now called JPRAS here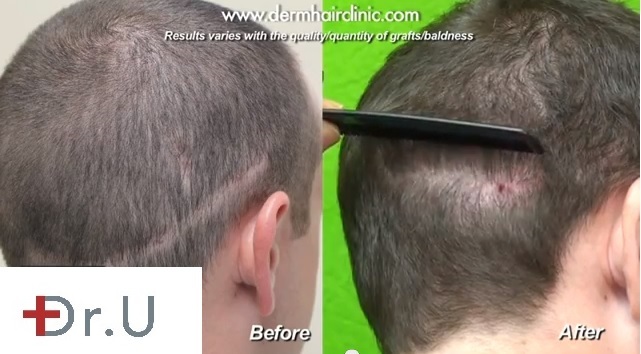 ---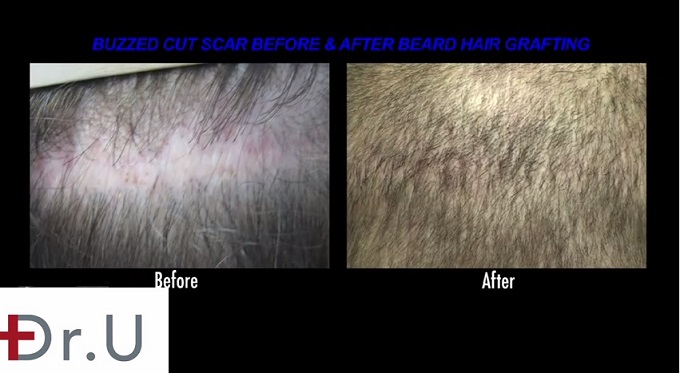 ---
---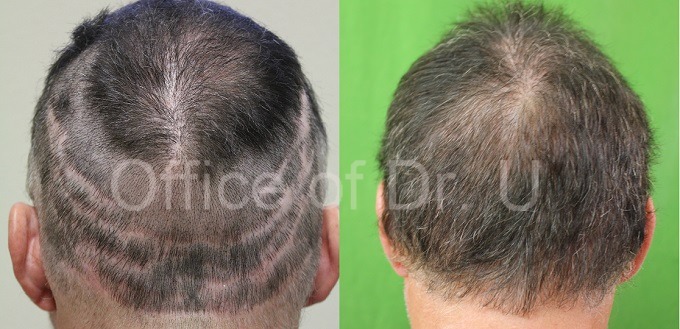 ---
---
Los Angeles Clinic UGraft Advanced Follicular Unit Extraction :UGraft Eyebrow Transplantation Examples
Although tattoos and makeup are options, most individuals prefer the more realistic look of having ample eyebrow hair  density. This is where eyebrow transplant surgery can be quite beneficial.
Traditional forms of eyebrow transplant surgery uses head hair. These shafts are much  thicker than eyebrow hair. Therefore, the results are likely to be quite harsh for the face. However, with the right instrumentation, this type of outcome can be avoided.
UGraft is able to extract finer hair grafts from the legs, nape and peri-auricular area surrounding the ears. Due to the way it is engineered, it can safely remove follicles that grow at sharp angles. Furthermore, the special wound cavity shape created allows for much higher wound healing standards which is often a priority for patients when they have hair removed on open donor areas like the legs.
The use of thinner hairs, close in caliber to real eyebrow hair is inserted around the contours of the final brow shape to create softer definition.
Read about the use of leg hair for the creation of most natural eyebrows using the UGraft as published in the Journal of American Academy of Dermatology here

---
Los Angeles Clinic UGraft Advanced Follicular Unit Extraction :Eyelash Hair Transplant Surgery
Just as some people are born with sparse eyebrows, there are also individuals who genetically endowed with short eyelashes. Although false lashes, prescription drugs and eyelash extensions are available, they require ongoing use. And in the long run, many people are unhappy with the time and expense that they need to continuously invest.
With eyelash hair transplant, it is possible for patients to have their own set of long eyelash hairs. Appropriate and realistic graft matches can be found on the nape and legs.
Dr U has discovered that leg hairs behave much like native eyebrow hairs when used for eyelash restoration. He discovered that the leg hair formed eyelashes look and behave like normal eyelashes. They require less maintenance and no need to perm unlike eyelahses created using traditional head grafts by strip surgery or FUE. UGraft leg hair formed eyelashes also require less frequent trimming. Read about it in this Plastic and Reconstructive surgery Journal publication.
View photos and video excerpts of the patient here: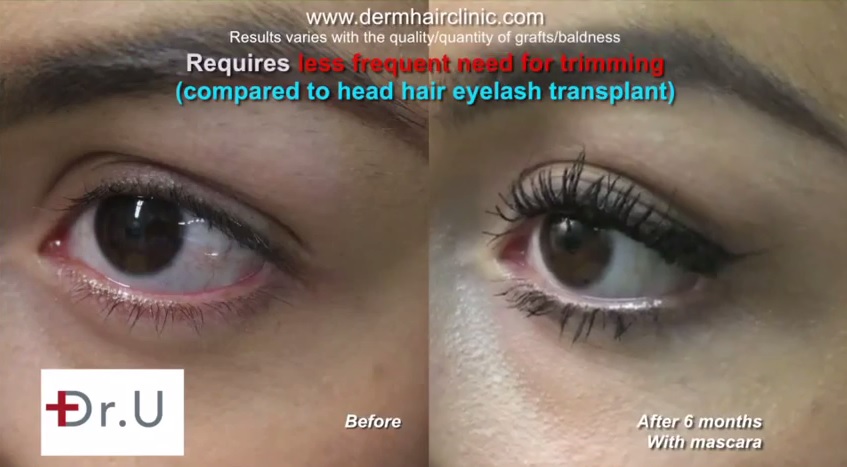 ---
UGraft Advanced Follicular Unit Extraction: Donor Healing Examples
The following are depictions of wound healing results at various stages after UGraft Advanced Follicular Unit Extraction
UGraft Advanced Follicular Unit Extraction : Head donor healing areas examples: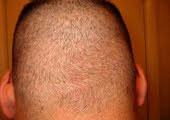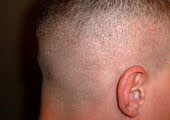 As you can see, sporting a crew cut is no problem with this procedure!
UGraft Advanced Follicular Unit Extraction : Body donor healing area examples:
---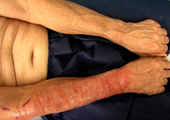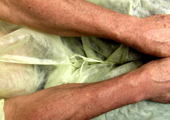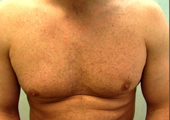 UGraft Body Hair Transplantation: Why Dr Umar Developed It.
With his advanced training, love of research and interest in a natural process for hair restoration, Los Angeles Dermatologic surgeon Dr. Umar pursued his passion of the art and science of hair transplantation. After personally experiencing the devastating consequences of a botched hair transplant surgery, he wanted to find a solution for others.
Dr. Umar began this quest by comparing different procedures for hair restoration in the United States and abroad, focusing on overcoming the limitations of traditional treatments for hair replacement. Many alternative treatments were still in the developmental stages and were flawed, so he began to design a new, minimally invasive, transplant procedure.
It took Dr. Umar two years to design the knife free tools and techniques that culminated into the UGraft system. The UGraft is a breakthrough in the field of hair transplantation, a state-of-the-art treatment that expands the donor pool and restore hope to those who hitherto had lost hope finding no solution in existing hair transplant procedures. The  UGraft system enables the effective and consistent the use of body hair in body hair transplantation, to the extent that even those suffering from severe baldness have a good chance for full restoration! Several patient examples are illustrated at the end of this article.
If you have loss of hair in any area of your head, face or body and desire to take control. Contact Dr. Umar to discuss your hair restoration options today! Begin with a free online consultation.
Further Reads