UGraft FUE Hair transplant tool receives US Patent: On August 4, 2015, Dr. U's signature hair transplant Follicular Unit Extraction ( FUE ) technology, UGraft ™ Revolution was officially issued a patent number US 9,095,368 B2 by the Patent Office of the United States. This instrumentation was engineered to solve some of the limitations and challenges of more conventional FUE hair transplantation surgical tools by providing an extremely reliable system for African American FUE patients as well as body hair transplant.

The UGraft difference is due to its ability to extract a much universal range of types of hair follicles. It thus offers new hope for hair restoration cases that are typically labeled as challenging or even impossible.
UGraft FUE Hair transplant tool receives US Patent – How It Makes A Difference For Hair Transplant Surgery
With the FUE method of hair transplantation, naturally occurring clusters of hair are scored by cutting the skin around the hair follicle using a tubular punch. They are then freed and then pulled out. However, with existing technologies, the standard straight, cylindrical punch design is consistent only for head hair that grows straight and downwards into the skin. They pose a major risk to hair on other regions of the body or in individuals with tightly curled head hair (eg most African Americans), because in these situations, the hair enters the skin at angles that unpredictable curled angles . Dr. U designed new technology to improve upon this limitations of typical FUE punches.
The newly patented UGraft ™ system drives a punch component known as UPunch ® which scores the skin around the hair. In Novemeber of 2014, the UPunch® was granted a separate US Patent (US 8,876,847 B2).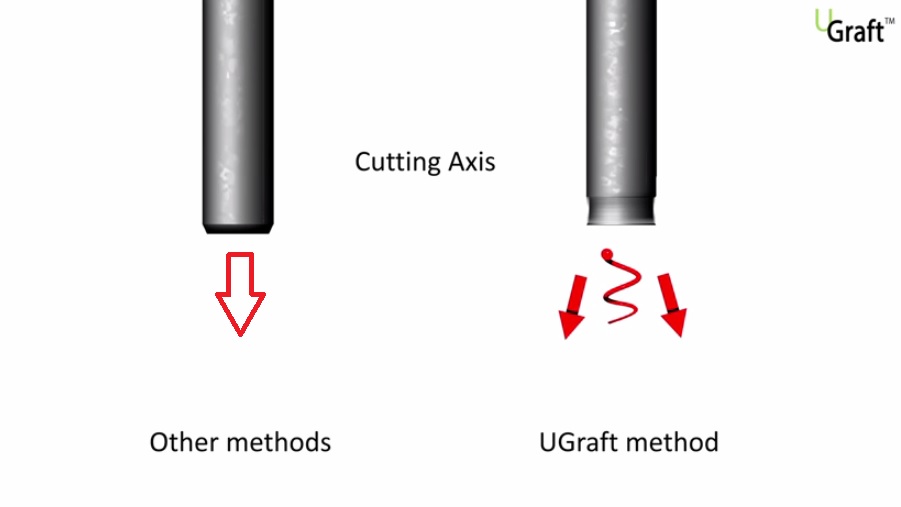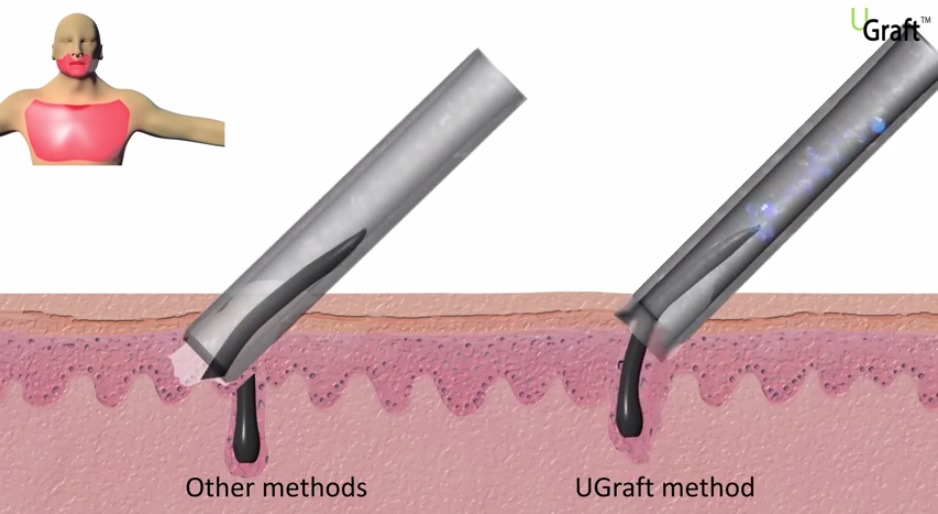 In contrast to a straight cylinder, the UPunch® creates a wound trajectory that is directed away from the hair follicle to minimize graft injury. The design incorporates a patented curved cutting axis around the bottom which makes this possible. Another patented feature in the internal and external surface of the punch creates a soft pulling effect on the follicle as it scores around it. The result is that even helically curled grafts can be pulled into the lumen. This process reduces the need for the operator to guess and trace the hair path underneath the skin. The video below illustrates this effect very well.
Watch this video which illustrates the process of extracting the graft. 1:02 depicts the patented pulling feature at work.
Thereafter, the follicle is either left free of its attachment for the operator to manually pull out or it can become detached and picked by the UPunch®. In the later scenario, the practitioner expels it into a container by pressing a foot-pedal.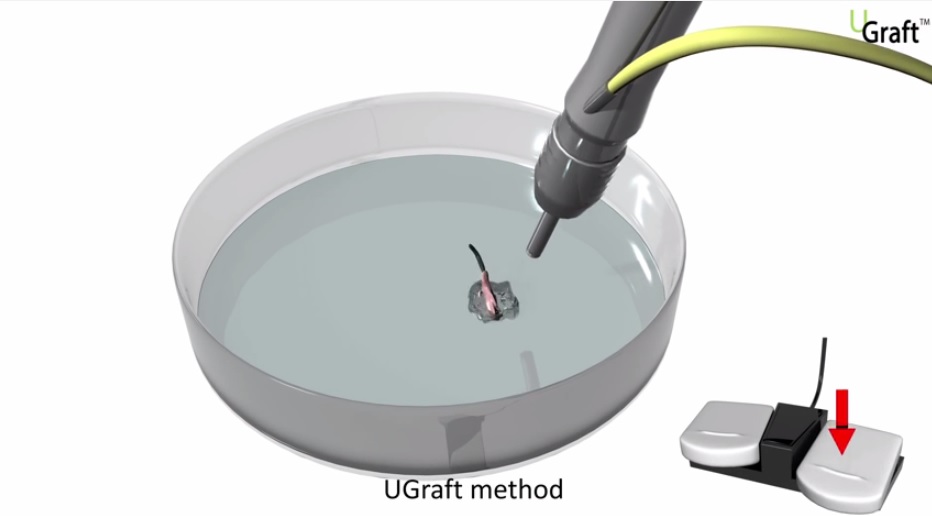 This foot pedal controls a fluid flushing and irrigation system which expels the extracted follicle. This graft retrieval approach acts as an alternative to the traditional use of forceps. The hands free water environment not only prevents the potential for mechanical trauma, but provides continuous hydration for the follicles, thus minimizing risk of damage from dryness which is the leading cause of hair graft death and growth failure in hair transplantation.
UGraft FUE Hair transplant tool receives US Patent – Who Benefits?
When more donor follicles are needed, the use of body hair follicles can be used as an additional resource. While this may seems like an obvious solution, the removal of body hair using regular punches has long been a major challenge.
As mentioned earlier, a major difficulty with extracting body hair follicles is that they tend to be positioned below the skin at sharp growth angles. Thus attempting to surround these structures using straight FUE punches present a higher risk of graft damage. The Patented curved cutting axis of UPunch® combined with its patented graft pulling feature helps to overcome the difficulty in cutting around a sharply angled hair follicle.
While some hair loss patients can achieve the results they want using just head donor hair, there are many other cases that require a much larger number of grafts. Examples include:
Patients who are severely bald, diagnosed as Norwood class 6 or 7
Hair repair patients with greatly exhausted head donor supplies
Younger patients. Read more about how UGraft's use of BHT can benefit young patients by clicking young men and hair transplantation.
Additionally, body hair being softer and shorter in length are suited for restoration of situations where a softer look is needed. Examples of these situations include:
UGraft FUE Hair transplant tool receives US Patent: Implication for Patients of African Descent
Afro-textured hair tends to be tightly curled and helical above and beneath the skin surface. Therefore, the straight cylindrical structure of regular FUE punches tends to break the curved shaped follicles which produce these types of hair. Further more, the thicker skin and tighter attachment of the surrounding skin makes it a more challenging task for conventional FUE tools to extract grafts without killing them in the process. For these reasons most patients in this demographic are typically rejected for FUE hair transplantation or have ended up having poor outcomes when conventional FUE tools have been used. The patented features of the UGraft™ minimizes these risks and makes for a consistent ability to safely extract grafts in most patients with their tightly curled Afro-textured hair features. The result is that most most African American FUE patients can now be transplanted using the UGraft™ advanced FUE approach.
Here is one example of a gentleman who was able to achieve the youthful hairline and coverage that he wanted through an Follicular Unit Extraction procedure performed with UGraft.
Leg Hair Extractions for Natural Looking Detail
There are many cases where finer hair is needed to replicate the most natural looking outcome possible. This level of detail can be achieved through the use of UGraft ™ to harvest leg hair, which possesses the thin caliber that is ideal for such purposes. Here are examples of real life patients who underwent such procedures.
Eyelash Transplantation

Eyebrow Restoration

Hairline Restoration

UGraft FUE Hair transplant tool receives US Patent : New Hope for Impossible Hair Transplant Cases
For many years before the issuance of this new patent, Dr. U has been using his UGraft ™ technology to meet the visions of numerous hair transplant patients who have been considered to be impossible candidates through the eyes of traditional clinics.
UGraft™ Covered By News, Media and Peer Reviewed Medical Journals
In addition to The New York Times, Hollywood Reporter, Good Morning America and other media outlets, UGraft ™ patient cases have also been featured in peer reviewed medical journals such as:
Journal of Plastic, Reconstructive and Aesthetic Surgery
JAMA Dermatology (formerly the Archives of Dermatology)
JAAD (Journal of the American Academy of Dermatology)
Plastic and Reconstructive Surgery (Global access)
Dermatologic Surgery
Facial Plastic Surgery Clinics of North America
Annals of Plastic Surgery
UGraft FUE Hair transplant tool receives US Patent: Commercial Availability
Due to the efficacy as well as the tangible, documented successes offered by UGraft™, many specialists in the hair transplant industry have signed onto a waiting list to purchase this revolutionary new technology. It will become commercially available for hair restoration physicians in the early part of 2016.
Further reading
UGraft Introduced by Dermatology Times