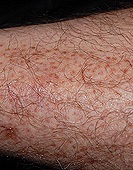 Hair Loss History:
Shin hair loss from friction. Failed attempt by another hair restoration clinic to transplant thigh hair to the area.
Body Hair to Leg Hair Transplantation – The Surgery:
600 UGraft – BHT grafts derived from the chest were transplanted to the shins
Note: The red spots from a previous attempt by another hair transplant clinic to plant thigh hair to the shins are still evident in the before and after pictures.
Dr Umar uses his advanced FUE with uGraft. With this method Dr Umar is able to transplant body hair for transplantation to area of need. This case could pass for the first successful body hair to body hair transplant!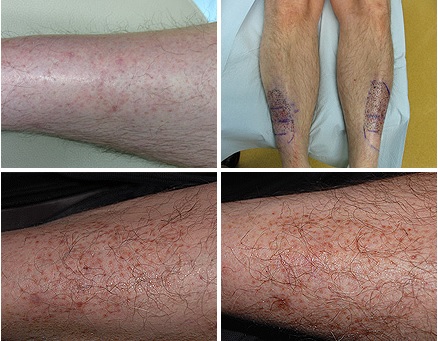 Conclusions:
While the loss of head hair readily attracts our attention, hair loss can involve other areas of the body as well. Many are familiar with loss of eyebrows, or even facial hair, but there are a large number of cases of isolated patches of hair loss involving other aspects of the body. Since these areas are not usually exposed to the world, it seldom attracts our attention or is considered inconsequential and ignored. In this instance the little fuzz of hair added to the shin gave the patient the satisfaction of not having a clearly demarcated bald patch which may mislead some to assume an underlying health concern.
Related Articles
Eyebrow restoration using leg hair