WHAT IS IT? Body hair to head transplant, also known as BHHT, body hair transplant, or BHT, is a hair transplantation surgery method that is better and consistently perfromed using advanced knife free UGraft methods. For over 10 years Dr Umar has been using his patented UGraft system to perform body hair transplantation to restore and repair a variety of cases on a consistent basis with life altering outcomes for these patients who have been turned away from most clinics as hopeless situations. Many scientific publications and a robust result track records from Dr U have propelled the body hair transplantation method of hair restoration to mainstream practices. Here is a video on the UGraft Advanced FUE and its application in body hair transplantation:
---
A Photo Preview of what is achievable using Body Hair to Head or Body Hair Transplant with the UGraft methods of Dr U:
As an introduction, here are some before and after photos of previous UGraft BHT patients. These patients could not have been restored using any current method existing today apart from the UGraft body hair transplant method: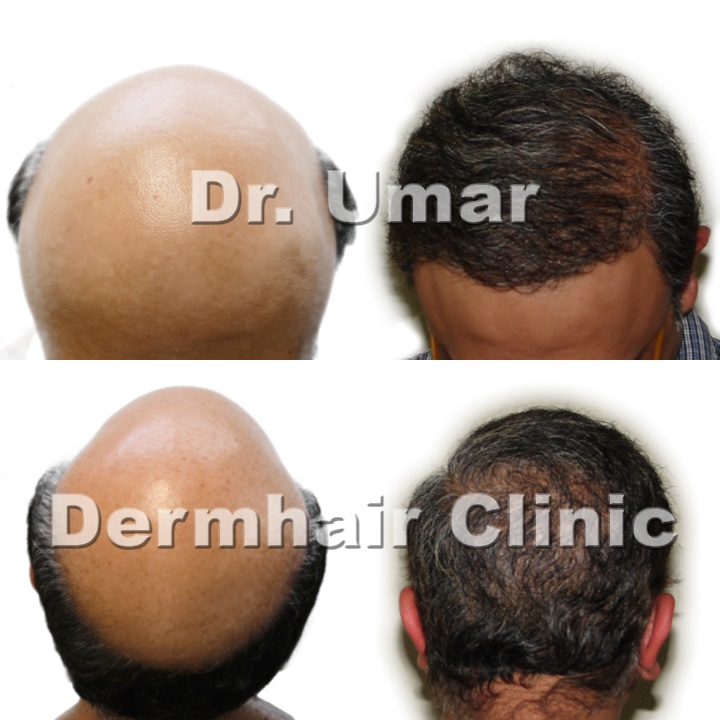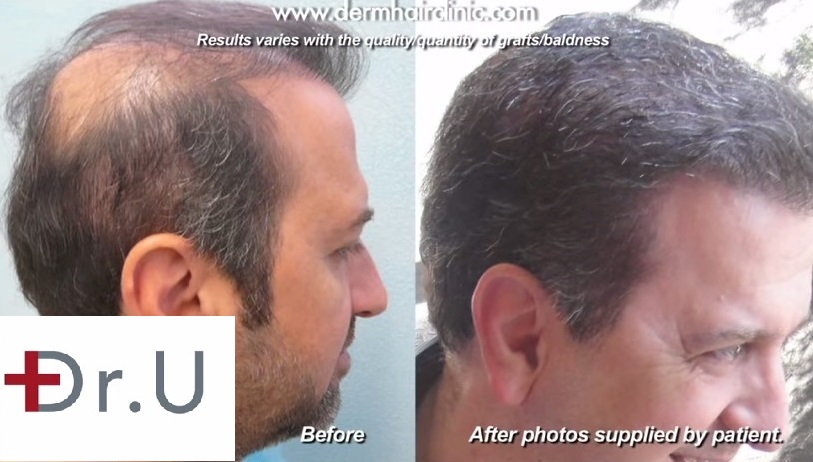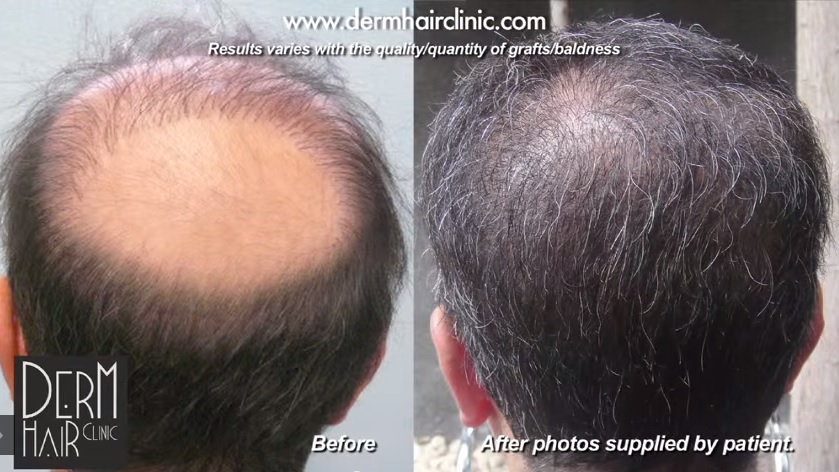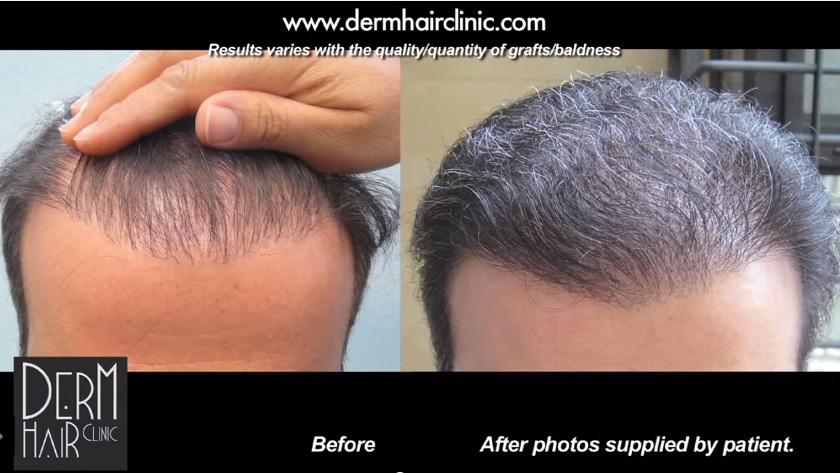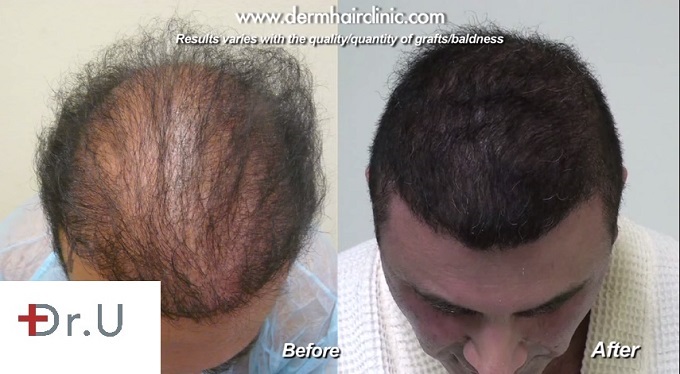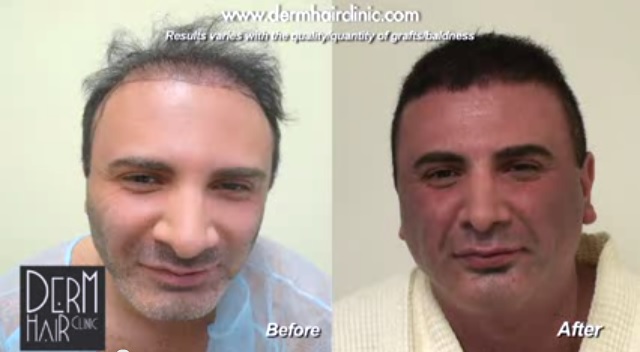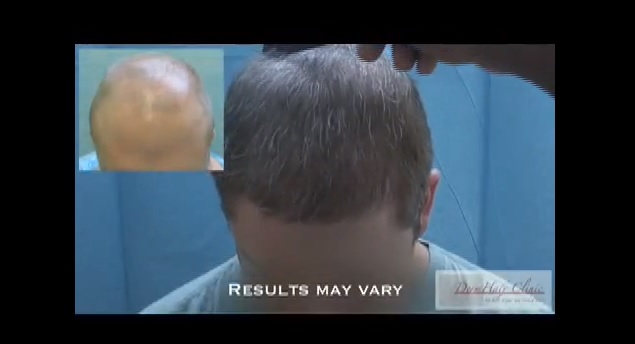 Follicular unit extraction FUE, is the harvest of follicular units—naturally occurring groups of one to four hairs—one at a time from the donor site, to be implanted into the balding recipient site. This FUE method of hair transplantation was further advanced by Dr Umar who invented the UGraft system of tools and protocols to evolve and includes the utilization of body hair as a donor source, vastly broadening the potential for the severely bald to undergo successful hair transplantation. Traditionally, transplants use donor hair from the head only, which confines the donor supply to 5,000-7,000 follicles. In a severely bald person, only a tenth of the lost hair can be replaced using a head donor source alone. This can result in thin, cosmetically displeasing coverage.
WHAT ARE THE BENEFITS of Body Hair to Head Transplant Using UGraft?
The implications of UGraft body hair transplantation are remarkable. For decades a large population of hair loss sufferers have been turned away as poor hair transplant candidates due to severe baldness. It was impossible to achieve a successful hair transplant without enough donor hair for global coverage over the scalp. UGraft Body hair to head transplant opens today's technology to a virtually limitless amount of donor hair, eliminating this problem. Through UGraft BHHT, hair can be harvested from the beard, shoulders, chest, stomach, arms, and legs.
The major benefits of UGraft body hair transplant are:
UGraft BHHT services the severely bald (including baldness caused by advanced androgenetic alopecia or caused by extensive scarring of the scalp from an accident or previous surgery)
It is minimally invasive
There are no staples, stitches, or other sutures used
It proffers a quick recovery time (donor site scabbing typically heals within seven days)
It leaves minimal scarring
In hairline and temple point reconstruction, using finer body hair from the legs and arms would produce softer more natural looking hairlines and temple points better than traditional transplants which would have used thick coarse hair from the middle of the back and sides of the head.

In eyebrow restoration, using finer body hair from the legs and arms would produce softer more natural looking eyebrows better than traditional transplants which would have used thick coarse hair from the middle of the back and sides of the head.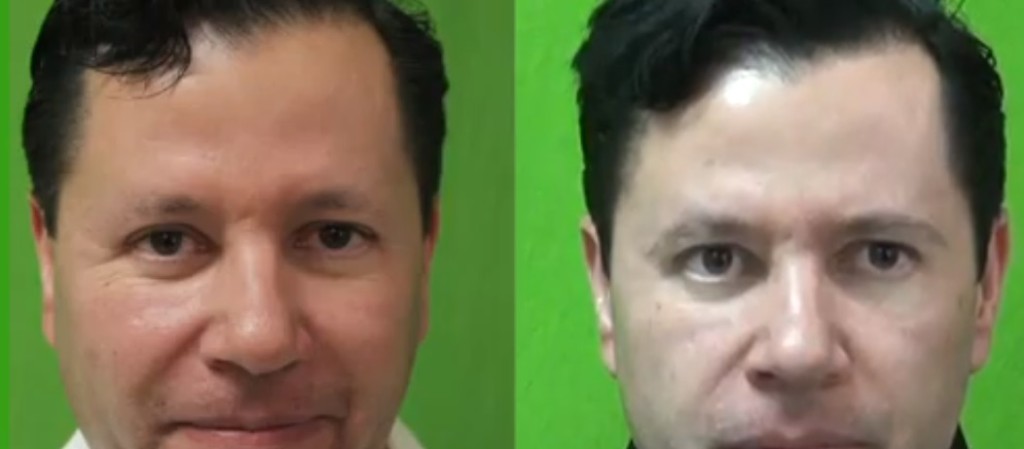 This patient felt self conscious about the sparseness of his brows. His UGraft eyebrow transplant with leg hair gave him the subtle definition he was looking for.
In eyelash restoration, using finer body hair from the legs and arms would produce more natural looking eyelashes better than traditional transplants which would have used thick coarse hair from the middle of the back and sides of the head.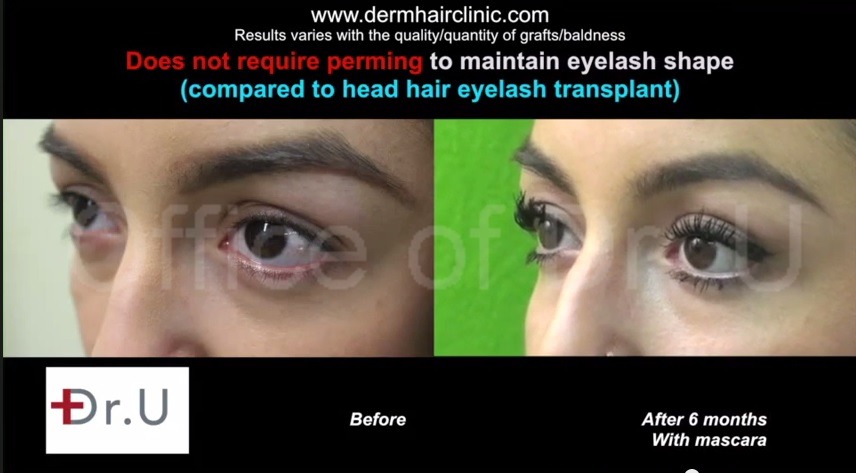 UGraft BODY HAIR TRANSPLANT USED TO RESTORE SEVERE BALDNESS
UGraft Body hair transplant's ability to recruit hairs from the beard and body vastly expands the donor pool. This means patients who are severely bald who have been turned down by clinics offering traditional transplants that rely only on head donor supply can finally be restored credibly. Dr Umar has in over a decade restored several such patient. This video illustrates one such case;
---
UGraft BODY HAIR TRANSPLANT Used to effect Hair Transplant Repair
A surprisingly frequent cause of severe baldness, aside from pattern hair loss, is surgically inflicted. As a means to abate the embarrassing condition and restore hair, many people rush to cheaper, antiquated methods of surgery without properly researching the technique and/or the surgeon's credentials. And sometimes, even in the hands of the best surgeon, it is simply tough luck that manifests in a significantly stretched out linear scar five years post surgery.
This cause of baldness seems weighted with even more shame and embarrassment; due to a sense of failure, amplified hopelessness, and the unsightly markings that tell this story to everyone who sees you. UGraft Body hair to head transplant is especially extraordinary in these circumstances because of its ability to give people a clean slate and a return to normalcy. Some might feel self-conscious about a dense, unnatural hairline— UGraft BHT solves this problem by employing the finer density of leg hair to refine and shape a softer hairline. Others can only hope for a hat or hairpiece to cover most of the disfigurement they suffer— UGraft BHT solves this problem with its ability to allow for up to 20,000 grafts to be extracted from all over the body, to fill the scars that would otherwise have been impossible to treat. Whatever the degree of repair needed, by using body hair an Dr U's skills, UGraft hair transplant repair has served to restore hope and transform lives of countless many.
Exampled of UGraft Hair Transplant Repair by body hair to head transplant Using UGraft
---
UGraft BODY HAIR TRANSPLANT AND UGraft EYEBROW TRANSPLANTATION
The use of body hair follicles has also begun taking over another niche: eyebrow transplant. This is due to the fact that a hair follicle will retain its original disposition, even if it is extracted and implanted in a new site. Thus, head hair used for this purpose is most inconvenient, as it will continue to grow to the length typical of head hair. The recipient will be required to tend to frequent trimming of the new eyebrow hair in order to keep up appearances. With UGraft body hair transplantation, chest hair or leg hair are ideal in stature and growth length to be implanted into the eyebrow area, which allows much less need for trimming.

Shape of patient's eyebrows have improved. But the use of leg hairs by UGraft allowed the results to look quite subtle**
---
UGRAFT BODY HAIR TRANSPLANT AND UGRAFT EYELASH TRANSPLANTATION
Naturally, eyelashes are short in length, and thin in caliber. Traditional hair transplants that use thick coarse hair from the middle of the back and side of the head results in coarse unnatural looking results which would have to be trimmed every 2-3 days. UGraft eyelash transplants uses finer hairs from the body from legs and arms to create a much more natural looking result which requires less maintenance, requiring trimming only at 2-3 weeks interval: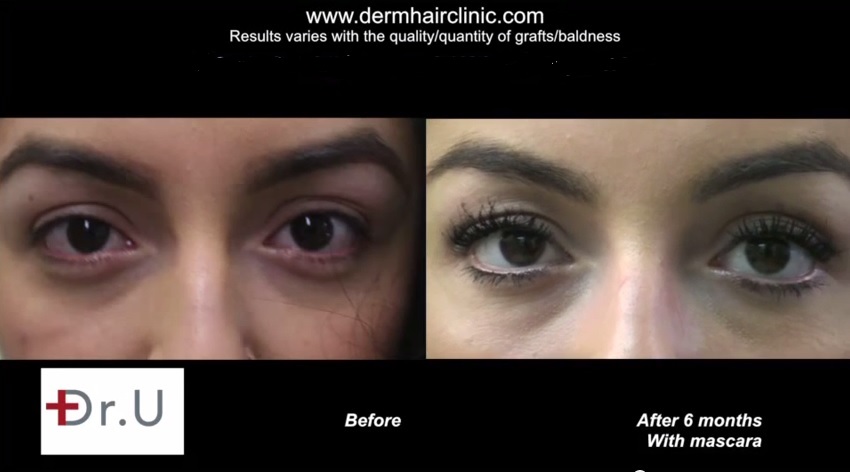 ---
ARE THERE POOR CANDIDATES FOR UGraft BHT?
Not everyone is a candidate for UGraft body hair to head transplant or UGraft body hair transplant, as some simply do not have body hair while others have body hair that is not suitable for transplantation. That said, a majority of individuals would qualify to some degree. There are other factors that can make for a poor surgical candidate for body hair to head transplantation, including:
Anyone with a medical history of blood clotting abnormalities
Anyone with a medical history of scarring or keloiding tendencies
Anyone with allergies to anesthesia
Most people suffering androgenetic alopecia (pattern baldness) who are under the age of 24 are not candidates for UGraft body hair transplant. This is due to the fact that the progression of pattern baldness is not usually complete by this age; therefore a surgery would cause an unnatural-looking growth pattern to develop. This would almost guarantee the need for another surgery later on..
Body Hair Transplant: caveates
A few potential problems may arise with body hair transplant procedures. Aside from the medical problems that may arise due to unforeseen physiological complications (such as an allergy to anesthesia or blood clotting abnormality) there are a couple other reasons some hair transplant practitioners are critical of this method.
Due to the extremely advanced nature of this body hair transplant, it is a longer and more laborious practice than all other procedures, also requiring a much higher level of skill. The aggressively varying angles of non-head hair make it more difficult to accurately punch and extract the follicular units. The UGraft system invented by Dr Umar has unique features that minimizes the challenges faced by practitioners performing BHT using ordinary/basic FUE tools
Body hair is not of the same caliber as head hair. This may make for an inferior hair transplant outcome regarding blend-ability with surrounding hair and growth length potential of the non-head hair. Dr Umar, has unparalleled experience in knowing which hairs to use and where and best blends for a most natural looking result.
THE DEVELOPMENT OF BODY HAIR TO HEAD TRANSPLANT
FUE was first discovered by Dr. Masumi Inaba in the 1980's who then went on to describe the process in his textbook in a 1996 publication. The first published account of a successful hair transplant using non-head hair via an FUE technique was by a Dr. Hirai et al in 2001. The process continued to be done sporadically with no standards for tools and processes for prodcuing consistent results. many practitioners continuedto report failures and inconsistencies in results from their experiences using ordinary FUE tools and protocols.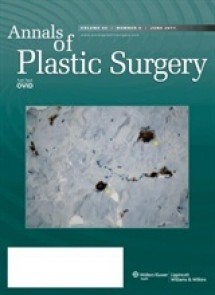 Dr. Umar has been responsible for revolutionizing the procedure of body hair transplantation and bringing it to mainstream hair transplant practice. Through research he developed the UGraft system of tools which was designed specifically to overcome the challenges posed by the delicate natures of body hair and other nuances like follicular angulation below the skin surface, and the varying nature of its skin attachment. The UGraft also made priority creating the best types of wounds that would heal most optimally while ensuring the integrity of the extracted grafts. Today, he continues to be a world-leading practitioner of body hair transplant, with an unmatched success rate using his UGRAFT technique.
Dr. Umar's article in the October 2011 issue of the Annals of Plastic Surgery, entitled, "Hair Transplantation in Patients With Inadequate Head Donor Supply Using Nonhead Hair," discusses the potential of BHT to become a global resource for the severely bald. His article features three of his patients who required the use of donor hair from non-head sources, and whose results were highly successful.
All were white males, ages 36, 54, and 35, with advanced stages of androgenetic alopecia. However, each of them needed body hair transplant for a different reason. Two had scarring from previous surgeries, and one had never attempted surgery. The worst of them, the 36-year-old, had had multiple botched surgeries, leaving him with a slot formation, linear scars, pluggy hair, and other posterior scalp scars. His scalp was disfigured and considered irreparable by most surgeons. Approximately 21,000 non-head grafts plus 1,000 head grafts restored his scalp to normalcy.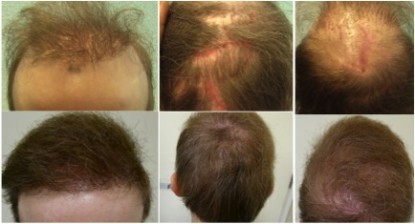 All three patients featured in the article had 80% long-term graft survival after their body hair transplantation. At the close of his article, Dr. Umar wrote, "…hair transplantation from non-head donor sources can globally restore even severe bald states in patients with inadequate hair donor supply…using non-head hair offers new possibilities."
Potential patients should know that a location change to the scalp does not change the physiology of body hair. It will not grow substantially longer, nor change in composition as compared to its subsistence in its original location. A practiced body hair transplant doctor will know how to maximize the innate characteristics of different body hair sources. If all goes well, new hair usually shows optimal growth around nine months post-surgery and can continue to improve for up to 24 months.
TESTIMONIALS OF BODY HAIR TRANSPLANT PATIENTS
Patient One : UGraft body hair to head transplant repair of scalp reduction, hair flaps, punch graft extraction and depleted donor as well as extensive baldness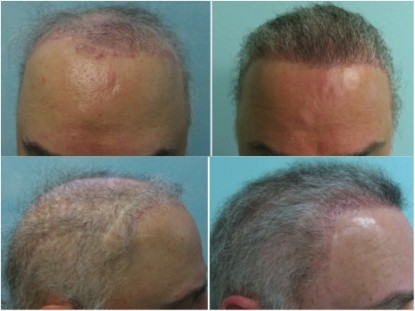 The following images and video depict the before and after of one of Dr. Umar's BHT patients. This particular patient had undergone multiple previous surgeries, which left him with obvious strip scarring and punch graft scarring, not to mention sparse, uneven growth. He did not have sufficient head donor hair for a procedure without the use of non-head hair. In fact, Dr. Umar used onlynon-head hair for this patient's transplant. Six months after 2,000 beard hairs, and 8,000 stomach, arm, and leg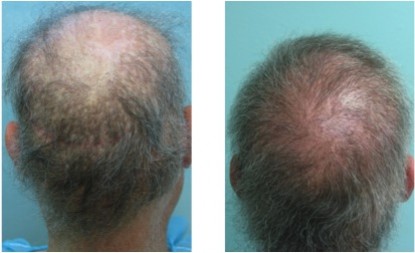 Hairs were transplanted to his scalp, the patient says of his body hair transplant experience, "It exceeded my expectation. I was initially looking for improvement, but this was the best I could have possibly imagined."
---
Patient Two: UGraft Body hair transplant to repair and refine an old pluggy hairline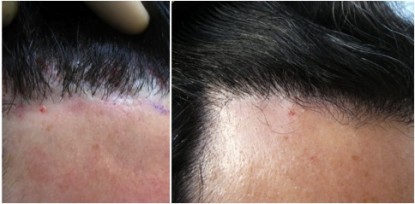 This second set of images and video depict another body hair transplant patient of Dr. Umar. This patient had also undergone previous surgeries, which left him with a harsh, unnatural-looking hairline. Needless to say, the patient wanted Dr. Umar to re-design his hairline giving it a natural, gradual appearance.
Using 1,000 donor hairs harvested from the legs only, Dr. Umar was able to achieve exceptional results. "It's quite remarkable," this patient commented about his hairline correction, "I can't express how thankful I am to have the freedom to be able to just comb my hair straight back."
---
More Examples UGraft Body Hair To Head Transplant Results in Video
Here are more videos showcasing examples of UGraft body hair to head transplant results from Dr U:
---
---
---
View other impressive body hair transplant results by visiting:
A branch of UGraft body hair transplant procedures uses follicles from the beard area. This can be enormously beneficial for patients who are not able to provide a large enough donor supply using head hair alone. To learn more about this procedure, click here to read more
.
If you have hair loss and would like to have a stellar hair transplant for an out of the ordinary outcome, feel free to do consultation with Dr Umar directly at no charge by completing this form
Read Dr U's other scientific publications on Body hair transplant in several peer reviewed reputable medical journals:
Plastic and Reconstructive Surgery GLOBAL ACCESS
Facial Plastic Surgery Clinics of North America
Journal of the American Academy of dermatology – JAAD