New Release of FUE Hair Restoration Technology from Dr U on Vimeo.
After experiencing the limitations of Follicular Unit Excision (FUE) surgery first-hand, Dr. Sanusi Umar took it upon himself to change the world of FUE hair transplant therapy for individuals of color the world over. Years of research and many satisfied patients later, he's now making his innovative solutions available for practitioners everywhere.
Before Dr. U and his proprietary advances in the field of cosmetic hair restoration, antiquated FUE tools and technology were simply unable to harvest the angular follicles of the body as well as Afro-textured hair without transecting the grafts.
The Dr.UGraft™ system is able to be applied to patients of all skin types and hair textures. It is also able to viably excise hair from any donor area on the body to achieve more subtle and natural-looking results.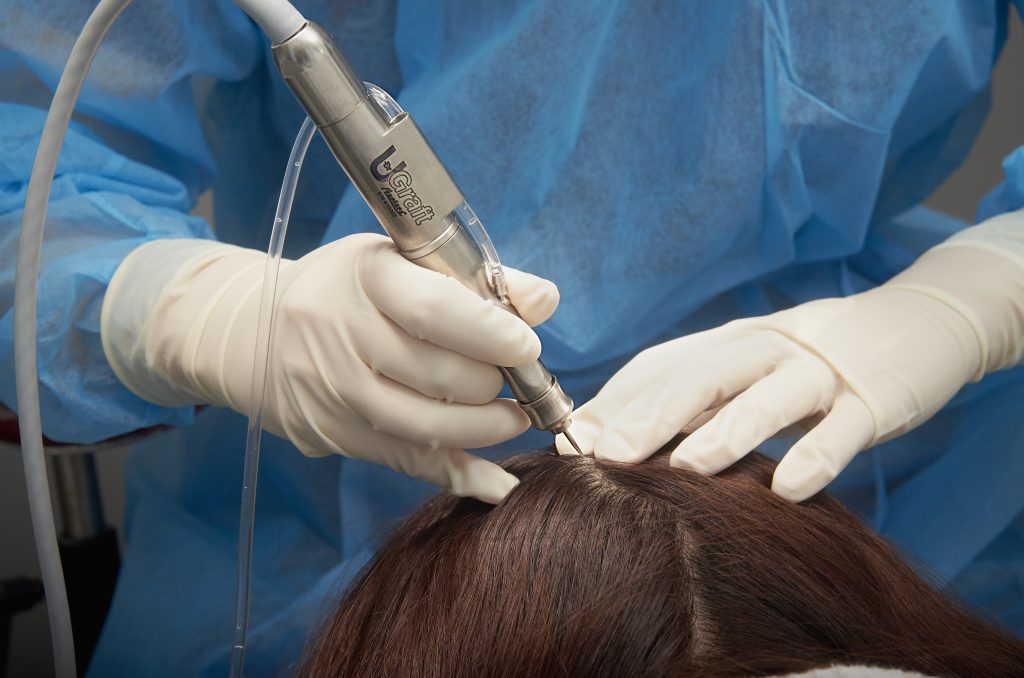 The Dr.UGraft™ system is comprised of three major components:
The Dr.UPunch i™

, a flared punch tip designed to protect the follicle with an outwardly-facing cutting edge.

The Dr.UGraft™ Nurture handpiece

, the only FUE handpiece engineered to reduce repetitive motion injury in the operator.

The Dr.UGraft™ Revolution console

, a self-calibrating system featuring a built-in fluid system that hydrates the grafts they are scored and a pedal-driven graft rescue system for retrieving follicles embedded within the walls of the lumen.
What Makes a Dr.UGraft FUE Hair Transplant Surgery Different?
Dr. U's inventions make use of several key features, all working together to increase graft yield and improve rates of regrowth. These include:
A Universally-Applicable FUE Punch Tip
With this single, versatile FUE punch, all types of hair can be excised effectively, regardless of the texture or location on the body. This makes FUE hair transplant an option for patients of color, no matter what type of hair they have.
The flared, textured tip of the Dr.UPunch i™ is designed to minimize rates of transection, meaning your practitioner is able to make use of every graft possible. A unique distal tip, characterized by our own patented texturing, gently pulls the graft from the puncture wound. This allows grafts to be collected quickly and enables your doctor to avoid overhandling the delicate specimens with forceps or other invasive tools.
An expanded inner cavity keeps incoming grafts from becoming impacted in the lumen. In combination with the smaller cutting radius of the punch's mouth, it also makes the Dr.UGraft™ much more able to excise a bulkier, healthier graft with each penetration without cutting further into the flesh. Both of these features work together to minimize FUE scars, making your procedure much more aesthetically valuable when all is said and done. The roomed inner chamber also provides a means of innate depth control that is felt intuitively by the operator.
A Self-Hydrating Irrigation System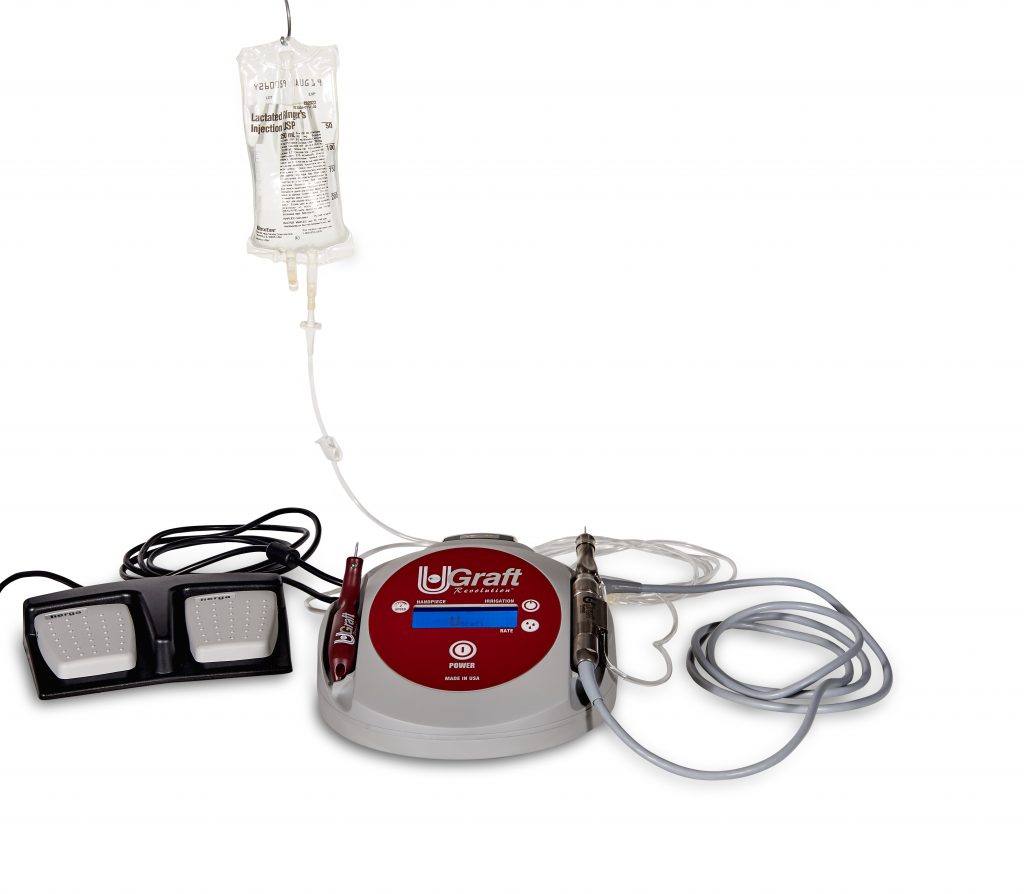 The Dr.UGraft™ Revolution console is the only FUE system capable of hydrating each graft at the point of extraction. It creates a water seal around the delicate membrane of the follicle, making each graft much less likely to become desiccated in the time between excision and transplantation.
This feature serves a dual purpose. If a graft becomes trapped within the lumen during surgery, the operator is able to flush it out hands-free with the help of a pedal-operated graft rescue system. This hydrates the graft while at the same time making room within the punch to continue working.
The Dr.UGraft™ Revolution console reduces guesswork on the part of the practitioner. With five settings to choose from and thousands of possible skin and hair texture combinations, choosing the right calibration for each may prove challenging to some doctors. The Revolution features a guiding functionality that specifies the appropriate setting for each individual patient.
Frequently Asked Questions About FUE Hair Transplant Surgery with 
Dr.UGraft™
What's the difference between a 
Dr.UGraft™ hair restoration and one performed with a conventional FUE hair transplant surgery system?
Dr.UGraft™ is optimized for the extraction of hair from anywhere on the body. It is also able to successfully harvest donor grafts of any ethnic hair texture, including tightly-curled type 4 Afro-textured hair with no pre-test required. 
How does the 
Dr.UGraft™ system improve graft yield and regrowth rates in the recipient area?
Dr.UGraft™ features a built-in irrigation system that keeps grafts hydrated after being scored. This greatly increases their chances of survival when embedded in the recipient area. Its intelligently-designed tip is also designed to reduce rates of transection and injury due to torsion.
Do I have to live in Los Angeles to undergo a 
Dr.UGraft™ FUE hair transplant surgery?
Absolutely not. Our patients come from all over the country. We serve a long list of international clients, as well. If you're traveling for your FUE hair restoration, Dr. U will make sure to streamline your journey, necessitating the fewest number of in-office visits possible.
Get In Touch With Dr. U for FUE Hair Restoration
The Dr.UGraft™ is a culmination of research and development years in the making. Dr. U has released many publications documenting his findings, making Afro-textured FUE hair restoration more effective than ever.
The Dr. U Hair Clinic is located in Redondo Beach, California, just south of the greater Los Angeles area. He is always happy to consult with fellow practitioners and interested patients alike.
Further Reading
How to properly plan when considering the option of an FUE hair transplant surgery
One application of body hair transplant, made possible with the Dr.UGraft™ advantage