Face Framing using UGraft FUE Hairline Transplant: Dr. U worked on this patient in a 2 stage surgery. The stage I of his surgery was documented here. This presentation is the final outcome at one year after the completion of stage II. He performed his signature UGraft surgery to provide better face framing using FUE hairline transplant. By carefully reconstructing the hairline, Dr. U was able to provide forehead size reduction for a more natural and pleasing look. Additionally, head and beard donors were used to cover an extensive area of thinness that lays behind the newly constructed hairline and temples. Furthermore, he used Trichopigmentation in a unique way to eliminate a common side effect of using grafts from the beard region.
Face Framing using UGraft FUE Hairline Transplant and Trichopigmentation
Dr. U was able to advance the hairline and temples and giving this patient a fuller and more attractive hairline. This aggressive reconstruction produced a forehead size reduction effect, while eliminating the need for a comb over.
Equally impressive is the fact that Dr. U was able to cover up the white dotting, that can sometimes occur in FUE patients. Compared to Caucasians, patients of color have a higher tendency to experience white dotting when beard follicles are used in hair transplantation. Because this patient had a darker skin tone, some white dots were visible in the under jaw area of the beard after his first surgery. Dr. U decided to used trichopigmentation to make the white dotting in the beard donor area virtually invisible.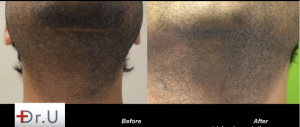 In doing this, Dr. U has achieved another first in the history of hair transplantation. See the results below for further proof.
Face Framing using UGraft FUE Hairline Transplant – Patient Photos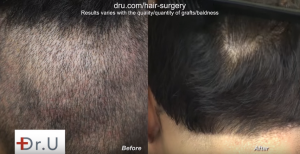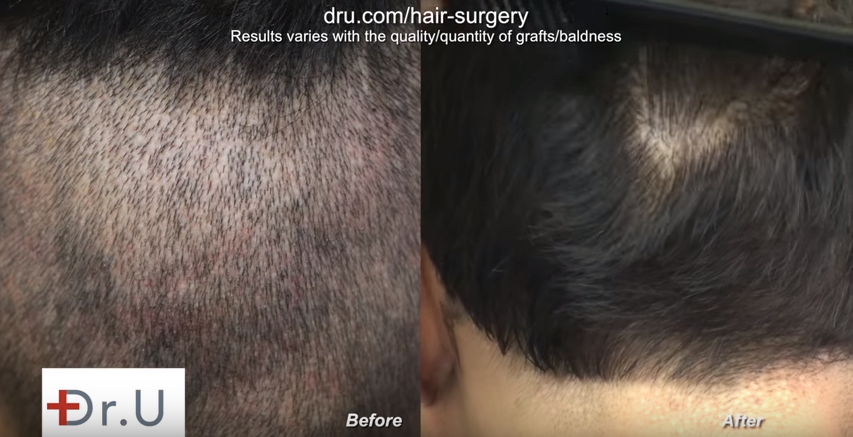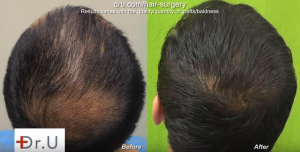 After only a year, the patient has remarkable results. Grafts were taken from the beard, head, and chest. The patient's overall look was greatly improved.
Face Framing using UGraft FUE Hairline Transplant – Patient Video
The video above shows the incredible results after only one year of FUE Hairline Transplantation, joining many other Dr. Umar patients.
Read more about the FUE Procedure used to reconstruct the hairline here:
Hairline reconstruction methods and principles by Dr U
Hair Density Improved with Body Hair Transplantation; Trichopigmentation