Eyebrow Hair Restoration Results Using 450 uGrafts: There are many individuals who wish to have fuller and thicker brows. But they may not be able to simply let their hair grow. The patient in the video below was as also featured on the Good Morning America segment where Dr. Umar was interviewed for his work in eyebrow hair restoration procedures.
She had been plucking her brows for many years. And due to aging and hormonal changes, she lost nearly all the hairs in this region. To help compensate for this, she relied on tattoos for her eyebrows. This approach required constant maintenance in the form of reapplication since the ink would eventually become lighter as a result of sun exposure. And also, she grew tired of the drawn in look of her eyebrows.
Because of these reasons, she decided to choose a more natural looking option through a UGraft eyebrow hair restoration procedure.
The images of her results are shown after about 15 months.
Photos of Eyebrow Hair Restoration Results Using 450 UGrafts
These images highlight the difference between the patient's tattooed brows and her eyebrow transplantation results.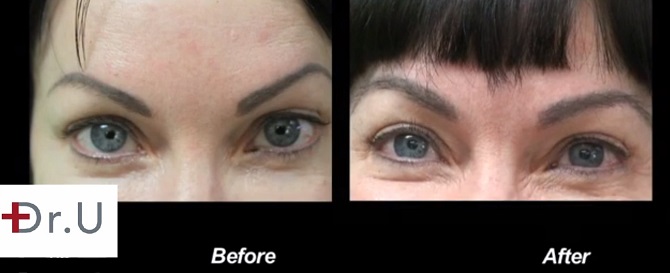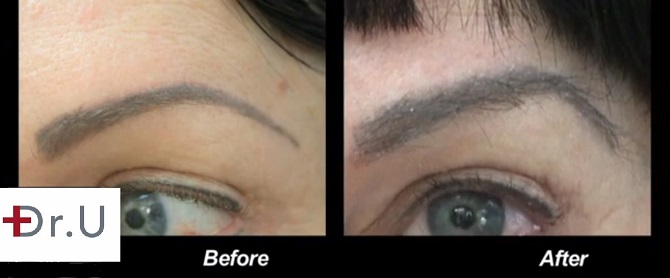 Patient's Video of Eyebrow Hair restoration Surgery Results
This video not only depicts additional images, but also features Dr. Umar and the patient discussing the eyebrow transplant procedure and aspects of the final results.
Using Nape Versus Head Hair For Eyebrow Hair Restoration
450 UGrafts of nape hair were used because of their fine quality. This matches the caliber of real eyebrow hair. Standard forms of eyebrow restoration use hairs taken from the head. But due to their thickness, this can render a harsh quality which is likely to appear noticeable. The clinics that use head hairs will take follicles from the middle and back of the head, as Dr. Umar explains in the video. To make up for the thickness, fewer hairs are used. By using thinner nape hairs, greater fullness and density can be achieved since more follicles can be inserted. This approach also allows the edges of the brows to have a softer definition, allowing the eyes to stand out, not the eyebrows.
Dr. Umar's UGraft methodology uses highly customized tools which safely extracts unique hairs like the nape. Also, the punch excisions are created in the form of specific sizes and shapes that are intended to facilitate higher excellence in healing. Digital computer software is used to shape the ends of the punch tip to enable this.
Finally, since UGraft falls under the category of Follicular Unit Extraction, there is also the absence of linear scarring.
Patient's Feedback
The patient the video mentions that her procedure only took three hours. And she was able to drive herself home. She also adds, "I am very pleased. I am very surprised that it looked perfect from the start…They look natural. They look like my own hair, my own eyebrows. They look like eyebrows, not like something drawn on the skin."
If you are interested in learning about another patient example in eyebrow restoration, click here.
Derm Hair Clinic offers free initial consultations for anyone who is thinking about achieving lusher, fuller eyebrows. Our online consultation form is located in the upper right corner. You may also get in touch with us to set up an appointment by calling 877-337-6424.