UGraft Hair Transplant repair Using 19500 Grafts Ends Hairpiece Usage: The patient had NW 6 baldness, and bad hair transplant results from hair restoration surgeries done at several other clinics. Prior to seeing Dr Umar, these poor hair transplant results resulted in:
Several large widened strip scars that wrapped around his head.
Scars in the crown and front from an attempt to suture a wig permanently by an outfit in New Jersey
Poorly angled large plugs consisting of 5-6 hairs
Severe pitting
Depleted head donor supply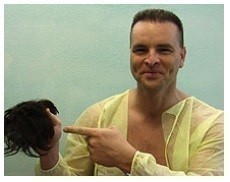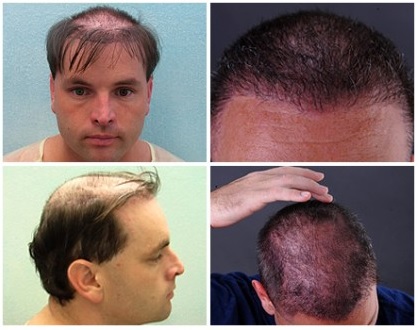 UGraft Hair Transplant repair Using 19500 Grafts Ends Hairpiece Usage : Conclusions:
He was told by several hair transplant doctors and clinics that he was beyond repair and to wait for hair cloning or hair multiplication. Resigned to his faith, the patient resorted to wearing a hairpiece. He had his first surgery with Dr Umar in September of 2005, in his Los Angeles, California office. For his overall repair Dr. Umar used his then recently invented an advanced version of follicular unit extraction ( FUE ) called UGraft to transplant over 16000 grafts derived from the chest, stomach area, arms and legs. About 2000 grafts were taken from the beard and another 1500 grafts from mainly the nape area. With this, Dr Umar obliterated the scars, and restored his NW 6 area advancing his hairline to a NW0 level. This hair transplant repair would have been impossible to achieve with head hair surgery based surgeries alone or by traditional strip hair transplant surgeries.
Feel free to ask Dr Umar any hair restoration question
Related reads
https://www.dermhairclinic.com/hair-transplant-repair-2/
Read up on the use of nonhead hair in hair transplant megasessions
http://journals.lww.com/annalsplasticsurgery/Abstract/2011/10000/Hair_Transplantation_in_Patients_With_Inadequate.6.aspx