Hair Restoration Testimonial by B. C : With hair loss a genetic inevitability in my family, I always knew that I was cursed to have a shiny scalp, but I never imagined it would happen so soon.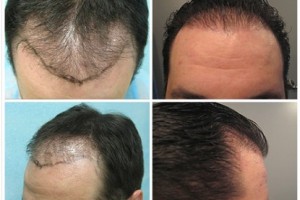 I first began to notice my hair loss in my very early twenties and in a matter of only a few years, I rapidly progressed to a Norwood 3 with diffuse thinning. I felt like I had been robbed of my youth, but was hesitant to do anything about it. For several more years I researched the various options and watched my hair slowly disappear. After finally getting up the courage, I made the mistake of committing to getting an FUE hair transplant by a doctor in Mexico having been lured by what I thought to be a very affordable solution. I chose this route because of my desire to not have the linear scar left by traditional transplants and the fact that money was a limiting factor.
Hair Restoration Testimonial by B. C :UNLICENSED FUE EXPERIENCE IN MEXICO
In the beginning, I thought I had made the right decision, but hopes dashed as the result of this hair restoration procedure from Mexico began to make itself evident. My hair appeared very pluggy and unnatural. The transplanted hairs stood at angles perpendicular to my scalp and at a density far below what I had expected. In addition to that, the very large punches used in extraction of the individual follicles left large white dots checkered throughout the donor region of my scalp, removing the possibility of just cutting my losses and shaving everything off. I became depressed and lived under a hat for a year. The casual comments from people I had grown used to over the years about my receding hair became painful stabs as to the fact that I would never let anyone see my head. My medical tourism misadventure has been clearly an unmitigated disaster. Certain that hair restoration was just a pipe dream to those that did not understand the realities, I returned to the online hair loss community to ensure that others did not share the same fate as mine. That is when I discovered Dr. Umar.
Hair Restoration Testimonial by B. C – The DermHair Experience
Immediately, he struck me as someone who stood out from the rest of those simply looking to make a fast buck from those desperate to escape hair loss. His background as a dermatologist and dedication to creating a truly undetectable transplant caused me to investigate further. I spoke to him at length through email, always receiving his undivided attention before visiting him at his clinic. In person, we spent several hours discussing various hair restoration and repair options and working towards a total plan. This was in sharp contrast to my first procedure where technicians began the harvesting of my scalp before I even saw the doctor the first time. Though still nervous about the possibilities of what a second procedure may do to me, he instilled enough confidence in me toward his abilities that I decided to proceed.
We elected to go forward with a hybrid of scalp and body hair transplants. Immediately I could see the difference in professionalism and excellence he brought to the table. Dr. Umar performed 100% of the extractions and implantations, all the time intently focused on me and nothing else. All grafts were strategically placed to allow for best coverage at angles appearing as they naturally would. Additionally, within a very short time, the extractions sites virtually disappeared, unnoticeable to even the most discerning eyes. At just five months after my procedure, I have hair that I can confidently display in public, certain that no one can tell.
Dr. Umar's compassion and commitment to nothing but the finest results, all at prices far below the industry standard, will keep me coming back for all my future needs. I would recommend him to anyone with out hesitation. He is truly a pioneer and savior to those who refuse to be bald. To him I offer my sincerest thanks.
B.C
Click HERE to view Photos of this patient
ISHRS Issues Warning On Unlicensed Hair Transplant Technicians
View multiple videos of Dr U's other UGraft hair transplant patients