This male patient wanted to have thicker, more well defined eyebrows. His existing brow hairs were quite sparse and hardly noticeable. After a family member made a comment at a party, he felt even more self conscious. This article features his leg hair eyebrow restoration results.
Using uGraft For Leg Hair Eyebrow Restoration Results
Leg hair eyebrow restoration procedures conventionally use follicles taken from the head. These hairs are noticeable much thicker than real brow hair. When inserted, the results can appear very harsh and awkward.
Leg hair is much finer. And because of this characteristic, a greater number can be used. Dr. Umar also explains that leg hair grows slower and not quite as long. This patient reports that he only trims his brows about every 3-4 weeks. With head hair, trimming may need to be done on a more frequent basis (e.g. every other day).
As you can see in the video, the leg hairs give a very soft quality to the results. Although the patient's eyebrows are much more well defined, they are not glaringly obvious. He even says that his own parents did not notice that anything was done to his brows.
Why uGraft?
Grafts of natural hair groupings can be extracted using standard tools and techniques in Follicular Unit Extraction. However, they are more ideally suited for head hair. Body follicles have different characteristics. They are also located on regions of the skin which are highly visible. Therefore harvesting these grafts requires a much higher level of specialization.
Dr. Umar's uGraft methodology was developed to meet the challenges of extracting body hair. Regular FUE punches can be placed inaccurately causing the edges to damage the follicles, since they grow at sharp angles and curvatures. Customized tools in uGraft are used to safely separate these follicles from their original location.
Donor Healing
In the video, the patient shows how his legs have healed in an excellent fashion after his leg hair eyebrow restoration procedure, Punches made in the skin will result in wounds. Tiny but noticeable marks can remain with typical FUE instruments. However uGraft punch units are digitally crafted to produce specific wound sizes and shapes to facilitate the best healing scenario possible without any visible traces of scarring.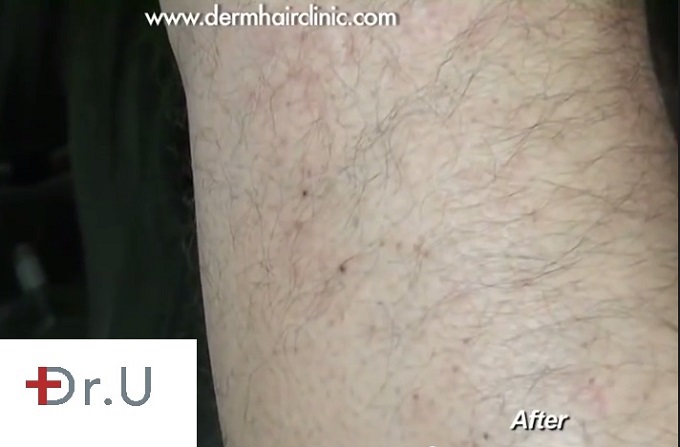 Photos of Leg Hair Eyebrow Restoration Results Using Leg Hair Grafts
Below are before and after photos which show a marked improvement in the appearance of the patient's eyebrows and the impact this had on his entire face.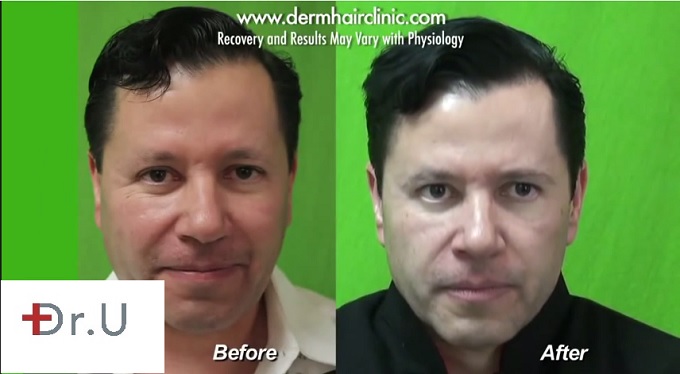 Patient's Video Featuring Results and Feedback
In this video the patient explains his reasoning for undergoing Leg hair eyebrow restoration with Dr U and the vision he had for his new eyebrows. He wanted his results to be subtle, but more prominent. And this is what he was able to achieve using leg hair follicles. Watch his video to learn more about his experience and feedback.
Here is another patient who also underwent an eyebrow hair restoration surgery. Nape hairs were used for her results. Click here to read more.