FUE Hair Transplantation Using 1500 grafts For Hairline Restoration : The patient in his video chose a Follicular Unit Extraction procedure. Like many men, he experienced hairline recession followed by thinning in the top part of his head. Dr. Umar was able to restore these areas by uGraft (his proprietary hair transplant tool) to perform Follicular Unit Extraction using 1500 grafts
FUE Hair Transplantation Using 1500 grafts For Hairline Restoration
In the video, the patient talks about his friend who also had a hair transplant procedure. However his results were achieved with strip surgery. According to the patient, the scar (on the friend) "was very noticeable…and I told him that I had surgery. He couldn't believe it at first. And then he said, well, where's your scar? And I said, look at it. And he looked for five minutes. He could not believe that he could not find one spot on my head where it looked like there was a a cut or a scar."
Those who are considering any type of hair transplant should educate themselves on Follicular Unit Extraction and other methods before making a final decision.
Differences Between Follicular Unit Extraction and Strip Surgery
In strip surgery, doctors will excise a horizontal area from the back or sides of the head where this is strong hair growth. Individual grafts are then extracted from this strip and reinserted into the bald areas. This will inevitably leave a large scar. People often try to conceal this with longer hair styles.
With Follicular Unit Extraction, the grafts (which consist of natural groupings of 1-4 hairs) are taken directly from the scalp. This is why there is no scar. Another advantage of advanced UGraft FUE is that hair follicles can be taken from just about anywhere. This includes the nape and even areas of the body like the chest and face. Finer caliber hairs can be extracted for natural looking details, such as the edge of the hairline. Hairs taken from the back or sides will be too thick, giving an artificial look appearance. And this is usually a giveaway that the person has had a hair transplant procedure.
Hairline Restoration
Because the hairline borders the face, people notice this area the most. Besides using thinner hairs to create a soft edge, an ideal hairline restoration must suit the patient's face.
The patient in the video naturally had a straight hairline in his youth. However, it made his forehead look very large. Follicular Unit Extraction allowed Dr. Umar to create a point in the middle so that his forehead was less noticeable. And the patient was very happy with this decision.
FUE Hair Transplantation Using 1500 grafts For Hairline Restoration : Photos of Patient's Results
These before and after photos of this procedure of FUE Hair Transplantation Using 1500 grafts For Hairline Restoration show a rather remarkable transformation in the patient's overall appearance. With a clean shaven face, a darker hair color and a youthful looking hairline, he seems almost like a whole new person.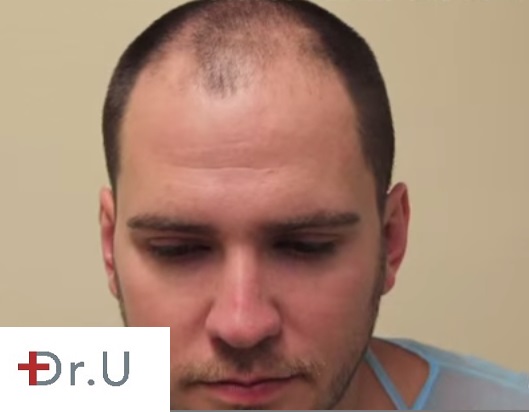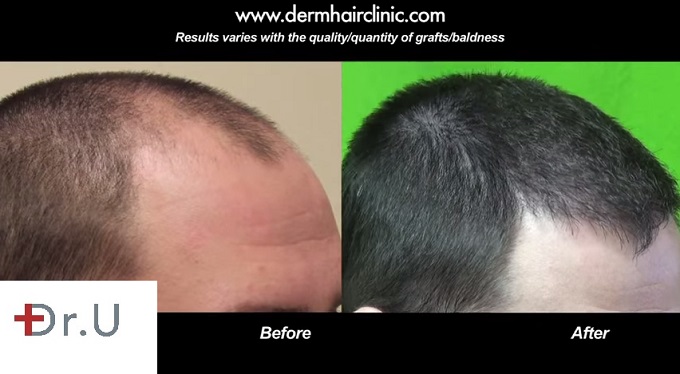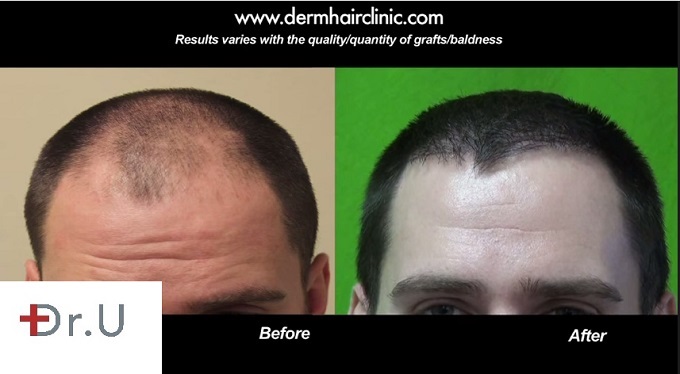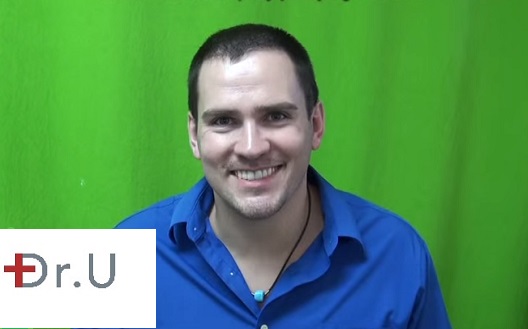 Patient Shares Follicular Unit Extraction using 1500 grafts: Video Feedback
Follicular Unit Extraction hair transplant Information For Prospective Patients
If you are considering a hair restoration procedure, you may sign up for a complimentary consultation by filling out our online consultation form (see tab on homepage). Or you may call our office at 1-877-337-6424