Hair Restoration Testimonials by The Physician : "I am a 54-year old physician who, similar to many young individuals, began to experience crown and frontal hair loss in my 20's (1981). At that time, I underwent the generic 2 scalp reductions and HT to the frontal area from the well-known Los Angeles "mill", without regard to future balding. As with most poorly planned hair restoration surgeries, my baldness progressed shortly thereafter and I had frontal grafts that were too "pluggy", an unnatural frontal hairline, hair placed in the wrong direction, scarring in the recipient area, donor scarring, and a depleted donor supply.

Because my hair was long and curly, I was able to somewhat minimize the oddness of these results. However with further balding, things looked weird.

As a result, during some free time, I underwent a flap procedure from a well-established Los Angeles surgeon in 1995. This hair flap procedure should never have been done given my low donor hair supply and compromised donor circulation, and I had necrosis (death of the tissue) at the distal ends of both flaps. I did not pursue legal action (which I could have) but focused my efforts on taking time away from work and undergoing significant repair (scalp expansion) with a highly reputable and kind surgeon in the Bay Area.
Hair Restoration Testimonials by The Physician – The Dr U Experience
Fast forward to this year. Because of free time between career changes and financial security, I was intrigued by the possibility of body hair transplants, although initially a little hesitant and unsure of what the probability of "technical success" would be for me. I spoke with several patients who had successful outcomes with Dr. Umar and decided to "go for it" with the proviso that I was truly seeking improvement and not perfection (and with the view that things could not be made worse).
Hair Restoration Testimonials by The Physician – Before and After Photos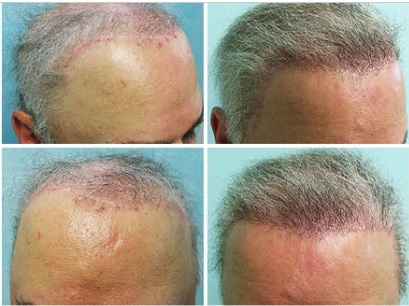 Hair Restoration Testimonials by The Physician – Result Video
---
My results, as you can see, could not have been more spectacular. I had no shedding, almost immediate 100% growth in the frontal and mid-scalp areas, and current growth now occurring in the crown. Although my prior odd appearance was not career-limiting, I feel like a new person. I can not say how this procedure would work on others, as it is in its infancy and data on many individuals have not yet been published.[Update since this testimonial back in 2008, several publication on BHT have been made with the latest and only large scale body hair transplant But, as a patient and a physician, I felt like I did my due diligence by approaching a terrific and committed physician (Dr. Umar).
Because of time constraints, I also chose not to undergo a "test area" (which Dr. Umar recommended given my trepidations) but to have it all done at the same time. For people with need of extensive work from bad hair procedures and no scalp donor supply(and the time and financial resources to do so), UGraft body hair transplants offer great hope in the hands of skilled, ethical, and committed physicians like Dr. Umar.
I am also hopeful that physicians who have not had success with this procedure (and readily announce their dissatisfaction with BHT on the web) can collaborate to quantify their experiences and better understand why results may vary with different physicians."
The Physician
Further reading
About UGraft body hair transplant – BHT
About UGraft hair transplant repair of botched hair surgeries