Follicular Unit Extraction Using 3200 grafts for Level 3 Hair Loss : Follicular unit extraction is one of the most advanced methods of hair restoration technology today. It takes the grafts from the donor region in one- to five-hair natural clusters called follicular units. This allows for donors to be derived from non-traditional places, which creates advanced outcomes for both growth and healing.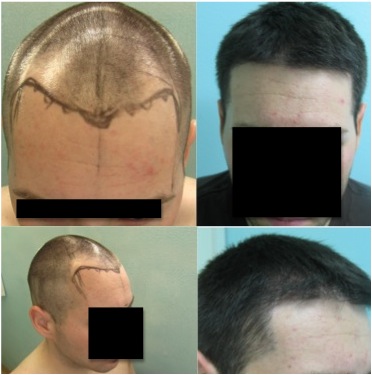 In this case Dr. U (Dr. Umar) uses his UGraft method of Follicular Unit Extraction (FUE) hair restoration to refine an NW3 case. He used 3200 grafts derived by UGraft FUE from the head donor area and nape of the neck to create a soft, natural hairline. He also built strong temple points using almost all nape hair. This restored the hair loss patient from NW 3 to a state of zero appearance of baldness.
The video below shows the donor areas of the scalp and nape, where there is no visible scarring to be seen. And the patient still has plenty of donor supply left for any procedures he would want in the future. 9 months after the procedure, he is very happy with his youthful appearance. "Definitely feel more confident, that's a given. Looking back, it's amazing, the difference. Just amazing." The patient said.
Follicular Unit Extraction Using 3200 grafts for Level 3 Hair Loss : Result Video:
Dr. U's Follicular Unit Extraction Achieves Restoration
Dr. U has performed his FUE procedure on many patients with all levels of hair loss, and even proven success on the "impossible" repair cases. If you're interested in regaining a youthful hairline or adding density with a nominal scarring result, contact Derm Hair Clinic today. We offer a free online consultation.
Read on the 9 year update of this patient: https://www.dermhairclinic.com/leg-hair-grafts-longevity-nine-year-update/