The High Cost of Fashion Trends; Hair Loss from Traction Alopecia : Hair grooming practices that cause hair loss are include heavy and tight weaves
As Beyoncé confirmed in her HBO Special "Lemonade" and her new song "Sorry," we are all a bit obsessed with our hair. Just ask "Becky with the good hair," if you can find her,
Men and women have been bobbing, curling, styling, combing over and wearing wigs for hundreds of years. Listverse has a great list of the top 25 hairstyles for the past 100 years. So whether you loved the shag, the corn rows of the 60's or the Emos of 2000s; the most recent trends of weaves, tight braids and hair extensions are doing much more than creating a fashion statement. We are losing our hair because of it. The condition is called traction alopecia. Traction alopecia is caused by chronic use of hair grooming practices that exert a pulling force on the roots of the hair. This include tight braids, buns, weaves to mention a few. Although this is an established fact not many studies exist to specifically connect the problem with the culprit causes.
The High Cost of Fashion Trends; Hair Loss from Traction Alopecia – Study Findings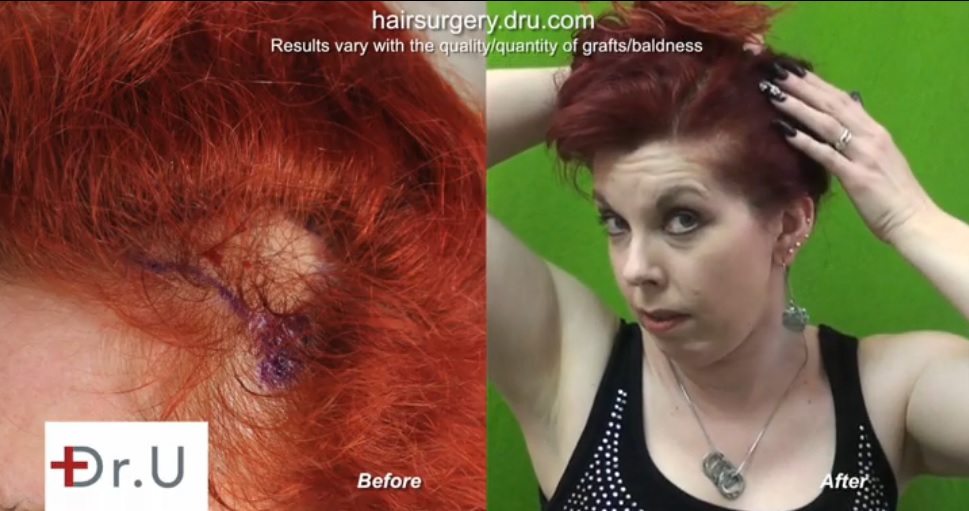 Example of traction alopecia: Extensive hair loss on the edges and hairline in an African American woman
Researchers at John Hopkins reviewed 19 studies and made the "strong association" between traction alopecia, the loss of hair, with hair-pulling hairstyles "ponytails, braids, knots and buns." A trend dermatologist and hair transplant surgeon, Dr. Sanusi Umar, MD, FAAD, FASDS sees first hand in his practice.
Whether consulting on traction alopecia or eyebrows that have been over plucked, waxed, threaded or aged out of existence or bald patches from age or circumstance, Dr. Sanusi Umar, is a pioneer in hair restoration. Here is a compelling video testimony of case example of a restoration done on a woman who presented to Dr U with a diagnosis of traction alopecia.
His patented UGraft® technology and case studies on hair restoration have been published in numerous academic publications. His successful hair transplantation surgery seems to turn back time, one hair at a time. So when the New York Times and Good Morning America called to find out how to get thicker eyebrows like Kim Kardashian, Dr. Umar had the answer. With UGraft, he keeps expanding the world of hair restoration and the answer to the question on the minds of men and women who are suffering from hair loss, Can You Fix This?
For over 10 years DrU has been performing surgery in his Redondo Beach, CA office with the exclusive techniques he has developed. The before and after photos of his patients give hope to those who have suffered scarring from aggressive strip surgery, botch hair restoration surgery, pre-mature hair loss or accidents in the past. It's time to rethink the impossible with Dr. Umar. If you're ready to be the one with the good hair or eyebrows, Just Ask Dr. Umar, he'll give you a straight answer on your personal possibilities.