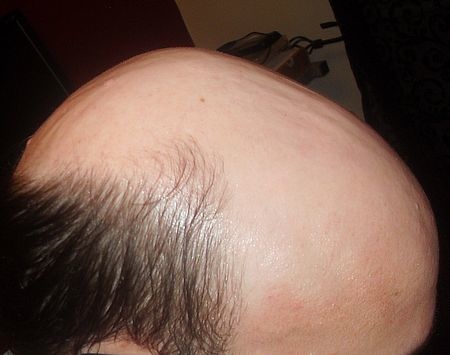 At and extreme NW 7 on the scale of male pattern baldness, this patient would be turned away by any other hair restoration clinic in the world as a hopeless case. That was his experience before he visited Dr Umar at DermHair clinic in Redodo beach Caifornia. He was forced to use a hairpiece to conceal the badly balding top half of his head. When he came to DermHair Clinic, he was wearied of his confinement to the hairpiece and wanted the freedom of permanent, real hair. Body hair transplant (BHT) the uGraft methods was the solution he was looking for, and Dr. Umar the best surgeon for the task.
Body Hair Transplant at DermHair Clinic
As an exclusive advanced FUE surgeon with years of experience, and as a developing doctor of body hair transplant, Dr. Umar is known for his remarkable work in these severe cases. His uGraft tool and protocols enables the safe and proficient removal of prime donor follicles from the head and body. Severely bald patients with an insufficient supply of head hair would be poor candidates without these non-head donor sources.
This patient's goals were to have moderate global coverage and a high, natural-looking hairline. Over the course of two sessions, Dr. Umar harvested 10,500 grafts combining head and beard hair for a remarkable restoration. The results video footage, recorded by the patient himself, show the outcome at only six months following the second session. Body hair transplant results generally take up to two years for the hair to completely grow in and mature, so he still has even more improvement coming his way.
Body Hair Transplant for Extreme Hair Loss
People with advanced male pattern baldness used to be turned away from clinics because of low donor supply. If you're struggling with extreme hair loss, you are no longer inoperable, due to the advent of Dr Umar's BHT and the uGraft. He is also able to perform this technique on people who've lost their hair to burns, surgical scars, or illness. Don't hesitate to fill out our free online consultation or contact our office for more information.