Severe Baldness Reversal With 12,000 Grafts by UGraft BHT: This severely bald patient chose hair restoration because he was not satisfied with commonly recommended solutions for his level of hair loss:
(1) wearing a hair piece
(2) shaving his head
Instead, he wanted full coverage by having real hair on his head. Those with extreme baldness are normally rejected as hair restoration candidates due to a shortage of donor grafts. However, with the uGraft surgical system, it is possible to compensate for this limitation through the use of body follicles.
Extracting body follicles requires a more specialized approach. The available FUE tools are not consistently sufficient for this process. Due to the particular growth characteristics of body follicles, they face the risk of damage with regular FUE punches. Specialization is also needed for the wound healing phase. Performing punch extractions on the body areas will create wounds. And there should not be cosmetically significant scars, since these would be far more visible on regions like the beard area, legs, chest, etc. All these requirements were met by the UGraft advanced FUE an BHT system in this patient and the procedure of Severe Baldness Reversal With 12,000 Grafts by UGraft BHT was a success.
UGraft tools and processes have been designed to reliably meet these challenges, making large quantity body follicle extractions extremely feasible.
Severe Baldness Reversal With 12,000 Grafts by UGraft BHT: Index cases
Dr U has been reversing severe baldness in individuals for many years, however, not many of these patients have allowed their results to be shown. Dr U clinic is grateful to all its patients for the honor of participating in their hair recovery journey. We at Dr U are particularly grateful to those patients who have permitted the sharing of their results and thus giving other patients in similar situations an insight as to what is achievable and giving hope to some who have lost it. This patient is one of such patients. After his severe baldness reversal with 12,000 grafts by UGraft BHT ; he graciously granted the clinic permission to share his story.

In the case of this patient severe baldness reversal with 12,000 grafts by UGraft BHT was carried out in 2 stages. In the first stage, 8,000 grafts from the head and beard regions were used. He was able to achieve full coverage with a hairline that looked like his original one. Head hair was combined with beard hair to create a more uniform texture on the head, since beard hair tends to be more coarse and wavy.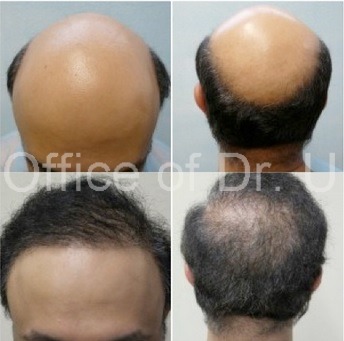 Patient's Video
Because of his full head of hair, airport security did not believe that he was the same person in his passport photo. Also his own friend had trouble recognizing him as well. Watch this video.
Second Surgery
One year later, the patient returned to work with Dr U for severe baldness reversal with 12,000 Grafts by UGraft BHT for his 2nd stage surgery by having another 4,000 grafts for a grand total of 12,000. This was done to improve his hair density.
The images of his results from this hair restoration procedure were taken six months afterwards.
Also should you be interested in reading this patients very heart felt and frank written testimonial click here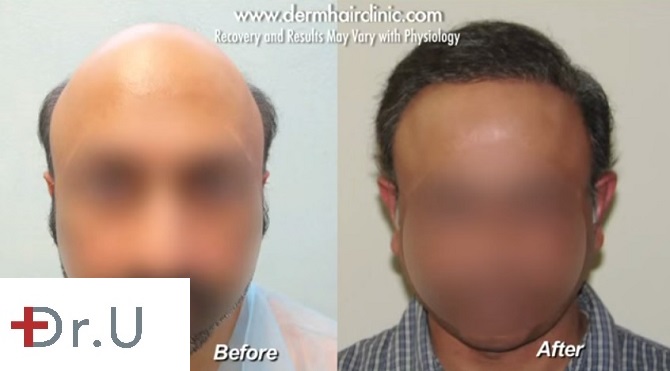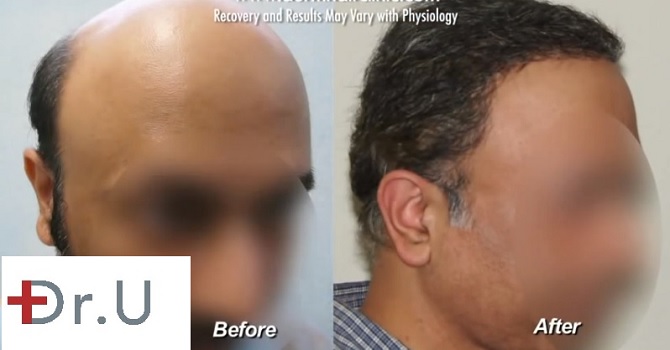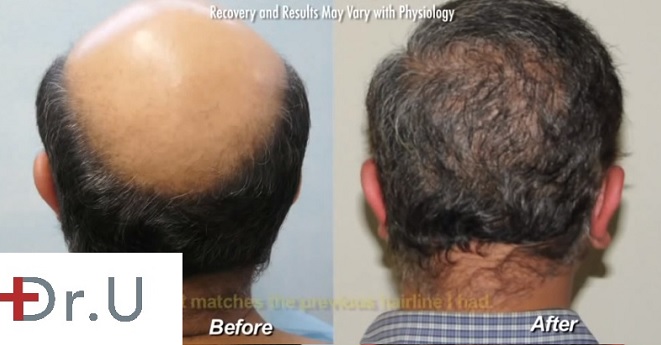 Update Video Following Second Procedure
Not all men with advanced forms of baldness are comfortable with shaving their heads completely. Although this style may suit some people, others don't feel this is the most flattering look for them.
And, of course, hair pieces can be a source of stress. There is the concern that others may find out. Windy days and the idea of going swimming in public are other issues to worry about. Plus wearers often report feeling fake and inauthentic. Advanced Follicular Unit Extraction performed with uGraft gives men the option of actually having real hair on their heads.
To learn more about UGraft, click here to read more.
Also read about Dr. U's groundbreaking study here: http://journals.lww.com/annalsplasticsurgery/Abstract/2011/10000/Hair_Transplantation_in_Patients_With_Inadequate.6.aspx