UGraft BHT For Global Coverage & Concealing A Strip Scar – 13000 uGrafts : The patient in this video came all the way from Australia to receive treatment from Dr. Umar. This was not his first hair transplant surgery. In fact, he had two prior procedures at other clinics. However, he continued to remain bald, particularly in the crown area. Naturally, he wanted global coverage. He also had a strip scar on the back of his head. And he wanted this to be concealed as well so that he could wear his hear short. However, the objectives that he wanted required 13,000 grafts. Dr. Umar was able to create this donor pool through a UGraft BHT procedure that used hair mostly from the sides of the patient's face.
BHT For Global Coverage & Concealing A Strip Scar – 13000 uGrafts : Photos of Patient's Results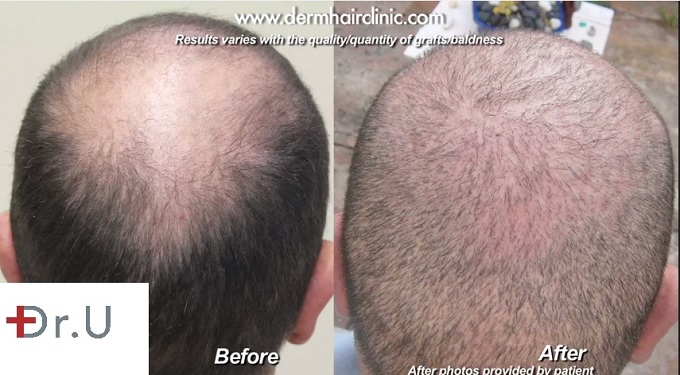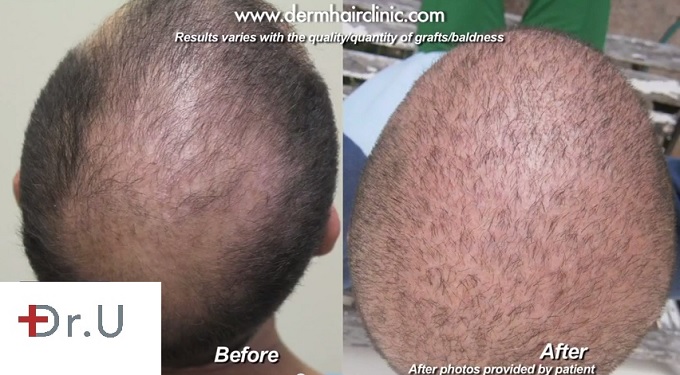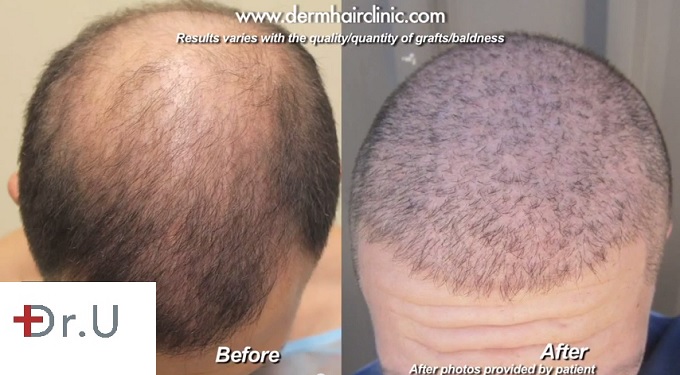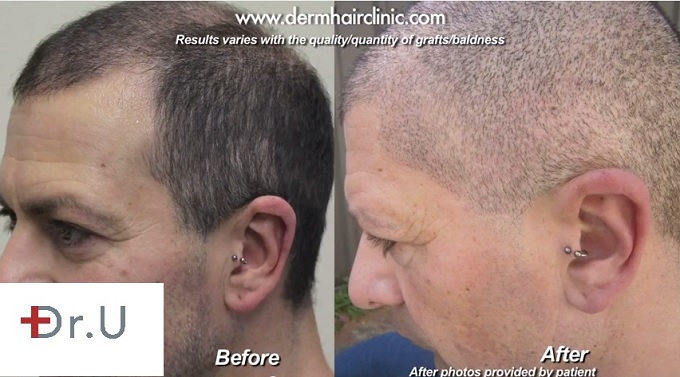 UGraft BHT For Global Coverage & Concealing A Strip Scar – 13000 uGrafts – Video Results
Watch this video as Dr. U reviews the patient's facial hair to head transplant results. And hear what this gentleman has to say about his outcome and experience.
BHT As An Advanced Form of Follicular Unit Extraction
As you probably already know, Follicular Unit Extraction uses punches with small diameters to obtain the follicles needed for hair restoration. However, extracting hair from the body requires a more specialized approach. It is quite important to use tools that have been designed to meet the needs of harvesting body hair. There are two reasons for this.
(1) Body hair has different growth characteristics compared to head hair
(2) When hair is taken from areas like the face, there is a stronger need for the healing results to look as perfect as possible.
uGraft For Meeting the Demands of Body Hair Transplant
Dr. Umar is the innovator of uGraft. This is a system of surgical tools and processes that have been created to address the needs of BHT procedures.
Body hairs tend to grow at very sharp angles. From these body hair follicles, the curvature of curly hair can make it difficult to determine where to place the punch. With regular FUE tools, these structures can be damaged very easily during BHT, a limitation that has been overcome by UGraft advanced FUE.
UGraft devices include other mechanisms to aid in the process of separating the follicles from their tissue environment. This minimizes the risk of damaging them.
Also the actual punch ends are customized to create wounds of deliberate shapes. These shapes contribute to healing results that are visually flawless (like the patient's beard area in this video).
To learn more about uGraft, click here.