This case features an example of hairline restoration for African Americans.
Hairline restoration for African Americans
1200 grafts derived from the head, and 1200 grafts from the armpit and legs of this African American patient in a Ugraft body hair transplant were moved to the front and hairline. The patient was delighted at the results shown here at 9 months after his surgeries. FUE – UGraft and BHT can be safely and efficiently performed on all racial groups including the Asians (Koreans, Chinese, Japanese, etc) as well as African American and all people of color. This patients hair was successfully removed by UGraft despite his extremely curly hair. Hair was derived from his nape to crafts a soft natural looking hairline.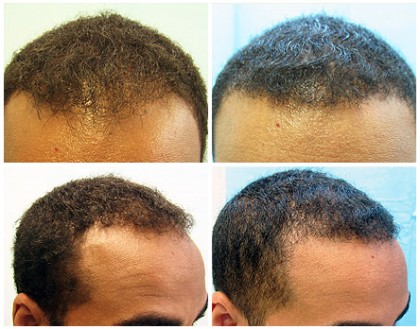 Read about Dr U's invention for curly Afro-textured hair FUE
Learn more about how Dr U's innovative use of softer nape hair as vanguard hairline hair has paved the way for successful surgery in all patients including African Americans in this article in the Aesthetic Surgery Journal: http://asj.oxfordjournals.org/content/early/2015/09/22/asj.sjv137