Adding hair density and strip scar repair using 1600 UGrafts : Patient Covers Strip Scar and Thinning Hairline Using 1600 UGrafts : The patient shown in this video came to Dr. U with a thinning top and a strip scar which resulted from a previous strip hair surgery at another clinic. It turned out that many of his grafts did not grow and he was left with a strip surgery linear scar that he did not like. So he came to Dr Umar for repair and restoration.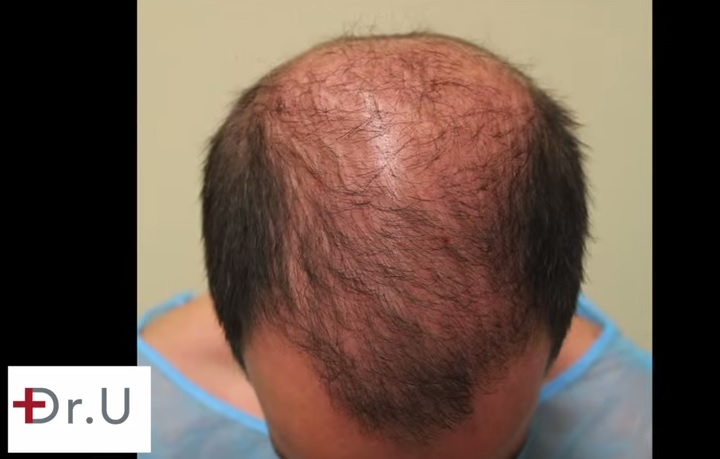 And he wanted to be able to wear his hair short without revealing the scar. His two main goals were to address the sparseness in the front and to cover the linear scarring. Dr. U's UGraft repair procedure gave him an extremely natural looking appearance.
Adding hair density and strip scar repair using 1600 UGrafts – Donor Graft Harvesting For UGraft Repair Surgery
In some cases, the extraction of body hair grafts using UGraft is necessary for repairing past surgical outcomes. This is because there are not enough follicles remaining on the head to create improved coverage.
However, this particular patient's case required 1600 grafts to meet his objectives. And fortunately, these were still available on his scalp.
1200 grafts were needed to improve the density of the thinning region around the hairline
400 grafts were required to camouflage the scar
These donor follicles were removed using UGraft advanced Follicular Unit Extraction
Adding hair density and strip scar repair using 1600 UGrafts : Creating a Natural Looking Outcome
Aside from growth, the naturalness of the final results depends largely on how well the grafts are inserted. There are specific angles needed for the individual hairs, relative to the scalp. Furthermore, they need to point in the correct direction within the recipient zones where the slits are created. Also, characteristics like density and orientation determines the relationship of each of the grafts to one another.
Dr. U studies these existing details on the patient's head to reproduce highly realistic looking patterns in the final outcome.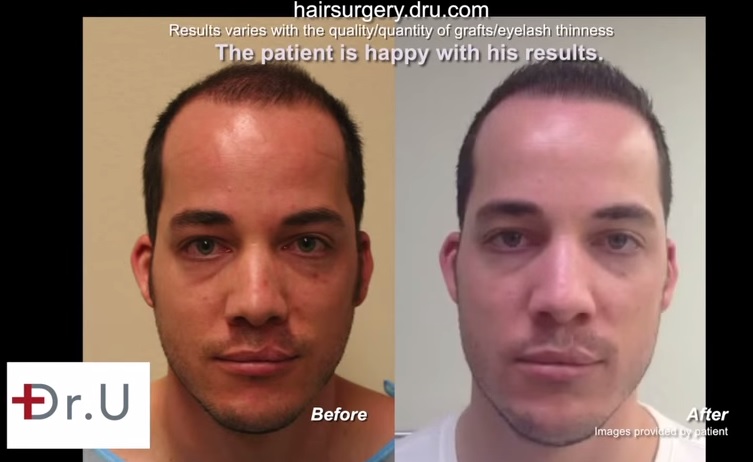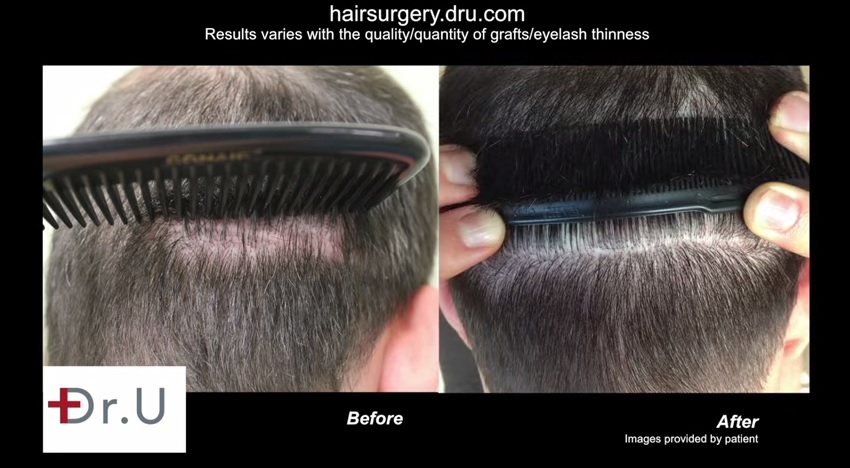 This patient was able to restore a natural, youthful looking hairline. And the linear scar from his previous surgery was excellently concealed due to the UGraft FUE grafts that were inserted. The patient was able to wear the short styles that he wanted with complete confidence.
For this procedure, the crown area was not targeted. However, this can be addressed in subsequent procedures. Patients always have the option of dividing their hair transplant objectives into separate phases, depending on what is most convenient for them.
Related articles:
Hair Transplant Strip Surgery Scar Repair by UGraft
Strip scar repair by UGraft case series report in peer reviewed plastic surgery journal