UGraft Eyelash FUE Hair Transplant Video Results : Due to genetics, some people are able to have long eyelashes, but others are not. The currently available options of using fake lashes and extensions require ongoing investments of both time and finances which can be tiresome for many people. This patient decided to undergo eyelash fue hair transplant surgery. These results are often considered as the next best thing to having the genes for long lash hairs.
UGraft Eyelash FUE Hair Transplant Video Results : Implication of Using Finer Nape Hair as Donor
For this eyelash FUE hair transplant, Dr. U used finer nape hair follicles to achieve more natural looking eyelashes because nape hairs look and behave closer to eyelashes. Conventional transplantation of eyelashes uses hair from the main areas of the head. However, these strands are much thicker than real lash hair. This is why Dr. U prefers selecting follicles grafts from areas like the nape or even legs where the hair is thinner and closely resembles natural eyelashes.
He specially designed an Advanced Follicular Unit Extraction technology called uGraft to remove a wide range of different hair types from the scalp, body and nape. Hair follicles often grow at different angles, with some being sharper or more unpredictable than others. This makes them more likely to be damaged by regular FUE punches which have a straight cylindrical design.
UGraft punches create a curved cutting axis that angles away from the follicles. The incisions are not as deep. And safe removal is assisted by a gentle pulling mechanic.
Furthermore, patients don't need to worry about having untoward scarring as they are minimized by the nature of wounding in UGraft FUE. UGraft creates uniquely shaped wound cavities which minimize the extraneous tissue that tends to form around the edges of the wounds. The skin surface is able to close in a more pristine fashion. Scars are typically cosmetically insignificant.
Maintenance includes occasional trimming, perhaps once a week. And perming is an optional step that some people choose to create an eye opening curvature of the lashes.
UGraft Eyelash FUE Hair Transplant Video Results – Before and After Photos
These photos show the difference made in the patient's appearance through the creation of longer eyelashes.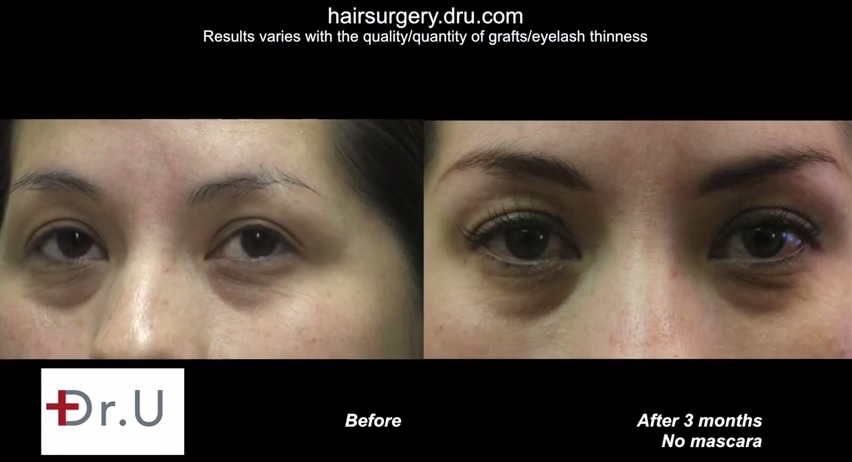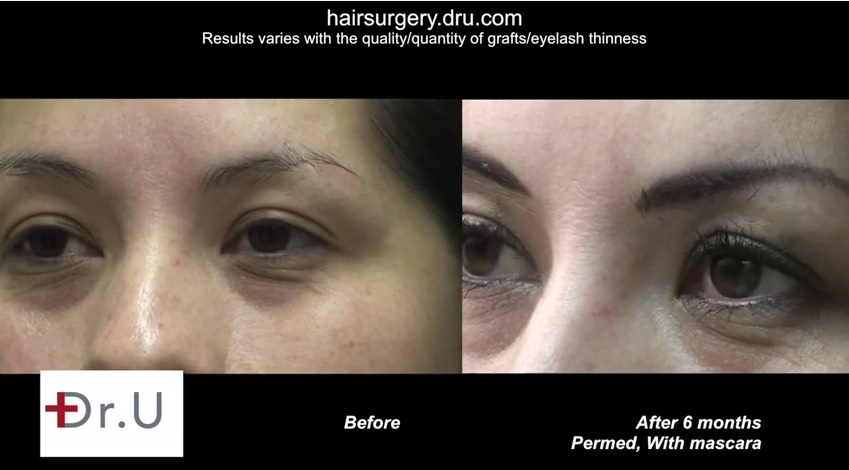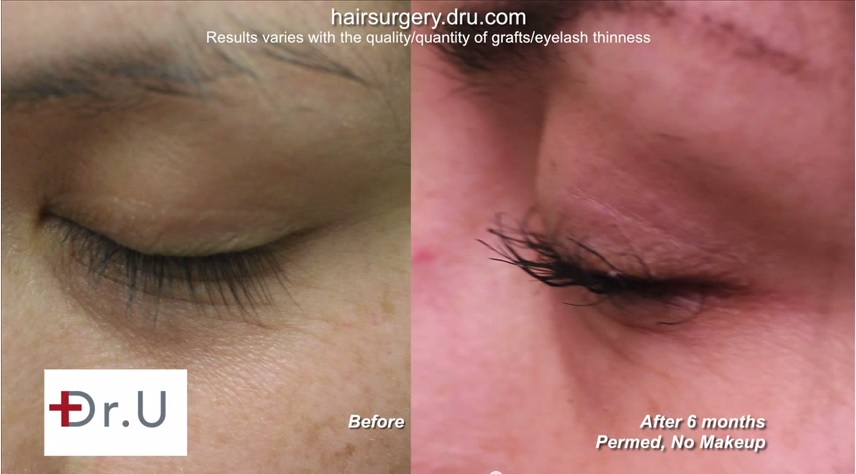 UGraft Eyelash FUE Hair Transplant Video Results – Video Testimony
This patient is extremely happy with her results. In her video she happily asserts that she would definitely recommend Dr. U's eyelash hair transplant procedure.
Related Articles
Use of Nape or Leg hair for eyelash transplants in PRS Global Journal
Use of nape hair for eyebrow transplant