If you are like many women, you buy products and use techniques to attempt to create long, radiant eyelashes with lots of volume. Traditional methods include mascara, fake eyelashes, Latisse and eyelash extensions. Many women love the look of eyelash extensions but extension may do extensive damage to your eyelashes. Now, an eyelash extensions alternative with eyelash transplant is becoming more popular as a permanent solution. Eyelash hair transplant surgery allows for long eyelashes with a minimally invasive outpatient procedure with little downtime.
NONSURGICAL ENHANCEMENTS FOR EYELASHES
Different methods of enhancements for eyelashes range from temporary to permanent solutions on short, thin lashes. All vary in appearance, cost and efficacy. You have probably tried a few of these options.
Mascara: Mascara is applied to eyelashes to define, darken, thicken or lengthen them. Mascara usually contains some type of pigments, oils and waxes to modify the lashes.
Latisse: Latisse is a bimatoprost ophthalmic solution applied nightly to only the upper lid line. It grows thicker, longer and darker eyelashes.
False Eyelashes: Segments of lashes or strips of lashes or use artificial fibers to add length and volume are self-applied to the lash line with an adhesive.
Eyelash Extensions: Extensions are applied to each eyelash with surgical-grade adhesive. The process is done by a professional. Eyelash extensions are artificial fibers that mimic the look of thick, long lashes.
EYELASH EXTENSIONS ALTERNATIVE WITH EYELASH TRANSPLANT
If you have short lashes that are weak, damaged or sparse, you have a new option for the permanent restoration and even enhancements. An eyelash extensions alternative with eyelash transplant is a safe, effective way to restore living and growing lashes to your eyelid.
Many women get eyelash extension to give them the glamorous look they crave. However, an eyelash extensions alternative with eyelash transplant solves the issues of thick, long lashes without the damage caused by extensions. Extensions may damage your natural lashes so severely that hardly any are left. Others permanently damage their eyelashes by overusing false eyelashes. The glue used to adhere the false eyelashes can block hair follicles, which may result in losing their natural lash.
After extension damage, many women want a permanent solution with less side effects. This is achieved with an eyelash transplant surgery. With the uGraft technique, also known as the Umar Procedure, the eyelash transplant uses follicular unit extraction (FUE). FUE is an advanced hair transplantation technique that harvests individual follicular units with 0.8 to 1.2 millimeter punches. Follicles are extracted from the nape area on the back of her neck.
The UGraft technique is as a surgical system by Dr. Umar that entails highly specialized punches. Procedures typically require approximately 30 to 40 hair follicles to achieve the desired length and density of eyelashes. Women seeking an eyelash extensions alternative with eyelash transplant may need up 70 or so hair follicles to the damage of their own lashes.
During the procedure, the grafts are inserted into tiny slits along the lash line. Patients are awake during the procedure, though local anesthetics and possible sedatives make the experience more pleasant.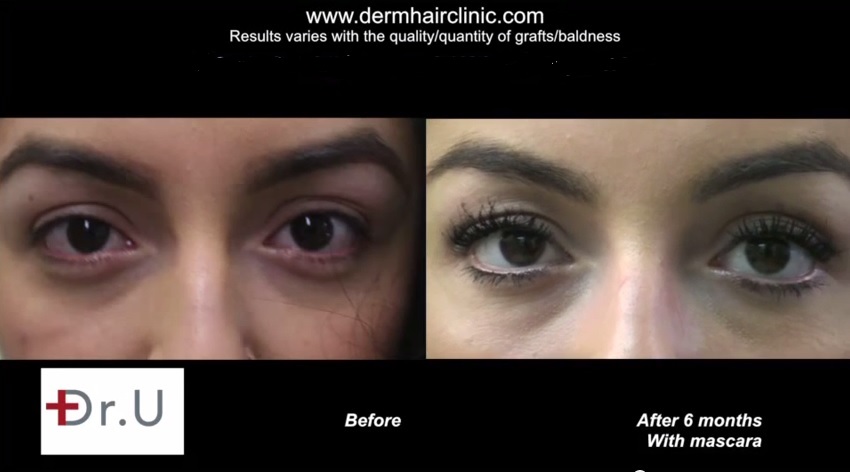 Transplanted eyelash hair continues to grow after the procedure. If you opt for an eyelash extensions alternative with eyelash transplant, you will need to occasionally trim eyelashes to a desired length. As with all hair transplantation, hair follicles maintain their original nature with volume and length. You will also need to use an eyelash curler to mimic the natural curve of eyelashes. Perming is also an option for shaping eyelashes.

Speak with an eyelash transplant specialist about an eyelash extensions alternative with eyelash transplant about possible options to improve your eyelashes.

Eyelash transplant using leg hair in plastic and Reconstructive Surgery Journal