KNBC Health News: KNBC talks eyebrow transplant with Dr U. In an interview a cosmetic surgery patient and her doctor, Dr. Sanusi Umar of DermHair Clinic in Los Angeles, as they follow the story of her remarkable eyebrow transplantation. Before and after images of the eyebrow transplant by Dr U are shown in the video.
KNBC Talks Eyebrow transplant with Dr U and his Happy Patients
After years of cosmetic over-plucking, and the hormonal changes that come with aging, this patient had lost nearly all of her eyebrow hair. For some time she had her eyebrows tattooed on as a solution, but the ink would fade quickly and she'd have to return every few months to have them redone. Dissatisfied with the constant maintenance, she sought out a permanent solution.
Widely revered hair transplant surgeon, Dr. Umar, would be able to give her the solution she wanted through eyebrow transplantation. Using UGraft follicular unit extraction, he harvested several hairs from the nape of the patient's neck one at a time and then implanted them along the contour of her eyebrow. The outcome is new, real, and permanent eyebrows.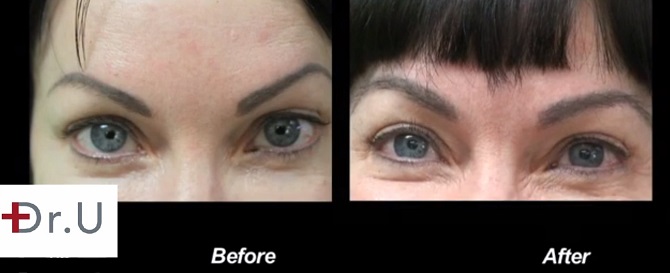 Watch video of Dr U on Good Morning America discussing eyebrow transplant