When should UGraft eyelash transplant procedure be considered ? UGraft Eyelash transplant surgery can offer a high level of long term convenience for anyone who wishes to have longer lashes on a more permanent basis.
Current options include:
False eyelash strips or tufts
Eyelash extensions
Latisse
False lashes are typically applied for photos or special occasions. They are not ideal for everyday wear. Not only are they somewhat time consuming to apply, but also the adhesive can be detrimental if the product makes continuous contact with the eyes. Furthermore, they also incur the risk of shortening the lashes or causing them to shed.
Eyelash extensions need to be applied by professionals. They also require the use of adhesives. Since they are not removed at the end of the day, there is a greater chance of the adhesives irritating, infecting or inflaming the eyes. Extensions cannot be worn while swimming. And they need to be replaced every few weeks which can be expensive since each session costs a few hundred dollars
Latisse is a prescription drug which extends the normal time for eyelash hair growth. This solution needs to be religiously applied twice a day in order to maintain results. Many people are not able to maintain this level of consistency. Furthermore, ongoing monthly costs constitute another concern.
When To Consider UGraft eyelash transplant procedure ?
UGraft eyelash transplant is an option to consider in the absence of contraindication for surgery and if any of the other options mentioned above for eyelash augmentation are ineffective or unacceptable.
Dr U created more realistic natural looking eyelashes in his UGraft eyelash transplant procedures by carefully scouting the nape and body areas for hairs that already resemble eyelash hairs. This way the transplanted eyelashes he creates not only look like the real deal, they also behave like real eyelashes in the sense that they grow to the appropriate length for eyelashes and require less maintenance. This is unlike eyelash created from traditional hair transplants where the hair comes from the middle of the back of the head. These hairs look unnaturally coarse, require almost daily trimming and are not malleable enough so they require frequent perming to retain the curliness of the eyelashes. Dr U's use of finer neck and body hair substantially minimizes these problems.
When To Consider UGraft eyelash transplant procedure ? Photo of a Patient Who Did

Here are some examples of Dr U's patients that had their eyelashes augmented using the UGraft eyeelash transplant procedure.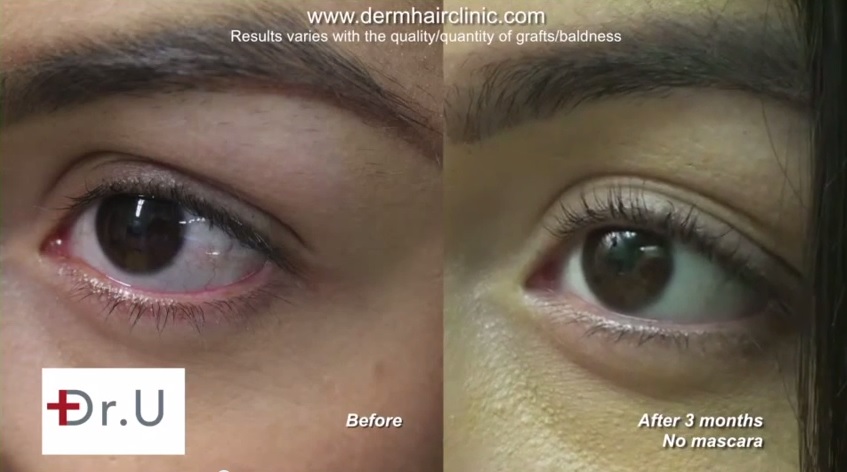 When To Consider UGraft eyelash transplant procedure ? Video of a Patient Who Did
UGraft eyelash transplant in Plastic and reconstructive surgery Journal