Could the Man Bun Trend be Responsible for Traction Alopecia in Men?: Years following the spike in prevalence of this hipster man bun hairstyle have started to notice hair loss and thinning close to the edges of hairline or their scalp. This manifestation of baldness is caused by traction alopecia. While a common cause of baldness in men is male pattern baldness, characterized by its beginning phases by a recession of the forehead and hairline areas, traction alopecia affects the areas on the scalp that are pulled the most–usually the hairline and edges. Traction alopecia, also referred to as tension hair loss, is a condition in which a harsh hairstyle tears follicles out of their roots, thereby causing permanent baldness.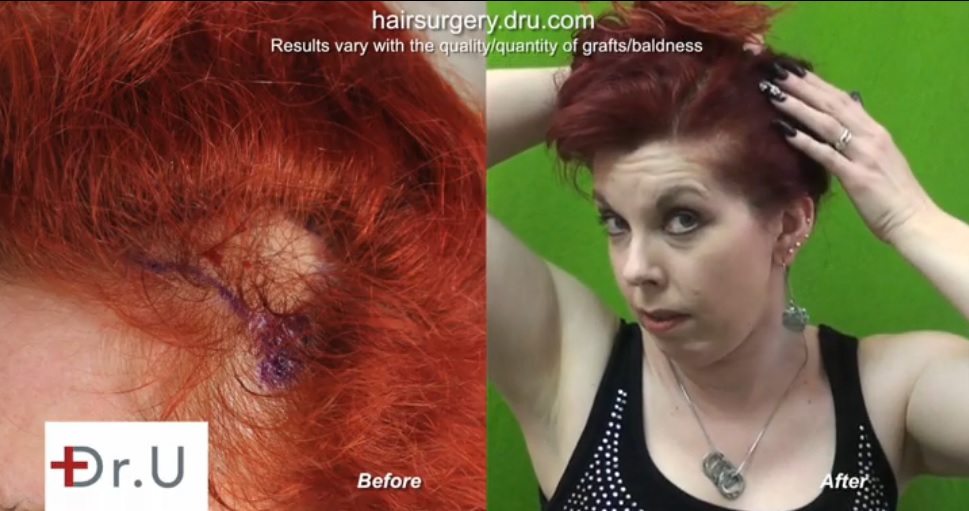 2013 saw a growth in popularity of this man bun hairstyle, and a torrent of guy bun videos and articles entered media feeds. This hot hairstyle that is a favorite among young men is tight in order for the knot of hair to rest on the crown, and not slip downwards. The problem with this trendy look, besides the fact that some people absolutely hate it, is that the repeated motion of pulling on hair exerts a force on the scalp that, if repeated over a time period, can cause traction alopecia. Loss due to traction alopecia develops incrementally and starts at the areas such as the hairline and borders. Baldness as a consequence of this condition is irreversible.
Traction Alopecia Doesn't Just Affect Women
Traction alopecia in men is a relatively new phenomenon. It more commonly affects women because of a long-standing tradition in fashion for harsh up-dos and twists. Examples include extensions, weaves, braids, cornrows, and ponytails. Changing social norms have grown to embrace longer hairstyles in men, like the man bun. The acceptance by mainstream media doesn't exempt this hairstyle from being made fun of, as seen in the amount of man bun memes on Twitter, Facebook, and Tumblr.
Men facing the consequences of overly tight man buns have choices, if they seek treatment.  While popular in the baldness community as a primary therapy choices, drugs like Rogaine work best for crown hair loss. This means that they are effectively useless for a man bun guy experiencing hair loss around the hairline and temple points.
Do Natural Remedies Work For Tension Hair Loss?
The hipster subculture is generally interested in approaches outside of mainstream influences. This involves looking to Chinese remedies, such as green tea or ginger, and trying to establish their efficacy through newly published research. Even though the EGCG found in ginseng and green tea may inhibit DHT, the major culprit in baldness. In a nutshell, they've never shown proven results in growing back hair. Also, when it comes to traction alopecia, DHT doesn't play a role. So should herbals and natural treatments be counted as solutions for traction alopecia in men? While they can improve the general health of the scalp, don't expect to see a miraculous regrowth of hair.
Other herbal treatments fail to address the specific causes at work when it comes to baldness. These remedies might only help with poor blood flow in the scalp. They won't fix the hairline and borders damaged by time in a hairstyle while the texture of your hair may improve. Traction alopecia in men is caused by hair follicles being torn from their roots, as mentioned before, and that harm can not be repaired by any amount of blood flow.
Why Hair Transplantation Is the Best Treatment For Traction Alopecia in Men (& Women)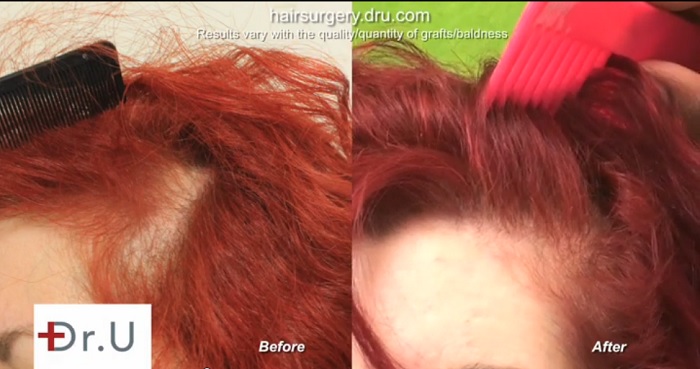 The trusted treatment for  alopecia remains a hair transplant surgery. Out of the back of your head, a strip of skin is cut in an FUT hair operation. Donor hair follicles implanted onto the scalp and are then extracted from this strip of skin. This technique leaves behind a linear scar on the back of the head. Within an FUE hair surgery, individual hair follicles are extracted by way of a punch tool. This technique leaves on the scalp behind smaller scars.
Men suffering from tension baldness should note that these methods both extract hair from the back of the head where the hair type is coarser and thicker, creating an unnatural appearance.  
Video- So Long Man Bun Hair Loss
In the video below, a female patient of Dr. U receives an advanced FUE hair restoration with the Dr.UGraft system. The hybrid Dr.UPunch Rotor avoids common causes of follicular death, which means you can say goodbye to hair loss due to the man bun trend!
Hair Restoration Technology For The Most Natural Looking Outcomes Possible
The advanced FUE Dr.UGraft system provides an alternate choice for men concerned with the final results of their hairline surgery. For men seeking to restore their hairline, they have more choices for their donor hair, (including nape and leg hair),  a larger number of grafts accessible, an increased likelihood of seeing reliable growth after their operation, and needless to say, a milder, more natural looking hairline. Due to its distinctive design, the rotary punch prevents damage to the follicles from the use of tools or air exposure, helping to ensure long term survival after the 12-18 month growth period following surgery. Although this is an expected result, in reality, many patients do end up with disappointing growth due to graft failure.
A hair transplant can give men a second chance at wearing their beloved man bun top knot hairstyle, but much less tightly, of course.