Typically, hair clinics will not perform FUE hair restoration (or any other hair transplant surgery) on candidates under the age of 24. This is due to the fact that male pattern baldness is progressive in nature and a premature hair loss would undermine the long-term results. The implanted hair would stay put as the continuation of baldness would persist in surrounding areas, yielding an unnatural-looking island of hair.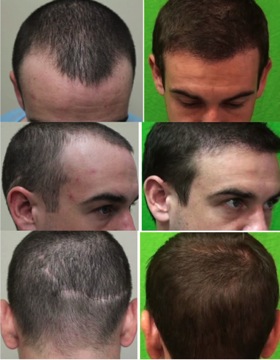 There are sometimes extreme cases, which create an exception to this general rule of thumb. These exceptions exists for the following reasons:
The candidate understands that a second, or even third procedure will be necessary in the future and accepts this likelihood (with has the financial stability to pursue multiple FUE hair restorations)
The candidate has already experienced almost all of his hair loss at a young age and is unlikely to progress further
The candidate is reconciled to the need for more surgeries in the future and has a good head and nonhead donor reserve to cover for even the most extreme future hair loss. This supposes that a competent clinic capable of harnessing nonhead hair has assessed the patient. It is alos advisable to be conservative in patients that are in their earlier stages of hair loss
Discerning Premature Treatment
Most clinics look to a few telling factors in order to determine if a candidate is too young for surgery. The first of these is the patients Norwood level of baldness, the second is how quickly the balding has progressed thus far, and the third is the family history.
At DermHair Clinc, Dr Umar specializes in the use of nonhead hair and head hair for the restoration of even extreme bald states. The totality of the 3 factors mentioned above is used by him in determining the candidacy of a young patient for a hair transplant. A clinic that is incapable of utilizing nonhead donor hair is most likely to turn away most patients on the basis of a young age of presentation.
Example of Early FUE Hair Restoration
This patient presented to DermHair Clinic at the young age of 23, with extreme balding, and a very limited supply of scalp donor hair. He also had no body hair.  After the necessary questioning and testing, Dr. Umar decided this patient was an exception to the rule. He used FUE hair restoration with a very small graft count to give global coverage to the patient's buzz cut.
FUE is an ideal procedure for young patients because it produces nominal scarring and minimal damage to the donor area, leaving enough donor hair to supply a future surgery.